Faculty Profile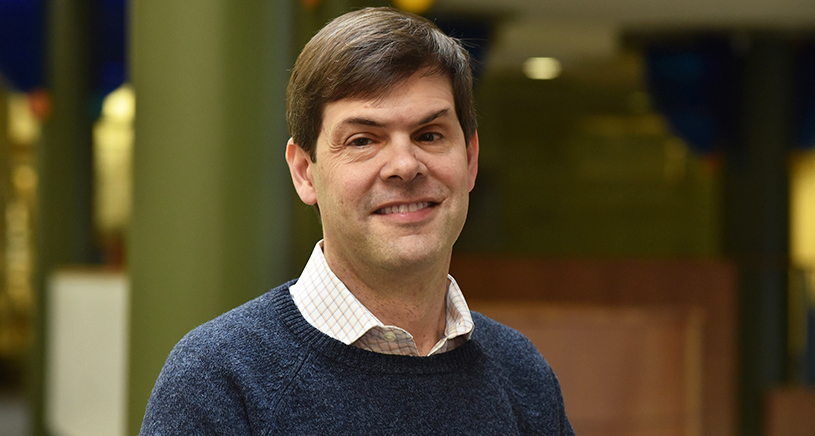 J. Scott Roberts, PhD
Professor, Health Behavior & Health Education
Co-Director, Dual-Degree (MPH/MS) Program in Public Health and Genetic Counseling
Director, ELSI Research Training Program
Room 2834, SPH I
1415 Washington Heights
Ann Arbor, Michigan 48109-2029
Dr. Roberts is Professor in the Department of Health Behavior & Health Education (HBHE). Prior to joining the HBHE faculty in Fall 2006, he was Assistant Professor in the Department of Neurology at Boston University (BU) School of Medicine. At U-M, he serves as a Co-Director of the U-M dual-degree program in Public Health and Genetic Counseling and a core faculty member in the U-M Center for Bioethics & Social Sciences in Medicine. He also directs the Outreach, Recruitment and Education Core of the NIH-funded Michigan Alzheimer's Disease Center. Finally, Dr. Roberts serves as Program Director of the U-M ELSI Research Training Program. This NIH-funded T32 training grant provides support for predoctoral and postdoctoral fellows with interests in the ethics, legal, and social implications (ELSI) of advances in genomic science and technology.
PhD, Clinical Psychology, University of Michigan, 1999
M.A., Clinical Psychology, University of Michigan, 1996
B.A., English, Duke University, 1992
Dr. Roberts' research interests focus on the process and impact of risk assessment and disclosure for adult-onset disorders, as well as the ethical, legal, and social implications of advances in genomic science and technology. He has served since 2001 as Co-Principal Investigator of the REVEAL Study (Risk Evaluation & Education for Alzheimer's Disease). REVEAL is an NIH-funded series of clinical trials assessing the psychological and behavioral impact of APOE genotype-based risk disclosure in individuals with a family history of Alzheimer's disease (AD). A current REVEAL Study trial, the fifth in the series, is now examining the impact of disclosing amyloid neuroimaging results to cognitively normal older adults at elevated risk of AD. Recently completed projects that Dr. Roberts has led or co-led include: 1) the Impact of Personal Genomics (PGen) study, a NIH-funded R01 project surveying the motivations, attitudes and behaviors of consumers receiving personal genomics services; and 2) the MI-ONCOSEQ project, a collaboration with investigators at the U-M Comprehensive Cancer Center to examine ethical and health communication issues in the use of whole-genome sequencing to customize care of patients with advanced and refractory cancers. This latter project was part of the national NIH Clinical Sequencing Exploratory Research (CSER) consortium.
Roberts JS. (2019, July 3). Assessing the psychological impact of genetic susceptibility testing. Hastings Center Report, e-pub ahead of print.
Roberts JS, Gornick M, Le LQ, Bartnik N, Zikmund-Fisher B, Chinnaiyan A. (2019). Next-generation sequencing in precision oncology: Patient understanding and expectations. Cancer Medicine, 8(1), 227-37.
Roberts JS, Robinson JO, Diamond PM, Bharadwaj A, Christensen KD, Lee KB, Green RC, McGuire AL. (2018, January 4). Patient understanding of, satisfaction with, and perceived utility of whole genome sequencing: Findings from the MedSeq Project.Genetics in Medicine, 20(9):1069-1076.
Christensen KD, Uhlmann WR, Roberts JS, et al. (2018). A randomized controlled trial of disclosing genetic risk information for Alzheimer's disease via telephone.Genetics in Medicine, 20(1), 132-41.
Roberts JS, Gornick MC, Carere DA, Uhlmann WR, Ruffin MT, Green RC (2017, January 10). Direct-to-consumer genetic testing: User motivations, decision making, and perceived utility of results. Public Health Genomics, 20:36-45.
Christensen KD, Roberts JS, Whitehouse PJ, et al. (2016). Disclosing pleiotropic effects during genetic risk assessment for Alzheimer's disease: A randomized, controlled trial. Annals of Internal Medicine, 164, 155-163.
Roberts, JS, Dolinoy, DC & Tarini, BA (2014). Emerging issues in public health genomics. Annual Review of Genomics and Human Genetics, 15, 461-480.
Roberts, JS, Connell, CM, & McLaughlin, S (2014). Public knowledge and beliefs about risk and protective factors for Alzheimer's disease: Findings from the Health and Retirement Study. Alzheimer's and Dementia, 10(5) S381-S389.
Roberts JS, Dunn L, & Rabinovici, G (2013). Amyloid imaging, risk disclosure, and Alzheimer's disease: Ethical and practical issues. Neurodegenerative Disease Management, 3(3) 219-229.
Roberts JS, & Uhlmann WR (2013). Genetic susceptibility testing for neurodegenerative diseases: Ethical and practice issues. Progress in Neurobiology. 110, 89-101.
Roberts JS, Chen C, Uhlmann W, & Green RC (2012). Effectiveness of a condensed protocol for disclosing APOE genotype and providing risk education for Alzheimer's disease: The REVEAL Study. Genetics In Medicine, 14, 742-748.
Roberts JS, Christensen KD, Green RC (2011). Using Alzheimer's disease as a model for genetic risk disclosure: Implications for personal genomicsClinical Genetics, 80, 407-414.
Roberts, JS, Shalowitz, DI, Christensen, KD, Everett, J, Kim, S, Raskin, L, Gruber, SB (2010). Returning individual research results: Development of a cancer genetics education and risk communication protocol. Journal of Empirical Research on Human Research Ethics, 3, 17-30.
Roberts, JS, Karlawish, J, Uhlmann, W, Petersen, R, Green, RC (2010). Mild cognitive impairment in clinical care: A survey of neurologists' attitudes and practices. Neurology, 75, 425-431.
American Public Health Association
American Society of Bioethics and the Humanities
International Society to Advance Alzheimer's Research & Treatment
Rabid Duke basketball fan