Faculty Profile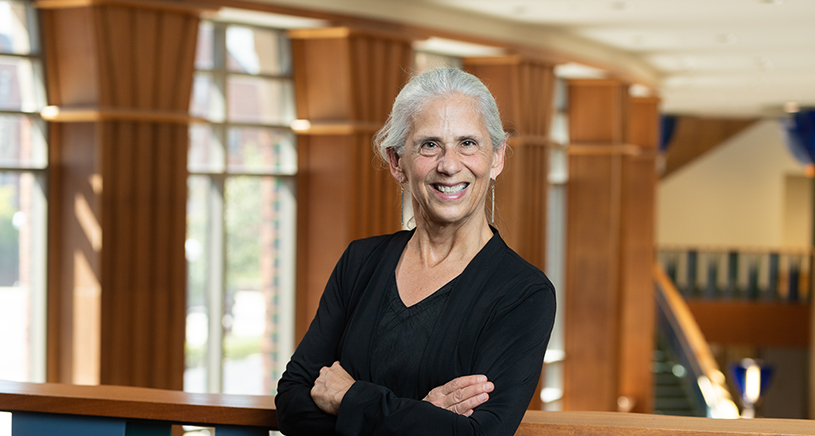 Amy Jo Schulz, PhD
Professor, Health Behavior & Health Education
Associate Director, Center for Research on Ethnicity, Culture and Health (CRECH)
2823 SPH I
1415 Washington Heights
Ann Arbor, Michigan 48109-2029
Dr. Schulz received her PhD in Sociology and her MPH in Health Behavior and Health Education from the University of Michigan. Her research focuses on social factors that contribute to health with a particular focus on social and physical environmental factors and their effects on health, health equity and urban health. A majority of Dr. Schulz's research is conducting with partners in Detroit, using a community-based participatory research approach. She has been involved in working with Detroit partners to understand and address factors that contribute to excess risk of cardiovascular disease in Detroit, conduct health impact assessments of proposed policies, and develop public health action plans to reduce air pollution and promote health in Detroit and the surrounding area. She teaches master's and doctoral level courses focused on social and environmental health equity, and on survey research. Dr. Schulz's research appears in the American Journal of Public Health, Social Science and Medicine, the Journal of Health and Social Behavior, Health and Place, Social Problems, Health Education and Behavior, The Annual Review of Public Health, The Journal of Urban Health and Health Education Research.
PhD, Sociology, University of Michigan, 1994
M.S.W., Social Policy, University of Michigan, 1990
MPH, Health Behavior & Health Education, University of Michigan, 1981
B.F.A., Art and Design, University of Michigan, 1978
Current research efforts focus on understanding social determinants of health in urban communities, the contributions of social and environmental factors to racial and socioeconomic inequities in cardiovascular disease, social aspects of community and their relationship to health, and interventions designed to promote environmental health and health equity in urban areas. She is Principal Investigator for the Healthy Environments Partnership (www.hepdetroit.org), a community-based participatory research partnership focused on social and physical environments and cardiovascular disease in Detroit, and on the design and implementation of interventions to promote cardiovascular health equity. In addition, she is co_PI for the Community Approaches to Promoting Healthy Environments, a community based participatory research to action grant (S. Batterman, Co-PI) that will develop a public health action plan to reduce exposure to and adverse effects of particulate matter in Detroit. Her co-edited book with Leith Mullings, PhD, entitled "Gender, Race, Class and Health: Intersectional Perspectives" focuses on the processes through which intersections of race, class and gender in shaping the social patterning of health, In addition, Dr. Schulz has been involved in projects concerned with: the effects of colonization on the health of Native Americans; community-based approaches to research and community change; the evaluation of community partnerships for health promotion; and the role of grassroots environmental groups in addressing issues of environmental degradation and economic development.
Schulz AJ, Mentz GB, Sampson N, DeMajo R, Lewis T, Wilkins D, Anderson R. Race, ethnicity and socioeconomic status: Inequalities in the distribution of combined environmental risks. DuBois Review on Race and the Environment. 2016 13(2): 285-304. PMID: 28951763, PMCID: PMC5610908.


Schulz AJ, Mentz G, Lachance L, Zenk SN, Johnson J, Stokes C, Mandell R. Do observed or perceived characteristics of the neighborhood environment mediate associations between neighborhood poverty and cumulative biological risk?. Health Place. 2013 Nov;24:147-56. PubMed PMID: 24100238; PubMed Central PMCID: PMC3837295.


Schulz, A.J., Mentz, G.B., Sampson, N.R., Dvonch, J.T., Reyes, A.G., Izumi, B. (2014) Effects of Particulate Matter and Antioxidant Dietary Intake on Blood Pressure. American Journal of Public Health, e1-e8.
Sampson, N.R., Schulz, A.J., Parker, E.A., Israel, B.A. (2014). Improving Public Participation to Achieve Environmental Justice: Applying Lessons from Freight's Frontline Communities Environmental Justice.
Schulz, A., Israel, B., Mentz, G., Bernal, C., Caver, D., DeMajo, R., Gamboa, C., et al. (August, 2013). Effectiveness of a walking group intervention to promote physical activity and cardiovascular health in predominantly non-Hispanic Black and Hispanic urban neighborhoods: Findings from the Walk Your Heart to Health intervention Health Education & Behavior.
Schulz, A.J., Israel, B.A., *Coombe, C., Gaines, C., Reyes, A., Rowe, Z., Sand, S., *Strong, L., Weir, S. (2011). A community-based participatory planning process and multilevel intervention design: Toward eliminating cardiovascular health inequities. Health Promotion Practice, 12(6): 900-912.
Schulz, A.J., Gravlee, L., Williams, D.R., Israel, B.A., & Rowe, Z. (2006). Unfair treatment and symptoms of depression among urban African American women: A longitudinal analysis. American Journal of Public Health.
Schulz, A.J., Kannan, S., Dvonch, J.T., Israel, B.A., Allen, A., James, S.A., House, J.S., & Lepkowski, J.M. (2005). Social and physical environments and disparities in risk for cardiovascular disease: The Healthy Environments Partnership conceptual model. Environmental Health Perspectives.
American Public Health Association
Sociologists for Women in Society