Jennifer Smith, Ph.D., M.P.H., M.A.
Faculty Profile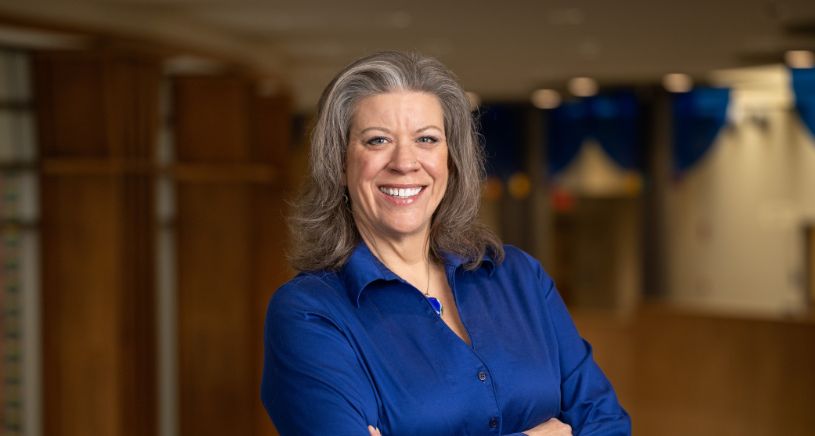 Jennifer A. Smith, Ph.D., M.P.H.
4602 SPH Tower
1415 Washington Heights
Ann Arbor, Michigan 48109-2029
Professional Summary
Dr. Smith received her master's degree in Public Health, master's degree in Statistics, and doctoral degree in Epidemiology from the University of Michigan. She joined the faculty at the University of Michigan Department of Epidemiology in 2012. Broadly, her research investigates the relationship between genetic, epigenetic, and transcriptomic variation and chronic diseases. She is a Steering Committee Member and Affiliated Scientist with the Center for Integrated Approaches to Health Disparities (CIAHD), an Affiliated Scientist with the Michigan Center on the Demography of Aging (MiCDA), and an Associated Faculty Member with the Center for Midlife Science.
Courses Taught
EPID 515: Genetics in Public Health
Education
Ph.D., Epidemiology, University of Michigan, 2011
M.A., Statistics, University of Michigan, 2009
M.P.H., Health Management and Policy, University of Michigan, 2005
B.S., Biological Sciences, Cornell University, 2001
Research Interests & Projects
Dr. Smith's overarching research focus is on the genetics of chronic diseases, subclinical phenotypes, and their risk factors. She works with three large, multi-ethnic cohort studies: the Health and Retirement Study (HRS, N=20,000), the Multi-Ethnic Study of Atherosclerosis (MESA, N=6,000), and the Genetic Epidemiology Network of Arteriopathy (GENOA, N=3,000). Her work encompasses a broad range of phenotypes, including cardiovascular traits, hypertension, chronic kidney disease, subclinical phenotypes for dementia and cognition, obesity and body mass index, diabetes and glucose metabolism, metabolic syndrome, inflammation, and health behaviors. She studies genetic determinants both as direct risk factors for chronic disease, as well as the interaction between genetic and non-genetic factors in shaping disease risk. In particular, she is interested in genetic interaction with social and psychosocial determinants of health, particularly those that influence health disparities. Her research also includes biological markers that may lend insight into disease etiology and molecular mechanisms, including epigenetics, gene expression, and telomere length. Dr. Smith's research program includes both applied genetic epidemiology as well as methods development.
Selected Publications
Joehanes R*, Just AC*, Marioni R*, Pilling LC*, Reynolds LM*, Mandaviya PR*, Guan W*, Xu T*, Elks C*, Aslibekyan S*, Moreno-Macias H*, Smith JA*, Brody JA*, Dhingra R*, … (64 additional authors), … Waldenberger M, Deary I, Fornage M, Levy D, London SJ. Epigenetic signatures of cigarette smoking. Circulation: Cardiovascular Genetics (Accepted).


Liu C*, Kraja AT*, Smith JA*, Brody JA*, Franceschini N*, Bis JC, Rice K, Morrison AC, Lu Y, Weiss S, Guo X, (… 65 additional authors…), Ehret G, Newton-Cheh C, Levy D, Chasman DI. Meta-analysis identifies common and rare variants influencing blood pressure and overlapping with metabolic loci. Nature Genetics (Accepted).


Faul JD, Mitchell CM, Smith JA, Zhao W. (2016) Estimating telomere length heritability in an unrelated sample of adults – Is heritability of telomere length modified by lifecourse socioeconomic status? Biodemography and Social Biology 62(1):73-86. PMID: 27050034.
Needham BL*, Smith JA*, Zhao W, Wang S, Mukherjee B, Kardia SLR, Shively CA, Seeman TE, Liu Y, Diez Roux AV. (2015) Life course socioeconomic status and DNA methylation in genes related to stress reactivity and inflammation: The Multi-Ethnic Study of Atherosclerosis. Epigenetics10(10):958-69. PMID:26295359.


Smith JA, Ware EB, Middha P, Beacher L, Kardia SLR. (2015) Current applications of genetic risk scores to cardiovascular outcomes and subclinical phenotypes. Current Epidemiology Reports2(3):180-90. PMID:26269782.


Locke AE, Kahali B, Berndt SI, Justice AE, Pers TH, Day FR, Powell C, Vedantam S, Buchkovich ML, Yang J, Croteau-Chonka D, Esko T, Fall T, Ferreira T, Gustafsson S, Kutalik Z, Luan J, Maji R, Randall JC, Winkler TW, Wood AR, Workalemaju T, Faul JD, Smith JA, (… 459 Additional authors …), North KE, Ingelsson E, Hirschhorn JN, Loos RJF, Speliotes EK. (2015) Genetic studies of body mass index yield new insights for obesity biology. Nature518(7538):197-206. PMID: 25673413.


Verhaaren BFJ*, Debette S*, Bis JC*, Smith JA*, Ikram MK, Adams HH, Beecham AH, Rajan KB, Lopez LM, Barral S, (…88 additional authors…), Launder LJ*, Grabe HJ*, Seshadri SS*, Ikram MA*, Fornage M*. (2015) Mutliethnic genome-wide association study of cerebral white matter hyperintensities on MRI. Circulation: Cardiovascular Genetics8(2):398-409. PMID: 25663218.


Smith JA*, Zagel AL*, Sun YV , Dolinoy D, Peyser PA, Bielak LF, Turner ST, Mosley TH, Jr., Kardia SLR. (2014) Epigenomic indicators of age in African Americans. Hereditary Genetics:Current Research 3:137.


Peters MM, Joehanes R, Pilling LC, (...107 additional authors including Smith JA...), Johnson AD. The transcriptional landscape of age in human peripheral blood. Nature Communications 6:8570. PMID:26490707.


Kim DS*, Smith JA*, Bielak LF, Wu CY, Sun YV, Sheedy PF, II, Turner ST, Peyser PA, Kardia SLR (2014). The Relationship between Diastolic Blood Pressure and Coronary Artery Calcification is Dependent on Single Nucleotide Polymorphisms on Chromosome 9p21.3 BMC Medical Genetics15(1):89. PMID:25185447.
Kraja AT*, Chasman DI*, North KE*, Reiner AP*, Yanek LR*, Kilpelainen TO*, Smith JA*, Dehghan A*, Dupuis J, Johnson AD, (… 60 additional authors …), Meigs JB*, Borecki IB* (2014). Pleiotropic Genes for Metabolic Syndrome and Inflammation Molecular Genetics and Metabolism 317-338. PMID:24981077.
Bomotti SM*, Smith JA*, Zagel AL, Taylor JY, Turner ST, Kardia SLR (2013). Epigenetic Markers of Renal Function in African Americans Nursing Research and Practice 687519. PMID: 24396594.
Smith, J.A., Mosley, T.H., Turner, S.T., Kardia, S.L.R. (2012). Shared Genetic Effects among Measures of Cognitive Function and Leukoaraiosis. In Amit Agrawal (Ed.) Brain Injury - Pathogenesis, Monitoring, Recovery and Management. Editor: Amit Agrawal. InTech. Management. Editor: Amit Agrawal. InTech. ISBN 978-953-51-0265-6. Available from: http://www.intechopen.com/books/brain-injury-pathogenesis-monitoring-recovery-and-management/shared-genetic-effects-among-measures-of-cognitive-function-and-leukoaraiosis
Smith, J.A., Turner, S.T., Sun, Y.V., Fornage, M., Kelly, R.J., Mosley, T., Jack, C.R., Kullo, I.J., Kardia, S.L.R. (2009). Complexity in the Genetic Architecture of Leukoaraiosis in Hypertensive Sibships from the GENOA Study. BMC Medical Genomics.
Professional Affiliations
International Genetic Epidemiology Society
American Society of Human Genetics
Society for Epidemiologic Research
American Heart Association