Faculty Profile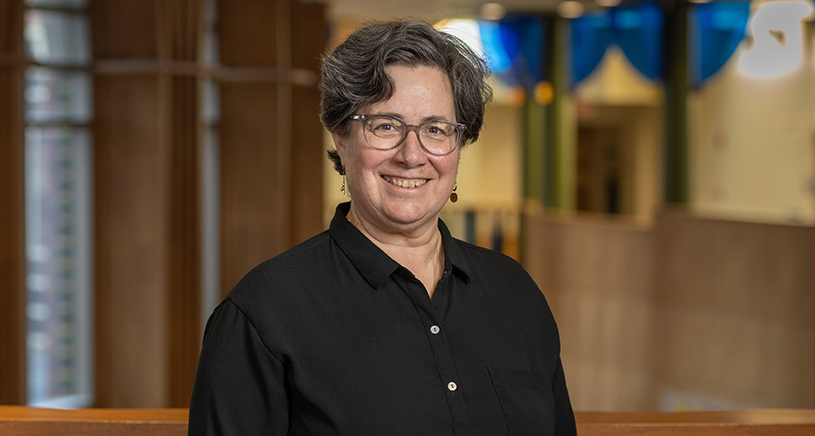 Cathie Spino, ScD
Research Professor, Biostatistics
Director of the Statistical Analysis, Biomedical and Educational Research (SABER) unit
Director of Biostatistics, Michigan Institute for Clinical and Health Research (MICHR)
Dr. Spino is interested in clinical trials methodology and data coordinating center organization. Specifically, she has focused on adaptive designs and database systems. Her experience in both academia and the pharmaceutical industry includes Phase 1 to Phase 4 trials in varied therapeutic areas (e.g., HIV/AIDS, cardiovascular diseases, pediatric rare liver diseases, nephrotic syndromes, pulmonary fibrosis, COPD, asthma, pelvic floor disorders). As director of SABER, she collaborates with investigators on the design and analysis of multi-center clinical trials and other research projects and provides oversight of the infrastructure necessary to conduct these studies, including biostatistics, project management, clinical monitoring, database development, data management, software development, and research administration.
ScD, Harvard University School of Public Health, 1989
MS, Harvard University, Harvard University School of Public Health, 1985
BS, Miami University, 1983
Research Interests:
Clinical trials, data coordinating centers, rare diseases
Research Projects:
Spino is the PI for the data coordinating center for the Diabetic Foot Consortium, focused on the development and validation of biomarkers for healing and recurrence in diabetic foot ulcers. Her group is developing a platform study to incorporate multiple biomarkers to ensure that no diabetic foot is left unstudied.
Spino and her group are leading statistical efforts (many with Dr. Susan Murray) for varied study designs (e.g., stepped wedge clinical trial, precision medicine [target engagement] clinical trial, registry study, cohort study, standard and SMART clinical trials) in pulmonary disease (e.g., COPD, emphysema/HIV, pulmonary fibrosis, IPF)
Through collaborations with other biostatisticians and epidemiologists in CTSAs across the nation, Spino investigates methods to improve the statistical and collaborative skills of applied biostatisticians involved in clinical and translational research
Ciolino JD, Spino C, Ambrosius WT, Khalatbari S, Cayetano SM, Lapidus JA, Nietert PJ, Oster RA, Perkins SM, Pollock BH, Pomann GM, Price LL, Rice TW, Tosteson TD, Lindsell CJ, Spratt H (contributed equally). Guidance for biostatisticians on their essential contributions to clinical and translational research protocol review. J Clin Transl Sci. 2021 Jul 12;5(1):e161. doi: 10.1017/cts.2021.814. PMID: 34527300; PMCID: PMC8427547.
Doria A, Galecki AT, Spino C, Pop-Busui R, Cherney DZ, Lingvay I, Parsa A, Rossing P, Sigal RJ, Afkarian M, Aronson R, Caramori ML, Crandall JP, de Boer IH, Elliott TG, Goldfine AB, Haw JS, Hirsch IB, Karger AB, Maahs DM, McGill JB, Molitch ME, Perkins BA, Polsky S, Pragnell M, Robiner WN, Rosas SE, Senior P, Tuttle KR, Umpierrez GE, Wallia A, Weinstock RS, Wu C, Mauer M; PERL Study Group (contributed equally).
N Engl J Med. 2020 Jun 25;382(26):2493-2503. doi: 10.1056/NEJMoa1916624.
Shneider BL, Spino C, Kamath BM, Magee JC, Bass LM, Setchell KD, Miethke A, Molleston JP, Mack CL, Squires RH, Murray KF, Loomes KM, Rosenthal P, Karpen SJ, Leung DH, Guthery SL, Thomas D, Sherker AH, Sokol RJ; Childhood Liver Disease Research Network. Placebo-Controlled Randomized Trial of an Intestinal Bile Salt Transport Inhibitor for Pruritus in Alagille Syndrome. Hepatol Commun. 2018 Sep 24;2(10):1184-1198. doi: 10.1002/hep4.1244. PMID: 30288474; PMCID: PMC6167076.
Spino C, Jahnke JS, Selewski DT, Massengill S, Troost J, Gipson DS. Changing the Paradigm for the Treatment and Development of New Therapies for FSGS. Front Pediatr. 2016 Mar 23;4:25. doi: 10.3389/fped.2016.00025. PMID: 27047908; PMCID: PMC4803734.
Bezerra JA, Spino C, Magee JC, Shneider BL, Rosenthal P, Wang KS, Erlichman J, Haber B, Hertel PM, Karpen SJ, Kerkar N, Loomes KM, Molleston JP, Murray KF, Romero R, Schwarz KB, Shepherd R, Suchy FJ, Turmelle YP, Whitington PF, Moore J, Sherker AH, Robuck PR, Sokol RJ; Childhood Liver Disease Research and Education Network (ChiLDREN). Use of corticosteroids after hepatoportoenterostomy for bile drainage in infants with biliary atresia: the START randomized clinical trial. JAMA. 2014 May 7;311(17):1750-9. doi: 10.1001/jama.2014.2623. PMID: 24794368; PMCID: PMC4303045.
Wei JT, Nygaard I, Richter HE, Nager CW, Barber MD, Kenton K, Amundsen CL, Schaffer J, Meikle SF, Spino C; Pelvic Floor Disorders Network. N Engl J Med. 2012 Jun 21;366(25):2358-67. doi: 10.1056/NEJMoa1111967.
https://www.ncbi.nlm.nih.gov/myncbi/catherine.spino.1/bibliography/public/