Environmental Health Sciences Faculty and Research
Faculty Profile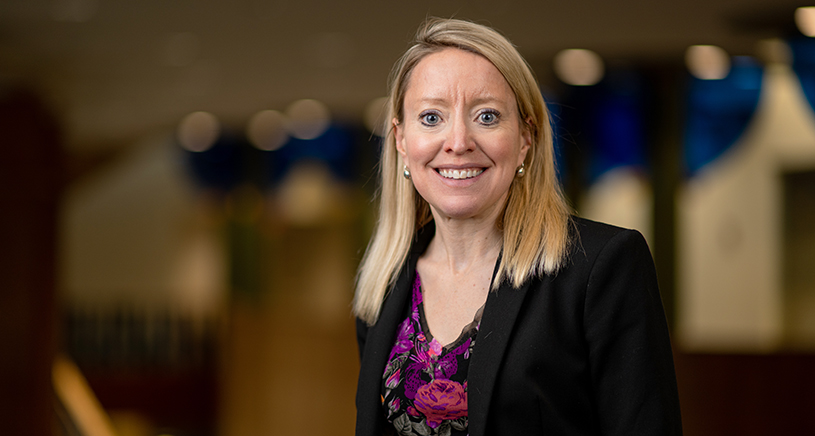 Laurie Svoboda, Ph.D.
Research Assistant Professor, Environmental Health Sciences
M6232 SPH II
1415 Washington Heights
Ann Arbor, MI 48109-2029
Professional Summary
Dr. Laurie Svoboda is a Research Assistant Professor of Environmental Health Sciences at the University of Michigan School of Public Health. Dr. Svoboda completed her undergraduate degree in Chemical Engineering at Michigan State University and her doctoral degree in Toxicology at the University of Michigan. She then completed a postdoctoral fellowship at the University of Michigan, where she focused on understanding the epigenetic and metabolic drivers of pediatric soft tissue tumors.

Dr. Svoboda's research interests lie at the intersection of toxicology, cell metabolism, oxidative stress, and epigenetics. Her research is aimed at understanding how exposure to environmental toxicants during critical windows of development influences the long-term risk of disease via epigenetic mechanisms. She is also focused on determining how maternal diet and nutrition modify the effects of developmental toxicant exposures. She is additionally interested in understanding the biochemical mechanisms underlying toxicant-induced epigenetic reprogramming. Dr. Svoboda works out of the Environmental Epigenetics and Nutrition lab.
Education
Ph.D., Toxicology, University of Michigan, 2011
B.S., Chemical Engineering, Michigan State University, 2002
Selected Publications
Svoboda LK, Teh SS, Kerk S, Sud S, Zebolsky A, Treichel S, Thomas D, Van Noord RA, Halbrook C, Lee HJ, Kremer D, Zhang L, Magnuson B, Bankhead A, Ljungman M, Newman E, Cierpicki T, Grembecka J, Lyssiotis C, Lawlor ER. Regulation of oncogenic serine biosynthesis by the menin-MLL complex in Ewing sarcoma. Journal of Pathology, 2018, https://doi.org/10.1002/path.5085. E-pub ahead of print.
Svoboda LK, Bailey NJ, Krook MA, Van Noord RA, Harris A, Jasman B, Patel RM, Thomas D, Borkin D, Cierpicki T, Grembecka J, Lawlor ER. Tumorigenicity of Ewing sarcoma is critically dependent on the trithorax proteins MLL1 and menin. Oncotarget, 2017, 8:458-471.
Ryland KE, Svoboda LK, Vesely ED, McIntyre JC, Zhang L, Martens JR, Lawlor ER. Polycomb-dependent repression of the potassium channel-encoding gene KCNA5 promotes cancer cell survival under conditions of stress. Oncogene, 2015, 34(35), 4591-4600.
Svoboda LK, Harris A, Bailey NJ, Schwentner R, Tomazou E, von Levetzow C, Magnuson B, Ljungman M, Kovar H, Lawlor ER. Over expression of HOX genes is prevalent in Ewing sarcoma and is associated with altered epigenetic regulation of developmental transcription programs. Epigenetics, 2014, Dec 2;9(12):1613-1625.
Svoboda LK, Reddie KG, Zhang L, Vesely ED, Williams ES, Schumacher SM, O'Connell RP, Shaw R, Day SM, Anumonwo JM, Carroll KS, Martens JR. Redox-Sensitive Sulfenic Acid Modification Regulates Surface Expression of the Cardiovascular Voltage-Gated Potassium Channel Kv1.5. Circulation Research, 2012, 111, 842-853.