Faculty Profile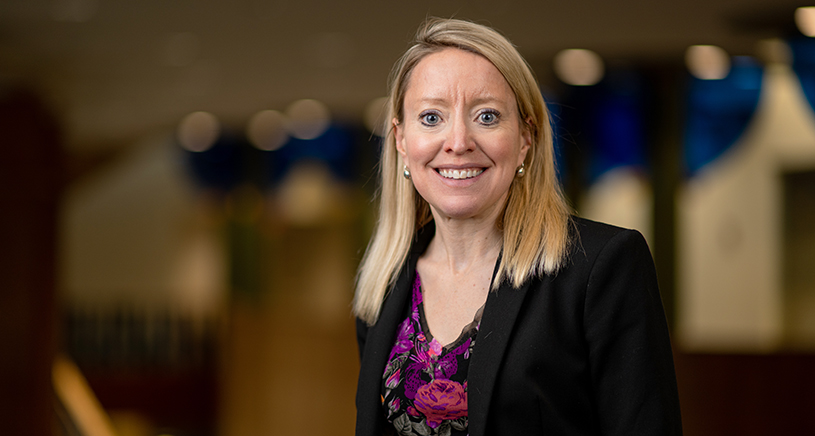 Laurie K Svoboda, PhD
Assistant Professor, Environmental Health Sciences
Dr. Svoboda's research program is focused on understanding the sex-specific effects of developmental chemical exposures on cardiac differentiation and cardiovascular health across the life course. She and her team utilize mice, as well as human induced pluripotent stem cells to investigate how lead, perfluoroalkyl substances, arsenic, and phthalate plasticizers disrupt the sex-specific epigenetic and metabolic processes that underlie normal cardiovascular development and differentiation. She is further interested in understanding how age, lifestyle habits, and genetic predispositions to cardiovascular disease interact with developmental exposures to impact long-term cardiovascular health. Dr. Svoboda and her team focus on several mechanisms of chemical-induced disease, including metabolic perturbations, as well as epigenetic processes - alterations in DNA methylation, histone marks, and non-coding RNA - that impact expression of genes relevant to cardiovascular development and disease. The overall goal of her research is to identify sex-specific molecular targets of chemical exposures, and highlight potential opportunities for pharmacologic, nutritional and lifestyle interventions aimed at minimizing environment-induced harm.
PhD, Toxicology, University of Michigan, 2011
BS, Chemical Engineering, Michigan State University, 2002
Research Interests:
Cardiovascular disease, epigenetics, sex differences, stem cells, cell metabolism, developmental biology, epigenomic profiling
Research Projects:
With a K01 award from the National Institute of Environmental Health Sciences (NIEHS), Dr. Svoboda and her team are investigating how developmental exposure to lead impacts cardiac differentiation and metabolic programming
Dr. Svoboda receives support from the UM Biological Research Initiative on Sex Differences in Cardiovascular Disease to investigate the sex specific effects of chemical exposures on cardiovascular health and epigenetic programming
Dr. Svoboda is a member of the UM Frankel Cardiovascular Center, and has collaborations with several investigators in the Medical School to address questions central to the developmental origins of cardiovascular disease
Dr. Svoboda is currently a co-investigator on the Michigan Center on Lifestage Environmental Exposures and Disease (M-LEEaD), an NIEHS P30 Core Center which seeks to improve our understanding of the contribution of environmental exposures toward the etiology of chronic diseases
Svoboda LK, Reddie KG, Zhang L, Vesely ED, Williams ESs, Schumacher SM, O'Connell RP, Shaw R, Day SM, Anumonwo JM, Carroll KS, Martens JR. Redox-Sensitive Sulfenic Acid Modification Regulates Surface Expression of the Cardiovascular Voltage-Gated Potassium Channel Kv1.5. Circulation Research, 2012, 111, 842-853. PMCID: PMC3657842.
Perera BPU, Faulk C, Svoboda LK, Goodrich JM, Dolinoy DC. The Role of Environmental Exposures and the Epigenome in Health and Disease. Environmental and Molecular Mutagenesis, 2019, doi: 10.1002/em.22311. PMCID: PMC7252203
Malloy MA, Kochmanski JJ, Jones TR, Colacino JA, Goodrich JM, Dolinoy DC, Svoboda LK. Perinatal Bisphenol A Exposure and Reprogramming of Imprinted Gene Expression in the Adult Mouse Brain. Frontiers in Genetics, 2019, 10:951. doi: 10.3389/fgene.2019.00951. PMCID: PMC6796247
Svoboda LK, Wang K, Cavalcante RG, Neier K, Colacino JA, Sartor MA, Dolinoy DC. Sex-Specific Programming of Cardiac DNA Methylation by Developmental Phthalate Exposure. Epigenetics Insights, 2020, 13, doi: 10.1177/2516865720939971. PMCID: PMC7430087

Svoboda LK, Neier KE, Wang K, Cavalcante RG, Rygiel CA, Tsai Z, Jones TR, Liu S, Goodrich JM, Lalancette C, Colacino J, Sartor MA, Dolinoy DC. Tissue and sex-specific programming of DNA methylation by perinatal lead exposure: implications for environmental epigenetics studies. Epigenetics, 2021, doi: 10.1080/15592294.2020.1841872. PMCID: PMC8510611
Svoboda LK, Perera BPU, Morgan RK, Polemi KM, Pan J, Dolinoy DC. Toxicoepigenetics and Environmental Health: Challenges and Opportunities. Chemical Research In Toxicology, 2022, doi: 10.1021/acs.chemrestox.1c00445. PMID: 35876266