Epidemiology Faculty & Research
Faculty Profile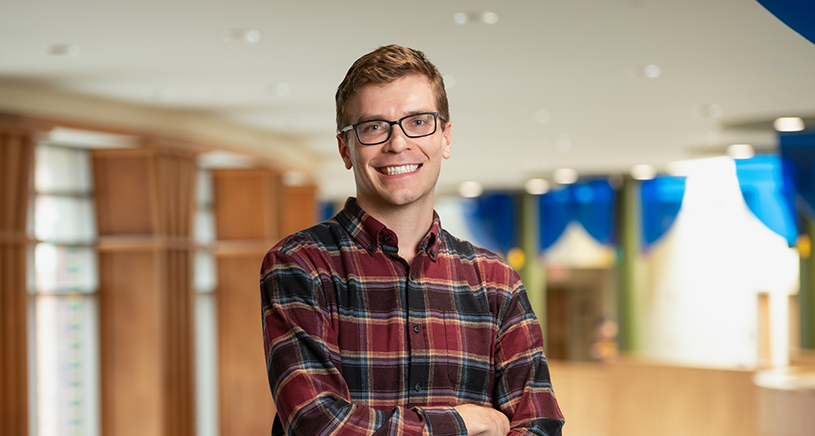 Abram Wagner, Ph.D., M.P.H.
Research Assistant Professor, Epidemiology
LEO Adjunct Assistant Professor, Epidemiology
M5234 SPH II
1415 Washington Heights
Ann Arbor, MI 48109
Professional Summary
Research Fellow, Department of Epidemiology, University of Michigan (2015 – 2018)
Research Fellow, Child Health Evaluation and Research Center (CHEAR), Michigan Medicine (2015 – present)
Education
B.S., Biology of Global Health & Chinese, Georgetown University, 2010
M.P.H., General Epidemiology, University of Michigan, 2012
Graduate certificate, Survey Methodology, University of Michigan, 2015
Ph.D., Epidemiologic Science, University of Michigan, 2015
Fulbright Scholar, Epidemiology and Biostatistics, Fudan University, 2017
Research Interests & Projects
Dr. Wagner studies the predictors of vaccine-preventable disease incidence, with a particular focus on vaccine hesitancy. It has been said that we are living in the "platinum age of vaccinology," as advances in genetic engineering and immunology have expanded the scope of vaccine development to prevent a greater array of diseases than previously thought possible. Since 2000, the US has licensed ten new vaccines and, at the same time, has seen the unfortunate emergence of widespread vaccine hesitancy leading to outbreaks of measles and pertussis. Vaccine hesitancy has primarily been studied in high-income countries and is poorly researched in settings like China, even though we are living in a globalized age where both news and infections have the potential to rapidly spread around the world. Dr. Wagner's research is targeted towards evidence-based programs and policies that work toward the control of a broad range of vaccine-preventable diseases. The long-term goals of Dr. Wagner's research agenda are to characterize the pathways between public health messaging and the incidence of vaccine-preventable diseases. This research will ask questions such as: how can public health messaging impact vaccine hesitancy and, in turn, vaccination uptake (including dimensions such as the timing and scheduling of various vaccines)? And then how does the scheduling of vaccination within a population affect the incidence of both vaccine-preventable diseases and all-cause infectious disease morbidity within the community?
Selected Publications
Wagner AL, Sun X, Huang Z, Boulton ML. Co-administration of paediatric vaccines in Shanghai, China. Public Health. 2016;131: 52–55. https://doi.org/10.1016/j.puhe.2016.08.017
Wagner AL, Boulton ML, Sun X, Mukherjee B, Huang Z, Harmsen IA, Ren J, Zikmund-Fisher BJ. Perceptions of measles, pneumonia, and meningitis vaccines among caregivers in Shanghai, China, and the Health Belief Model: a cross-sectional study. BMC Pediatr. 2017;17: 143. https://doi.org/10.1186/s12887-017-0900-2
Wagner AL, Boulton ML, Sun X, Zhuoying H, Harmsen IA, Ren J, Zikmund-Fisher BJ. Parents' concerns about vaccine scheduling in Shanghai, China. Vaccine. 2017;35: 4362–4367. https://doi.org/10.1016/j.vaccine.2017.06.077
Boulton ML, Wang X, Wagner AL, Zhang Y, Carlson BF, Gillespie BW, Ding Y. Measles Antibodies in Mother-Infant Dyads in Tianjin, China. J Infect Dis. 2017;216: 1122–1129. https://doi.org/10.1093/infdis/jix453
Wagner AL, Boulton ML, Gillespie BW, Zhang Y, Ding Y, Carlson BF, Luo X, Montgomery JP, Wang X. Risk factors for measles among adults in Tianjin, China: who should be controls in a case-control study? PLoS One. 2017;12: e0185465. https://doi.org/10.1371/journal.pone.0185465
Wagner AL, Porth JM, Bettampadi D, Boulton ML. Have community health workers increased the delivery of maternal and child ealthcare in India? J Public Heal. 2018;40: e164–e170.
Wagner AL, Eccleston AM, Potter RC, Swanson RG, Boulton ML. Vaccination timeliness at age 24 months in Michigan children born 2006-2010. Am J Prev Med. 2018;54: 96–102. https://doi.org/10.1016/j.amepre.2017.09.014
Sun X, Huang Z, Wagner AL, Prosser LA, Xu E, Ren J, Wang B, Yan W, Zikmund-Fisher BJ. The role of severity perceptions and beliefs in natural infections in Shanghai parents' vaccine decision-making: a qualitative study. BMC Public Health. 2018;18: 813. https://doi.org/10.1186/s12889-018-5734-9
Professional Affiliations
Society for Epidemiologic Research
International Society of Vaccines
American Public Health Association
International Society for Infectious Diseases