Faculty Profile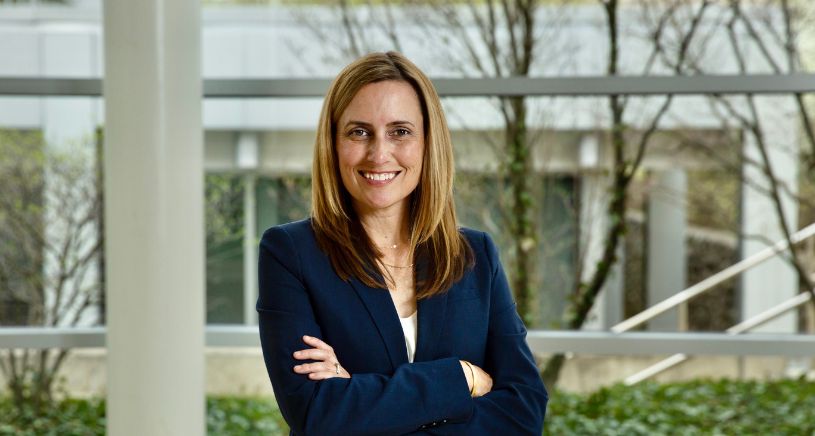 Lauren Wallner, PhD, MPH
Associate Professor, Departments of Internal Medicine and Epidemiology
Co-lead, Cancer Control and Population Sciences Program, Rogel Cancer Center
Dr. Lauren Wallner, PhD, MPH is an Associate Professor of Internal Medicine and Epidemiology at the University of Michigan and co-Leader of the Cancer Control and Population Sciences Program at Rogel Cancer Center. She is a faculty member in the Cancer Surveillance and Outcomes Research Team (CanSORT) and Institute for Healthcare Policy and Innovation. Dr. Wallner is a cancer health services researcher by training. Dr. Wallner received her BS, MPH and PhD degrees at University of Michigan and completed her post-doctoral training in cancer health services research at Kaiser Permanente Southern California and the University of California, Los Angeles. Her research program focuses on improving the quality, and delivery and equity of cancer care. Dr. Wallner's research experience spans the cancer continuum and includes multiple cancer sites. She has conducted a number of studies to understand the determinants, outcomes and utilization of health services associated with cancer. She has expertise in the design, evaluation and implementation of interventions to improve cancer care. She also has experience conducting analyses of large healthcare databases and population-based survey studies of cancer patients, care partners, and physicians using cancer registries. Her work has been continually funded by the National Institutes for Health, the American Cancer Society, and industry partners. She is passionate about mentoring the next generation of cancer care delivery researchers.
PhD, Epidemiologic Science, University of Michigan, Ann Arbor, MI
MPH, Occupational and Environmental Epidemiology, University of Michigan, Ann Arbor, MI
BS, Molecular, Cellular and Developmental Biology, University of Michigan, Ann Arbor, MI
Research Interests:
Improving the delivery, quality and equity of cancer care
Designing, evaluating and implementing interventions to improve cancer care
Team-based cancer care delivery
Aging and cancer
Implementation science
Research Projects:
Dr. Wallner is leading a team of investigators in partnership with two SEER sites to survey a large, diverse cohort of women with a history of breast cancer to understand the delivery, quality and equity of their breast cancer survivorship care.
Dr. Wallner has collaborations on several projects at the intersection of cancer and aging, and is leading a study on understanding the influence of pre-existing cognitive impairment on cancer treatment and care.
Dr. Wallner collaborates on multiple projects evaluating and implementing multi-level interventions to improve the delivery of cancer care.
Dr. Wallner collaborates on studies focused on multiple primary cancer sites including breast, prostate, thyroid, kidney, uterine, esophageal, and colorectal cancers.
Wallner LP, Chen LH, Hogan TA, Brasfield FM, Haque R. The influence of medical comorbidities on survival disparities in a multi-ethnic group of patients with de novo metastatic breast cancer. Cancer Epidemiol Biomarkers Prev. 2022 Jul 21:EPI-22-0065.
Wallner LP, Reyes-Gastelum D, Hamilton AS, Ward KC, Hawley ST, Haymart MR. Patient-Perceived Lack of Choice in Receipt of Radioactive Iodine for Treatment of Differentiated Thyroid Cancer. 2019. J Clin Oncol. 37(24): 2152-2161.
Wallner LP, Li Y, McLeod MC, Gargaro J, Kurian AW, Jagsi R, Radhakrishnan A, Hamilton AS, Ward KC, Hawley ST, Katz SJ: Primary care provider-reported involvement in breast cancer treatment decisions. 2019. Cancer 125 (11): 1815-1822
Radhakrishnan A, Chandler McLeod M, Hamilton AS, Ward KC, Katz SJ, Hawley ST, Wallner LP: Preferences for Physician Roles in Follow-up Care During Survivorship: Do Patients, Primary Care Providers, and Oncologists Agree? 2018. J Gen Intern Med 34(2): 184-186,
Wallner, L.P., Abrahamse, P., Martinez, K.A., Li, Y., Janz, N.K., Katz, S.J., Hawley, S.T. Use of Online Communication by Newly Diagnosed Breast Cancer Patients During the Treatment Decision Process. 2016. JAMA Oncology. 2016 Dec 1;2(12): 1654-1656.
Wallner, L.P., Abrahamse, P., Friese, C.R., Hamilton, A., Ward, K., Katz, S.J., Hawley, S.T. The involvement of primary care physicians in decision-making and care of patients with breast cancer. J Clinical Oncology. 2016. Nov 20;34(33): 3969-3975.
Email: lwallner@med.umich.edu
Office: 734-232-0788

Address:
North Campus Research Complex
Building 16 409E
2800 Plymouth Road
Ann Arbor, MI 48109