Faculty Profile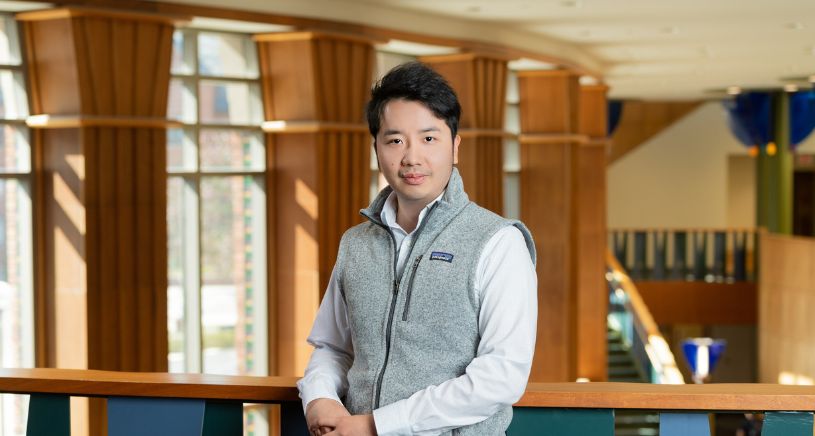 Xin Wang, PhD, MPH
Research Investigator
5523 SPH I
1415 Washington Heights
Ann Arbor, Michigan 48109-2029
Xin Wang is a Research Investigator in the Department of Epidemiology at the University of Michigan School of Public Health. Dr. Wang received his M.P.H. and Ph.D. in Epidemiologic Science from the University of Michigan. His research interests broadly relate to developing and applying novel data-driven approaches to systematically evaluate a wide variety of environmental factors with aging-related diseases, including reproductive and cardiometabolic disorders and Alzheimer's disease. He is now working with several ongoing cohort studies, including the Study of the Environment and Alzheimer's Disease and Related Dementias (SEAD), the Study of Women's Health Across the Nation (SWAN), Normative Aging Study (NAS), the Nurses' Health Study (NHS), and the National Health and Nutrition Examination Survey (NHANES).
Ph.D., Epidemiologic Sciences, The University of Michigan, 2020
M.P.H., General Epidemiology, The University of Michigan, 2016
B.S., Biological Science and Technology, Wuhan University, 2013
Research interests:
Environmental mixture analysis.
Environment-wide association study.
Air pollution.
Risk prediction modeling.
Cardiometabolic diseases.
Reproductive health.
Current Projects:
Environmental chemicals and Alzheimer's Disease Related Dementias (ADRD) with Medicare linkage: This project aims to evaluate heavy metals including lead and cadmium with prospective incident ADRD in prospective Medicare data linked with the National Health and Nutrition Examination Survey (NHANES) III and NHANES 1999-2016. Additionally, the project involves a systematic evaluation of 250 environmental exposures available in NHANES to identify unknown and emerging environmental toxicants related to incident ADRD. Finally, this project will apply advanced statistical and machine learning methods to develop an exposome-based risk prediction model for ADRD.
Air pollution and longitudinal changes in body size and composition in midlife women: The goal of this study is to examine whether long-term exposure to ambient air pollution, as indexed by estimates of annual concentrations of PM2.5, NO2, and O3, may influence longitudinal trajectories of body size and composition (including total and proportion body fat and lean mass and body weight) over the menopausal transition in midlife women from the Study of Women's Health Across the Nation (SWAN) 1996-2018.
Wang, X., Ding, N., Harlow, S.D., Randolph Jr, J.F., Mukherjee, B., Gold, E.B. and Park, S.K. Urinary Metals and Age at Natural Menopause: the Study of Women's Health Across the Nation (SWAN). Environment International, 157, p.106781.
Wang, X., Karvonen-Gutierrez, C.A., Herman, W.H., Mukherjee, B., Harlow, S.D. and Park, S.K. Urinary Heavy Metal Exposures and Longitudinal Changes in Blood Pressure in Midlife Women: the Study of Women's Health Across the Nation (SWAN). Hypertension, 121.17295.
Wang, X., Mukherjee, B., Karvonen-Gutierrez, C.A., Herman, W.H., Batterman, Harlow, S.D., and Park, S.K., 2020. Urinary metal mixtures and longitudinal changes in glucose homeostasis: The Study of Women's Health Across the Nation (SWAN). Environment International, 145, p.106109.
Wang, X., Mukherjee, B. and Park, S.K., 2019. Does Information on Blood Heavy Metals Improve Cardiovascular Mortality Prediction? Journal of the American Heart Association, 8(21), p.e013571.
Wang, X., Mukherjee, B. and Park, S.K., 2018. Associations of cumulative exposure to heavy metal mixtures with obesity and its comorbidities among US adults in NHANES 2003–2014. Environment international, 121, pp.683-694
International Society for Environmental Epidemiology
American Society for Nutrition