Faculty Profile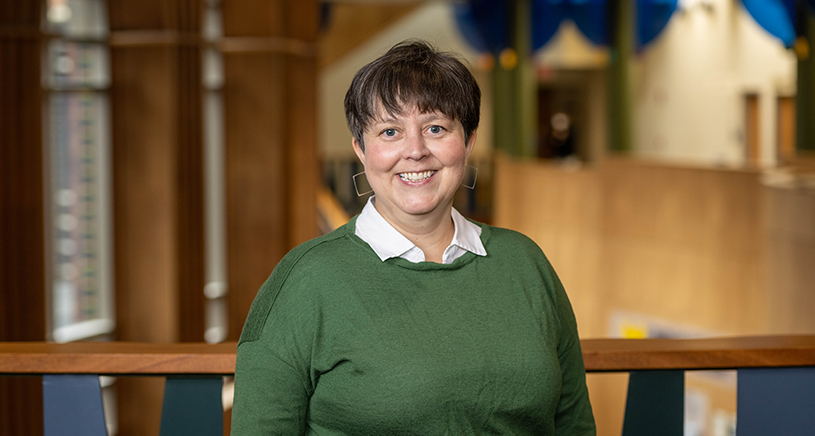 Deborah Watkins, Ph.D.
Research Assistant Professor, Environmental Health Sciences
6611C SPH I
1415 Washington Heights
Ann Arbor, MI 48109-2029
Professional Summary
Dr. Deborah Watkins is a Research Assistant Professor of Environmental Health Sciences at the University of Michigan School of Public Health. Her research is focused on investigating causal relationships between exposure to environmental contaminants during critical periods of development and subsequent health effects. Specifically, she is interested in the molecular mechanisms by which exposure to endocrine disrupting chemicals (EDCs) may affect hormonally driven developmental processes, such as growth, neurodevelopment, and puberty, with long-term impacts on health. Chemicals of interest include phthalates, phenols, parabens, and flame retardants. Dr. Watkins is currently working with large birth cohorts in both Mexico City and Puerto Rico as part of two NEIHS and EPA funded Children's Environmental Health and Disease Prevention Centers.
Education
Ph.D., Environmental Health, Boston University, 2011
M.P.H., Environmental Health, Boston University, 2007
B.A., Clinical Laboratory Science, University of Maine-Orono, 1994
Selected Publications
Watkins DJ, Milewski S, Domino SE, Meeker JD, Padmanabhan V. 2016. Maternal phthalate exposure during early pregnancy and at delivery in relation to gestational age and size at birth: A preliminary analysis. Reproductive Toxicology. 65:59-66.
Watkins DJ, Fortenberry GZ, Sanchez BN, Barr DB, Panuwet P, Bellinger D, Schnaas L, Solano-Gonzalez M, Ettinger AS, Hernandez-Avila M, Hu H, Meeker JD, Téllez-Rojo MM. 2016. Urinary 3-phenoxybenzoic acid (3-PBA) in pregnant women from Mexico City: Distribution and relationships with child neurodevelopment. Environmental Research. 147:307-313.
Watkins DJ, Meeker JD, Ferguson KK, Mercado-García A, Peterson KE, Téllez-Rojo MM. 2016. Relating phthalate and BPA exposure to metabolism in peripubescence: The role of exposure timing, sex, and puberty. Journal of Clinical Endocrinology and Metabolism. 101(1):79-88.
Watkins DJ, Ferguson KK, Anzalota Del Toro LV, Alshawabkeh AN, Cordero JF, Meeker JD. 2015. Associations between urinary phenol and paraben concentrations and markers of oxidative stress and inflammation among pregnant women in Puerto Rico. International Journal of Hygiene and Environmental Health. 218:212-219.
Watkins DJ, Téllez-Rojo MM, Ferguson KK, Lee JM, Solano-Gonzalez M, Blank-Goldenberg C, Peterson KE, Meeker JD. 2014. In utero and peripubertal exposure to phthalates and BPA in relation to female sexual maturation. Environmental Research. 134:233-241.
Watkins DJ, Eliot M, Calafat AM, Yolton K, Lanphear BP, Braun JM. 2014. Variability and predictors of urinary concentrations of phthalate metabolites during early childhood. Environmental Science & Technology. 48:8881-8890.
Watkins DJ, Wellenius GA, Butler RA, Savitz DA, Fletcher T, Kelsey KT. 2014. Associations between serum perfluoroalkyl acids and LINE-1 DNA methylation among a highly exposed population. Environment International. 63:71-76.
Watkins DJ, JossonJ, ElstonB, BartellSM, ShinHM, VieiraVM, SavitzDA, FletcherT, WelleniusGA. 2013. Exposure to perfluoroalkyl acids and markers of kidney function among children and adolescents living near a chemical plant. Environmental Health Perspectives. 121(5):625-630.
Watkins DJ, McClean MD, Fraser AJ, Weinberg J, Stapleton HM, Sjödin A, Webster TF. 2012. Impact of dust from multiple microenvironments and diet on PentaBDE body burden. Environmental Science & Technology. 46(2):1192-1200.
Watkins DJ, McClean MD, Fraser AJ, Weinberg J, Stapleton HM, Sjödin A, Webster TF. 2011. Exposure to PBDEs in the office environment: Evaluating the relationship between dust, handwipes and serum. Environmental Health Perspectives. 119(9):1247-1252.
Professional Affiliations
Member, International Society for Environmental Epidemiology
Member, Endocrine Society
Member, Society for Epidemiologic Research