Faculty Profile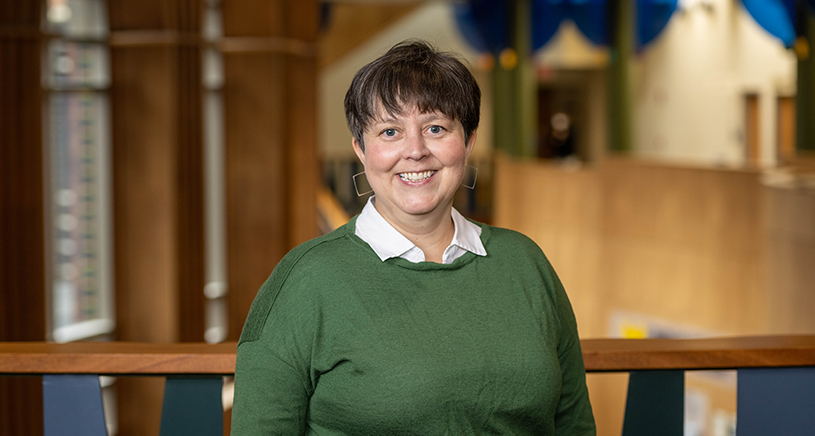 Deborah J Watkins, PhD, MPH
Associate Professor of Environmental Health Sciences
Dr. Watkins is investigating how environmental exposures during critical life stages, including pregnancy, early development, puberty, and menopause, can impact long-term maternal and child health. Her work includes both identification of important sources of exposure to phthalates, phenols, flame retardants, pesticides, and other contaminants, and determination of subsequent exposure-related health effects within vulnerable populations. She is particularly interested in the molecular mechanisms by which environmental exposures - both chemical and non-chemical - interact to affect growth, neurodevelopment, and aging. Dr. Watkins is currently pursuing this research in the context of large, NIEHS-funded birth cohort studies in Mexico City and Puerto Rico.
PhD, Boston University, 2011
MPH, Boston University, 2007
BA, University of Maine - Orono, 1994
Research Interests:
Environmental epidemiology, exposure assessment, maternal and child health, neurodevelopment

Research Projects:
Dr. Watkins is currently investigating how exposure to phthalates and metals during pregnancy and perimenopause impact comprehensive, longitudinal measures of bone health and body composition.
Through the Superfund Research Program and the NIEHS Environmental Influences on Child Health Outcomes (ECHO) program, Dr. Watkins is examining how gestational and early life exposures can affect child neurodevelopment.

In collaboration with researchers at the University of Puerto Rico and others, Dr. Watkins is exploring the short and long-term impacts of Hurricane Maria on maternal and child health within the PROTECT birth cohort.
Watkins DJ, Meeker JD, Tamayo-Ortiz M, Sánchez BN, Schnaas L, Peterson KE, Téllez-Rojo MM. 2021. Gestational and peripubertal phthalate exposure in relation to attention performance in childhood and adolescence. Environmental Research. 196:110911.
Zimmerman E*, Watkins DJ*, Huerta-Montanez G, Rosario Z, Feric Z, Manjourides J, Vélez Vega CM, Figueroa A, Hines M, Martens A, Cordero JF, Alshawabkeh AN, Meeker JD. 2021. Associations of gestational phthalate exposure and non-nutritive suck among infants from the PROTECT birth cohort study. Environment International. 152:106480. * authors contributed equally
Watkins DJ, Torres Zayas HR, Vélez Vega CM, Rosario Z, Welton M, Agosto Arroyo LD, Cardona N, Díaz Reguero ZJ, Santos Rivera A, Huerta-Montañez G, Brown P, Alshawabkeh A, Cordero JF, Meeker 2020.
Investigating the impact of Hurricane Maria on an ongoing birth cohort in Puerto Rico
. Population & Environment. 42, 95-111.
Rodríguez-Carmona Y, Ashrap P, Calafat AM, Ye X, Rosario-Pabón Z, Bedrosian L, Vélez Vega CM, Alshawabkeh AN, Cordero JF, Meeker JD, Watkins DJ. 2020.
Determinants and characterization of exposure to phthalates, DEHTP, and DINCH among pregnant women in the PROTECT birth cohort in Puerto Rico
. Journal of Exposure Science and Environmental Epidemiology. 30:56-69.
View full list of publications at
https://www.ncbi.nlm.nih.gov/myncbi/deborah.watkins.1/bibliography/public/
Email: debjwat@umich.edu
Address: 6611C SPH I
1415 Washington Heights
Ann Arbor, MI 48109