Faculty Profile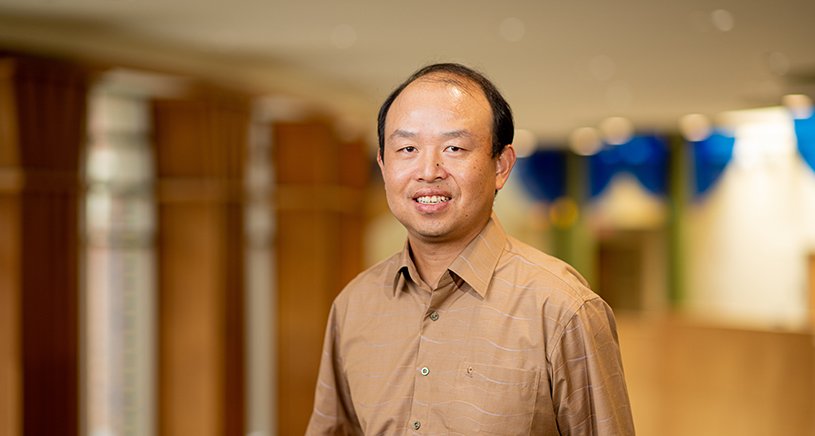 Xiaoquan William Wen, Ph.D.
Associate Professor of Biostatistics
1415 Washington Heights
Ann Arbor, Michigan 48109-2029
Professional Summary
Xiaoquan (William) Wen is an Associate Professor of Biostatistics. He received his Ph.D. in Statistics from the University of Chicago in 2011 and joined the faculty at the University of Michigan in the same year. His research centers on developing Bayesian and computational statistical methods to answer interesting scientic questions arising from genetics and genomics.
Education
Ph.D., Statistics, University of Chicago, 2011
M.S., Computer Science, University of Illinois, 2002
M.S., Mathematics, University of Illinois, 2001
Selected Publications
Maranville JC, Luca F, Richards AL, Wen X, Witonsky DB, Baxter S, Stephens M, Di Rienzo A. (2011). Interactions between glucocorticoid treatment and cis-regulatory polymorphisms contribute to cellular response phenotypes. PLoS Genet e1002162.
Wen X, Stephens M. (2010). Using Linear predictors to impute allele frequencies from summary or pooled genotype data. Ann Appl Stat 1158-1182.
De la Cruz O, Wen X, Ke B, Song M, Nicolae DL. (2010). Gene, region and pathway level analyses in whole-genome studies. Genet Epidemiol 222-31.
Fledel-Alon A, Wilson DJ, Broman K, Wen X, Ober C, Coop G, Przeworski M. (2009). Broad-scale recombination patterns underlying proper disjunction in humans. PLoS Genet. e1000658.
Coop G, Wen X, Ober C, Pritchard JK, Przeworski M. (2009). High-resolution mapping of crossovers reveals extensive variation in fine-scale recombination patterns among humans. Science 1395-8.
Wen X, Nicolae DL. (2008). Association studies for untyped markers with TUNA. Bioinformatics 435-7.
Nicolae DL, Wen X, Voight BF, Cox NJ. (2006). Coverage and characteristics of the Affymetrix GeneChip Human Mapping 100K SNP set. PLoS Genet. e67.
Voight BF, Kudaravalli S, Wen X, Pritchard JK. (2006). A map of recent positive selection in the human genome. PLoS Biol. e72.