Faculty Profile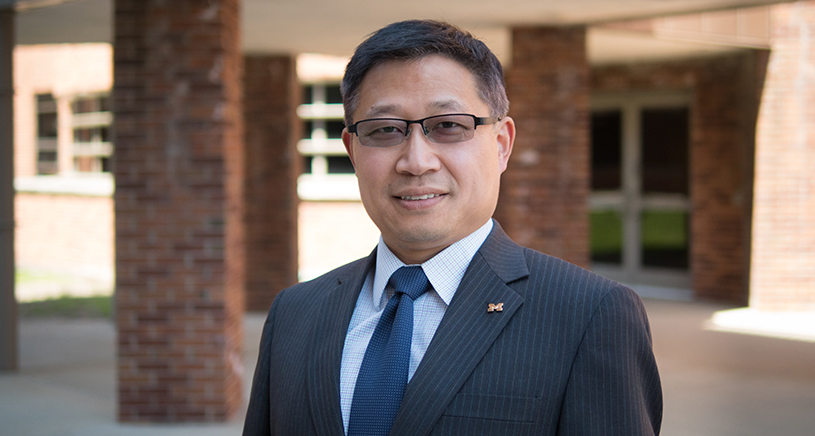 Chuanwu Xi, PhD, MS
Professor, Environmental Health Sciences
Professor, Global Public Health
Dr. Xi is an expert in environmental microbiology and health. His research focuses on biofilms, water quality and treatment and human health in three major inter-related areas: (A) molecular mechanisms of biofilm development; (B) characterization of biofilms and microbial community in industrial and clinical settings and its impact on human health; and (C) development of novel approaches for biofilm control. Prior to joining the faculty of the University of Michigan in 2005, he spent four years at the University of Illinois at Urbana-Champaign and received his PhD from Katholieke Universiteit Leuven, Belgium in 2000.
PhD, Applied Biological Sciences, Katholieke Universiteit Leuven, Belgium, 2000
MSc, Molecular Microbiology, Guangxi University, China, 1996
BSc, Biology, Anhui Normal University, China, 1993
Research Interests:
Biofilms/Microbiome, water quality/treatment, and human health
Molecular mechanisms of biofilm development
Biofilm/microbiome characterization and its implication in industrial and clinical settings
Novel strategies for biofilm control
Research Projects:
Topics: Biofilms/microbiome, water quality and water treatment, environmental biotechnology, molecular microbial ecology, antibiotic resistance, environmental genomics, environmental surveillance of infectious diseases, Acinetobacter baumannii and Helicobacter pylori, and global environmental health.
MDHHS
SARS-CoV-2 Epidemiology - Wastewater Evaluation and Reporting (SEWER) Network 2 summer 09/01/2021-08/31/2023
Michigan Medicine/Peking University Health Science Center Joint Institute
Nanobubble water combined with apyrase as root canal irrigant inhibits biofilm and virulence of Enterococcus faecalis
USDA
Use of Novel Nanobubble Watering Processes for Enhanced Plant Growth and Pathogen Control
NIH/NIEHS
Toxicant Activation of Pathways of Preterm Birth in Gestational Tissue (subproject)
NIH
U-M Minority Health and Health Disparities International Research Training Program
The major goal is to train minority students for international research experience in the health area.
NIH
Michigan-Ohio Occupational Research Education (MOORE) Program
Monitoring SARS-CoV-2 in air and on surfaces and estimating infection risk in buildings and buses on a university campus X Zhang, J Wu, LM Sith, X Li, O Yancey, A Franzblau, JT Dvonch, C Xi, ... Journal of exposure science and environmental epidemiology, 1-8 5 2022 PM2.

5 drives bacterial functions for carbon, nitrogen, and sulfur cycles in the atmosphere H Liu, Z Hu, M Zhou, H Zhang, X Zhang, Y Yue, X Yao, J Wang, C Xi, ...
Environmental Pollution 295, 118715 1 2022

Dominance of comammox Nitrospira in soil nitrification
J Hu, Y Zhao, X Yao, J Wang, P Zheng, C Xi, B Hu
Science of The Total Environment 780, 146558 15 2021

Delivering nitric oxide with poly (n-butyl methacrylate) films doped with S-nitroso-N-acetylpenicillamine
Y Zhou, P Wu, J Wu, JC Doverspike, Q Zhang, J Shao, C Xi, Y Liu, ... Polymer 228, 123943 2 2021

Antimicrobial Resistance of Helicobacter pylori in Gastric Biopsy Samples from Lima/Peru
C Bilgilier, J Thannesberger, M Ojeda Cisneros, K Boehnke, J Wu, C Xi, ... Microbial Drug Resistance 27 (7), 951-955 5 2021

US-China collaboration is vital to global plans for a healthy environment and sustainable development
M Xu, GT Daigger, C Xi, J Liu, J Qu, PJ Alvarez, P Biswas, Y Chen, ... Environmental science and technology 55 (14), 9622-9626 4 2021

Antimicrobial Resistance of Helicobacter pylori in Gastric Biopsy Samples from Lima/Peru M Ojeda Cisneros, J Wu, C Bilgilier, K Boehnke, A Bussalleu Rivera, ... Mary Ann Liebert 2021

Two-part nitric oxide generating topical compositions
JC Doverspike, J Phan, J Wu, C Xi, Y Qin, ME Meyerhoff, Y Zhou US Patent App. 16/976,382 2020

Glycine-based treatment ameliorates NAFLD by modulating fatty acid oxidation, glutathione synthesis, and the gut microbiome O Rom, Y Liu, Z Liu, Y Zhao, J Wu, A Ghrayeb, L Villacorta, Y Fan, ...
Science translational medicine 12 (572), eaaz2841 52 2020

Strategy for denitrifying anaerobic methane-oxidizing bacteria growing under the oxygen-present condition
Y Li, J Wang, M Hua, X Yao, Y Zhao, J Hu, C Xi, B Hu
Science of The Total Environment 742, 140476 11 2020

Nitric oxide-releasing insert for disinfecting the hub region of tunnel dialysis catheters JC Doverspike, SJ Mack, A Luo, B Stringer, S Reno, MS Cornell, ...
ACS applied materials and interfaces 12 (40), 44475-44484 9 2020

Airborne microorganisms exacerbate the formation of atmospheric ammonium and sulfate H Liu, Z Hu, M Zhou, H Zhang, Z Li, H Zhang, J Hu, X Yao, L Lou, C Xi, ... Environmental Pollution 263, 114293 14 2020

Temporal discrepancy of airborne total bacteria and pathogenic bacteria between day and night
Z Hu, H Liu, H Zhang, X Zhang, M Zhou, L Lou, P Zheng, C Xi, B Hu Environmental Research 186, 109540
Email: cxi@umich.edu
Office: 734-615-7594
Fax: 734-936-7283

Address: 6529 SPH-II
1415 Washington Heights
Ann Arbor, Michigan 48109-2029

For media inquiries: sph.media@umich.edu