Faculty Profile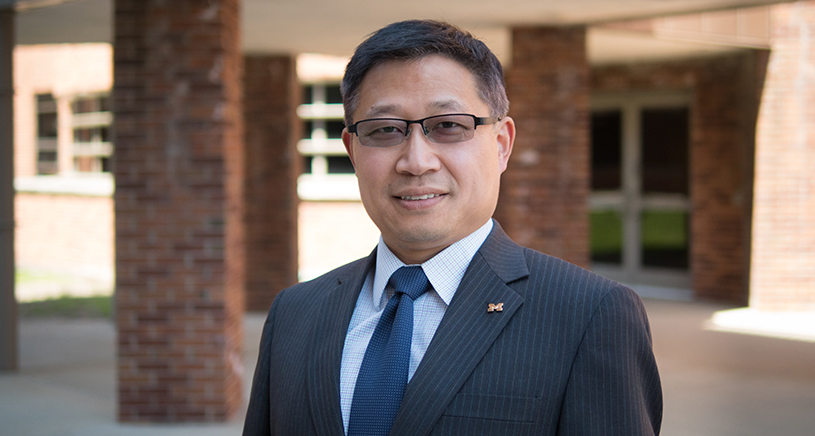 Chuanwu Xi, PhD
Professor, Environmental Health Sciences


Professor, Global Public Health
6631 SPH Tower
1415 Washington Heights
Ann Arbor, Michigan 48109-2029
Dr. Xi is a molecular microbiologist and microbial ecologist. His research focuses on biofilms, water quality and treatment and human health in three major inter-related areas: (A) molecular mechanisms of biofilm development; (B) characterization of biofilms and microbial community in industrial and clinical settings and its impact on human health; and (C) development of novel approaches for biofilm control. Prior to joining the faculty of the University of Michigan in 2005, he spent four years at the University of Illinois at Urbana-Champaign and received his PhD from Katholieke Universiteit Leuven, Belgium in 2000.
PhD, Applied Biological Sciences, Katholieke Universiteit Leuven, Belgium, 2000
M.Sc., Molecular Microbiology, Guangxi University, China, 1996
B.Sc., Biology, Anhui Normal University, China, 1993
Dr. Xi's research interest is in biofilms, water quality, advanced bio-imaging, biological processes, molecular microbial ecology, and environmental genomics. Current research projects include: molecular mechanisms of persistence and resistance of pathogens in drinking water distribution system; ecology of Mycobacteria in metalworking fluids and its associated biofilms; Optical Coherence Tomography imaging of biofilm development dynamics; spread of antibiotic resistance and biofilms in the urban water cycle; characterization of biofilms and microbial populations on medical devices; the role of extracellular polysaccharide and extracellular DNA in Acinetobacter biofilm development; and control of biofilms-related infectious diseases using PDT nano-particles, enzymes, small compounds and natural products.
Prospective Study of Biofilms, Mycobacteria and Pseudomonads in Metalworking Fluids
Principal Investigator: Xi, Franzblau and Kim
Sponsor: NIOSH/CDC
Thermo-detachable anti-biofilm polymer coatings
Principal Investigator: Kuroda and Xi
Sponsor: NIDCR/NIH
Elucidating Mechanisms Responsible for the Persistence of Microorganisms in Drinking Water Distribution Systems
Principal Investigator: Raskin and Xi
Sponsor: NSF
Biofilms and Spread of Antibiotic Resistance in Surface and Drinking Water
Principal Investigator: Xi, Marrs and Simon
Sponsor: Graham Environmental Sustainability Institute
Ecology of Multi-Species Biofilms on Urinary Catheters
Principal Investigator: Xi, Foxman, Younger, et al.
Sponsor: The Office of Vice President for Research/University of Michigan
High throughput screening for chemical compounds inhibiting biofilm formation and growth
Principal Investigator: Xi
Sponsor: Gregory Margolies Fund/Center for Chemical Genomics
Doverspike JC, Zhou Y, Wu J, Tan X, Xi C and Meyerhoff E. Nitric oxide releasing two-part creams containing S-nitrosoglutathione and zinc oxide for potential topical antimicrobial applications. Nitric Oxide. 2019 Jun 3;90:1-9
Phillips, KS, Y Wang, X Tan, and C Xi Removal of Staphylococcus aureus from skin using a combination antibiofilm approach. npj Biofilms and Microbiome. in press
Greene, C, NH Ceron, MC Eisenberg, J Koopman, JD Miller, C Xi, and JN Eisenberg (2018). Asymmetric transfer efficiencies between fomites and fingers: Impact on model parameterization. American journal of infection control 2018 46 (6), 620-626
Nriagu, J, C Xi, A Siddique, A Vincent and B Shomar (2018). Influence of Household Water Filters on Bacteria Growth and Trace Metals in Tap Water of Doha, Qatar. Scientific Reports 8
Dai, D, L Raskin and C Xi (2017) The effect of interactions between a bacterial strain isolated from drinking water and a pathogen surrogate on biofilms formation diverged under static versus flow conditions. Journal of applied microbiology 123 (6), 1614-1627
Ren, H, J Wu, A Colletta, ME Meyerhoff and C Xi (2016). Efficient eradication of mature Pseudomonas aeruginosa biofilm via controlled delivery of nitric oxide combined with antimicrobial peptide and antibiotics. Frontiers in Microbiology 7:1260
Bayliss, J, B Levi, J Wu, S Want, G Su and C Xi (2016). Apyrase elicits host antimicrobial responses and resolves infection in burns. Journal of Burn Care & Research. doi: 10.1097/BCR.0000000000000335
Wu, J, X Wen, C Faulk, K Boehnke, H Zhang, DC Dolinoy, and C Xi (2016). Perinatal lead (Pb) exposure alters gut microbiota composition and results in sex-specific bodyweight increases in adult mice. Toxicological Sciences. doi:10.1093/toxsci/kfw046
Greene, C, G Vadlamudi, D Newton, B Foxman and C. Xi (2016). The impact of biofilm formation and multidrug resistance on environmental survival of clinical and environmental isolates of Acinetobacter baumannii. American Journal of Infection Control. doi:10.1016/j.ajic.2015.12.012
Park SR, Tripathi A, Wu J, Schultz PJ, Yim I, McQuade TJ, Yu F, Arevang CJ, Mensah AY, Tamayo-Castillo G, Xi C and Sherman DH (2016). .Discovery of cahuitamycins as biofilm inhibitors derived from a convergent biosynthetic pathway. Nature Communications. 16;7:10710
American Society for Microbiology
American Water Works Association
International Water Association
Association of Environmental Engineering and Science Professsors (AEESP)
International Society of Microbial Ecology