Faculty Profile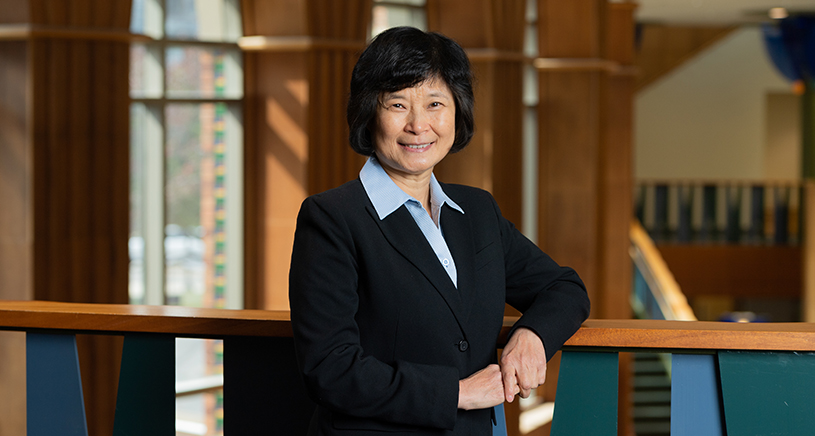 Zhenhua Yang, M.D., PhD
Associate Professor, Epidemiology
M5124 SPH II
1415 Washington Heights
Ann Arbor, Michigan 48109-2029
Dr. Zhenhua Yang is an Associate Professor of Epidemiology and a member of the Center for Molecular and Clinical Epidemiology of Infectious Diseases at the University of Michigan. Her educational background includes medicine, genetics and biology of microorganisms, and molecular epidemiology of infectious diseases. Her research focuses on the epidemiology of TB and TB/HIV coinfection in the U.S. and globally, aiming at identifying the factors influencing the occurrence, distribution, transmission, and clinical presentation of TB and HIV coinfection in different populations. The other major focuses of Dr. Yang's research are the genetic diversity of Mycobacterium tuberculosis clinical strains and its clinical and epidemiological relevance and the implications for developing new TB vaccines and therapeutics.
Ph.D., Health Science, Copenhagen University, Denmark,1995

Fellowship, Genetics and Biology of Microorganisms, Lausanne University, Switzerland, 1992

Certificate, French, Beijing Language Institute, China, 1991

Fellowship: Vaccinology, Statens Serum Institut, Denmark, 1984

MD, Northern Sichuan Medical College, China, 1981
Epidemiology of tuberculosis (TB) and TB/HIV coinfection in U.S. and resource-limited countries with high TB and HIV burdens
Genetic diversity of Mycobacterium tuberculosis clinical strains and its clinical and epidemiological relevance
Genetic diversity of Mycobacterium tuberculosis clinical strains and its impact on anti-TB drug susceptibility and the implications for new TB drug development
Joint impact of host and pathogen genetic variations on the development of new TB vaccines
Martino RJ, Chirenda J, Mujuru HA, Ye W, Yang Z. Characteristics Indicative of Tuberculosis/HIV Coinfection in a High-Burden Setting: Lessons from 13,802 Incident Tuberculosis Cases in Harare, Zimbabwe. Am J Trop Med Hyg. 2020 May 18. doi: 10.4269/ajtmh.19-0856. Online ahead of print.
Ong E, He Y, Yang Z. Epitope promiscuity and population coverage of Mycobacterium tuberculosis protein antigens in current subunit vaccines under development. Infect Genet Evol. 2020 Jun;80:104186. doi: 10.1016/j.meegid.2020.104186.
Earley M, Chirenda J, Highet A, Mujuru HA, and Yang Z. Characterizing pediatric tuberculosis with and without human immunodeficiency virus coinfection in Harare, Zimbabwe. Am J Trop Med Hyg. 2018 Sep;99(3):601-607.
Yang Z, Gorden T, Liu D, Mukasa L, Patil N, Bates JH. Increasing likelihood of advanced pulmonary tuberculosis at initial diagnosis in a low incidence state. Int J Tuberc Lung Dis. 2018 Jun 1;22(6):628-636.
Noppert GA*, Wilson ML, Clarke P, Ye W, Davidson P, Yang Z. Race and nativity are major determinants of tuberculosis in the U.S.: evidence of health disparities in tuberculosis incidence in Michigan, 2004-2012. BMC Public Health. 2017 Jun 2;17(1):538. doi: 10.1186/s12889-017-4461-y. PMID: 2857868.
Pan Y, Yang Z (co-corresponding author), Liu R, Xing L, Peng Z, Zhu C. Host and Microbial Predictors of Childhood Extrathoracic Tuberculosis and Tuberculosis Meningitis. Pediatr Infect Dis J. 2015 Aug 1. PMID:26237743.
Berzkalns A, Bates JH, Ye W, Mukasa L, France AM, Patil N, Yang Z. The road to tuberculosis (Mycobacterium tuberculosis) elimination in Arkansas; a re-examination of risk groups. PLoS One. 2014 Mar 11; 9 (3):e90664.
Davila J, McNamara LA*, Yang Z. Comparison of the predicted population coverage of tuberculosis vaccine candidates Ag85B-ESAT-6, Ag85B-TB10.4, and Mtb72f via a bioinformatics approach. PLoS One. 2012; 7(7):e40882.
Zhang X, Andersen A, Lillebaek T, Kamper-Jørgensen Z, Thomsen VØ, Ladefoged K, Marrs CF, Zhang L, and Yang Z. Effect of sex, age, and race on the clinical presentation of tuberculosis: a 15-year population-based study. Am J Trop Med Hyg. Am J Trop Med Hyg. 2011 Aug; 85(2):285-90.
Talarico S, Ijaz K, Mukasa LN, Zhang L, Zhang X, Bakhtawar I, Cave MD, Bates JH, Yang Z. Identification of host and microbial factors important to tuberculosis transmission by integration of epidemiology and comparative genomics. Tuberculosis. 2011 May; 91(3):244-9.
Agarwal M, Gunal S, Durmaz R, Yang Z. Integration of Mycobacterium tuberculosis drug susceptibility testing and genotyping with epidemiological data analysis to gain insight into the epidemiology of drug resistant TB in Malatya, Turkey. J Clin Microbiol. 2010 Sep;48(9):3301-5
McNamara LA, He Y, Yang Z. Using epitope predictions to evaluate efficacy and population coverage of the Mtb72f vaccine for tuberculosis. BMC Immunol. 2010 Mar 30; 11-18.
Sheline KD, France AM, Talarico S, Foxman B, Zhang L, Marrs CF, Bates JH, Cave MD, Yang Z. Does the lipR gene of tubercle bacilli have a role in tuberculosis transmission and pathogenesis? Tuberculosis. 2009 Mar; 89 (2):114-9.
Hebert A, Talarico S, Yang D, Marrs CF, Zhang LX, Foxman B, Yang Z. DNA Polymorphisms of Mycobacterium tuberculosis pepA and PPE18 Genes among Clinical Strains: Implications for Vaccine Efficacy. Infection and Immunity.2007 Dec; 75(12), 5798-805.
France AF, Cave MD, Bates J, Yang Z. What's driving the decline of incidence of tuberculosis in Arkansas? A molecular epidemiologic analysis of tuberculosis trends in a rural, low-incidence population. American J. Epid. 2007 Sep 15; 166(6):662-71.
Kong Y, Cave MD, Zhang L, Foxman B, Marrs CF, Bates JH, and Yang Z. A population-based study of deletions in five different genomic regions of Mycobacterium tuberculosis and their possible clinical relevance. J Clin Microbiol. 2006 Nov;44(11):3940-6.
Yang Z, Yang D, Kong Y*, Zhang L, Marrs CF, Foxman B1, Bates JH, Wilson F, and Cave MD. Clinical relevance of Mycobacterium tuberculosis plcD gene mutations. Am J Respir and Crit Care Med. 2005 Jun 15;171(12):1436-42.
Yang Z, Kong Y*, Wilson F, Foxman B, Fowler AH, Marrs CF, Cave MD, and Bates JH. Identification of risk factors for extrapulmonary tuberculosis. Clin Infect Dis 2004 Jan 15;38(2):199-205.
Yang Z, Barnes PF, Chaves F, Eisenach KD, Weis S, Bates JH and Cave MD. Diversity of DNA fingerprints of Mycobacterium tuberculosis isolates in the United States J. Clin. Microbiol. 1998; 35(4): 1003-7.
Yang Z, De Haas PEW, van Soolingen D, van Embden JDA and Andersen AB. Restriction fragment length polymorphism of Mycobacterium tuberculosis strains isolated from Greenland during 1992: evidence of tuberculosis transmission between Greenland and Denmark. J. Clin. Microbiol.1994; 32: 3018-3025.
Member, American Society for Microbiology
Member, American Public Health Association
International Union against Tuberculosis and Lung Disease