A Letter from Guest Speaker Dr. Aparna Bole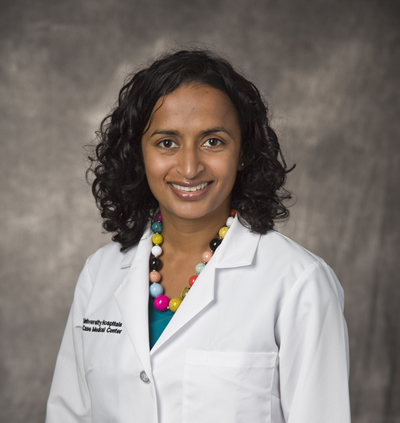 Dear Michigan Public Health Class of 2020,
What an extraordinary moment to be graduating with a degree in public health. I was so looking forward to being with you in Ann Arbor, to address you all as colleagues and to personally welcome you as newly minted fellow Michigan alumni.
I had planned to invite you to celebrate the 50th anniversary of Earth Day by reflecting on the sense of urgency and hope with which we need to approach acting on climate change as a public health imperative. There would have been a pleasing historical symmetry to marking Earth Day 50 together in a place that helped to shape the first ever Earth Day and the birth of the modern environmental movement; as well as a personal resonance for me because my career as a pediatric environmental advocate began when I was a U of M medical student.
Instead, we're observing Earth Month, and celebrating your graduation, while sheltering in place during a devastating global pandemic, unprecedented during our lifetimes. While I'm disappointed not to be seeing you in Hill Auditorium, I'm also moved to have this opportunity to address you during this public health crisis. You, as public health graduates, have the knowledge and conviction to navigate this moment with unique grace.
There's also a special poignancy in observing Earth Day in light of what we're learning from the COVID19 pandemic. The act of physical distancing, requiring each of us to make choices that may require personal sacrifice for the sake of protecting our neighbors, our communities, and our healthcare systems, has reminded us that public health interventions are essentially acts of love. Through our efforts in this pandemic, we're proving that we have what it takes to come together in love to take the bold, urgent climate action that we need to protect a healthy environment for the next 50 years and beyond. Furthermore, we have the tools and technology to act on climate today, and climate solutions - clean energy, sustainable transportation, healthier food systems, vibrant and inclusive urban planning practices - have immediate health benefits that can reduce the burden of acute and chronic disease, reduce health disparities, and improve our quality of life.
As global distancing measures result in decreased fossil fuel combustion from power plants and vehicles, we are seeing striking reductions in air pollution from Beijing to Los Angeles, and the reemergence of wildlife from Venice to New York City. We can take hope from this evidence of Earth's ecological resilience and our ability to dramatically decrease carbon emissions through collective action, even on a short time scale. We should not conclude, however, that economic and environmental well-being are mutually exclusive – rather, economic and social systems that are based on extraction, exploitation, consumption, and disposal are inherently vulnerable. We can do much better than going back to the way things were before.
Our experience during this pandemic also underscores the fact that the field of public health is vast – even in the context of pandemic response, it's not just about surge planning for healthcare, or virus testing capability, though these are important. It's also about safety net services, promoting social cohesion, and addressing systemic racism.
Periodically we hear debate about what should rightfully be within the purview of health professionals: Gun violence? Racial justice? Climate change? Stay in your lane, some strict constructionists advise – stay out of political issues, social issues, economic issues. Our lane, presumably, has to do with the provision of health services, and little else. I beg to differ:
We're witnessing living proof that just, sustainable, and regenerative economic and social systems are essential to our public health – so healthcare and public health professionals alike should be on the front lines of demanding and designing them. I'm looking forward to linking arms with you – virtually, for now! – in doing just that.
I hope in the meantime that you are able to take a moment to celebrate your accomplishments, that you and your loved ones are taking care and staying safe, and that you understand how essential you are to ensuring a healthy, equitable future for all of us.
I can't wait to partner with you to build that better future. Congratulations and Go Blue!
Dr. Aparna Bole
Medical Director of Community Integration at UM Rainbow Babies & Children's Hospital
Associate Professor of Pediatrics at Case Western Reserve University School of Medicine
Michigan Medicine '06