Dr. Aparna Bole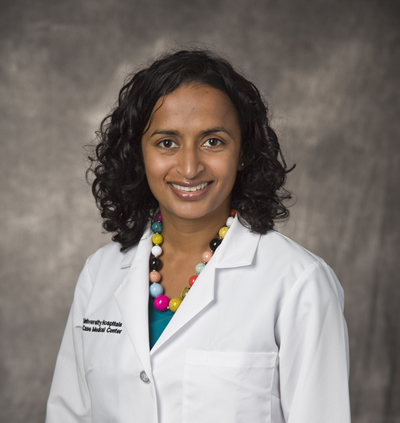 Dr. Aparna Bole, Medical Director of Community Integration at UH Rainbow Babies & Children's Hospital and associate professor of Pediatrics at Case Western Reserve University School of Medicine, will provide the graduation address for the University of Michigan School of Public Health graduation ceremony on April 30, 2020.
Bole is an industry leader at the intersection of environmental sustainability and pediatric public health. She graduated from the University of Michigan Medical School in 2006.
"I'm honored to provide the graduation address because my medical education at Michigan was an incredibly formative experience, and I'm deeply grateful for it. The opportunity to address Michigan Public Health graduates feels like a way to pay forward the gifts I received from my Michigan education," Bole said.
In her role at UH Rainbow Babies & Children's Hospital, Bole leads efforts to build close partnerships with community organizations and stakeholders to enhance the well-being of patients and families.
Looking back on her career thus far, she identifies her own graduation day as a pivotal moment: "Commencement' is exactly the right word for the day because it was really the beginning of putting my education to work in service of the people and principles that have defined my career."
Bole also serves as chair of the American Academy of Pediatrics Council on Environmental Health, on the board of Healthcare without Harm (as co-chair), and is a founding advisory council member of the Ohio Clinicians for Climate Action.
The School of Public Health is part of a campus-wide partnership commemorating the 50th anniversary of Earth Day, which has its roots at the University of Michigan.
"I'm so passionate about pediatric environmental health and environmental justice, and we are in a moment of such urgency and opportunity to address the climate crisis for the sake of all of our health and the health of our children. To address the graduates during the 50th anniversary of Earth Day is a special honor. Standing in solidarity with newly minted public health colleagues and fellow Michigan graduates during this historic moment for the environmental movement is especially meaningful."
Early in her career, Bole says she had respected mentors and teachers try to steer her away from her passion for environmental sustainability.

"It was an unorthodox career path for an academic physician," she says. "But trusting the values that drew me to that work was the best decision I could have made. If we are to solve some of our most intractable public health challenges, we are going to have to challenge the status quo and do things differently."

She is looking forward to sharing this message and more on April 30 at Hill Auditorium.
"I'm hoping to come from a place of solidarity with graduates and welcome them to the front lines of fighting for health equity today and ensuring that future generations inherit a world that will allow them to thrive."