Overview
Program Overview
Successful completion of a residency in Public Health and General Preventive Medicine requires a minimum of three years of training:
One year of an accredited postgraduate clinical year (PGY-1) in a primary care specialty within the United States or Canada (this Residency does not offer the PGY-1 training). Some applicants may have completed a full clinical residency.
Two years of PGY-2 and PGY-3 specialty training in the Preventive Medicine Residency at the University of Michigan School of Public Health, which includes broad-based education followed by focused preventive medicine education.
The Residency's mission is accomplished through the provision of rigorous academic course work resulting in a Master of Public Health degree in one of the following departments: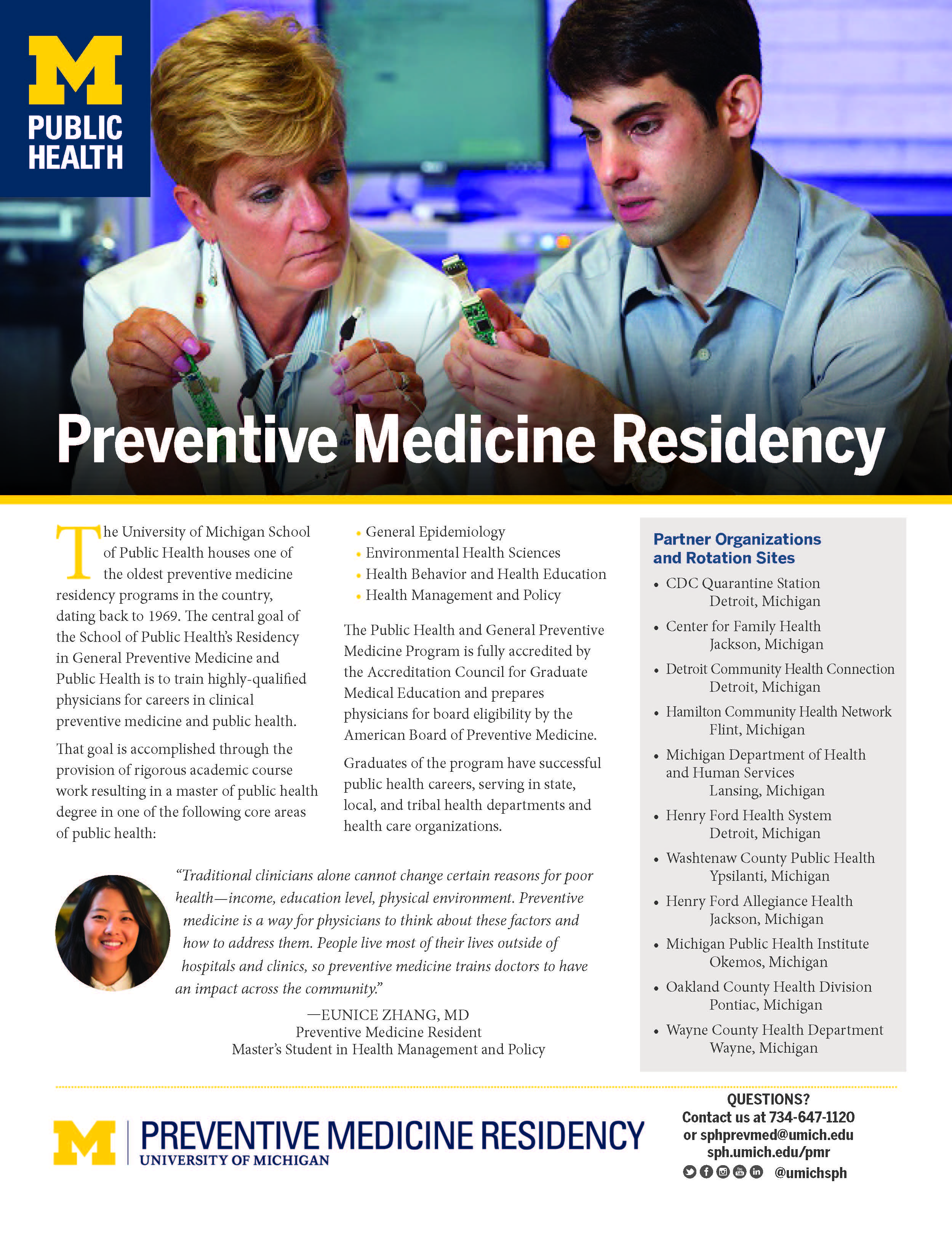 General Epidemiology
Environmental Health Sciences
Health Behavior and Health Education
Health Management and Policy
Broad practicum experiences are offered with concentrations in applied epidemiology, public health practice, and clinical preventive medicine, which are typically provided in areas of high unmet health care needs.
Approximately three new residents are admitted to the Residency each year, which begins on July 1. PGY-2 residents are engaged in continuity clinics and attend academic courses and preventive medicine seminars. PGY-3 residents complete 4–5 practicum rotations and finalize coursework to earn a Master of Public Health degree from the University of Michigan.
Positions are awarded on a competitive basis. Residents are committed full-time to the program and must reside within commuting distance of Ann Arbor. The Residency provides medical professional liability insurance, an annual stipend for all residents, and full MPH tuition.