Health and Well-Being Support
We all need to feel well to do well. There are many campus and community resources devoted to helping you manage your overall well-being, including your mental and physical health.
Well-being Resources
Join the Well-being Community at the School of Public Health
Are you interested in receiving information about health and well-being? If so, please join our well-being at U-M Public Health email group.
Opt-in/Opt-out Instructions:
go to MCommunity
select "Log In" and enter your uniqname and password
Switch the search criteria from "people" to "groups"
Search for "Well-being at U-M Public Health"
select "join" or "resign"
Resource and Success Coaching
Need help finding the right resource? Beth Cable, Student Success Coach, provides individualized attention and support to students, so they can thrive in their program. Students can schedule one-on-one coaching sessions with Beth for support with:
Academic success (time management, habits, imposter syndrome, burnout, etc).
Well-being (work-life balance, food security, social engagement, etc.)
Student community support (first-gen, international, students who are parents, etc.)
U-M resource sharing (CAPS, SAPAC, SSD, etc)
Just to say hello and meet someone new!
Well-being for U-M Students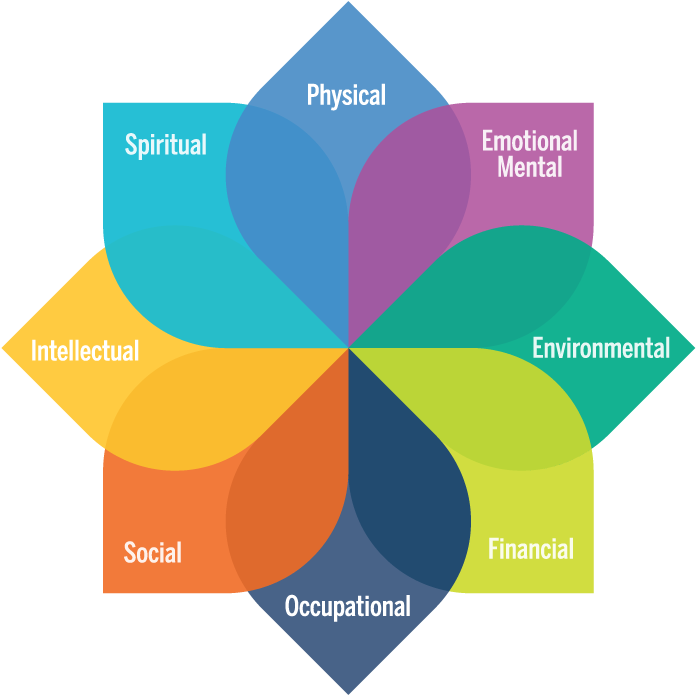 The University of Michigan has a website dedicated to your well-being journey. Please explore the eight dimensions of well-being listed on the Well-being for U-M Students website. The website offers many resources, campus events and stress-relieving videos that can help you take a break when you need one!
The Well-being Toolkit
The U-M Well-being Toolkit brings together the vast number of well-being tools that are available across Student Life for you, our students! You'll find a variety of interactive, customizable and adaptable tools that promote a holistic and inclusive understanding of well-being. Browse it by category, or if you are looking for a specific topic you can also search by tag.
Mental Health
Embedded Counselor in the School of Public Health
Joseph (Joe) Rizzo | School of Public Health Embedded CAPS Counselor
M1519 SPH I | Email Joe Rizzo (joerizzo@umich.edu) for questions or to make a counseling appointment.
Counseling and Psychological Services (CAPS) plays an important role in supporting the emotional well-being of students at the University of Michigan by providing counseling services, preventive and educational programming, consultation, and outreach. Students can access CAPS services either with their school's embedded counselor or at the Central CAPS Office.
UWill: Student Mental Health & Wellness
Uwill Teletherapy Service is an addition to CAPS services that provides students with video, phone, chat, and message sessions with licensed mental health professionals at no cost. To access the Uwill platform, visit app.uwill.com. From there, register with a University of Michigan email address.
Togetherall
Create a Free Togetherall Account
Enter your U-M email address
Complete the short online form to create an account.
Verify your email address
Interactions on the online peer-to-peer platform, Togetherall, are anonymous and supervised 24 hours a day, seven days a week by licensed mental health practitioners.
Togetherall can be helpful for students as a first step to seeking help who might otherwise find it difficult to approach an office, or a person, and verbally express their needs. The service is available to students for free and joins U-M's two additional peer support-based offerings for students: the Wolverine Support Network and Individual Peer Counseling.
Wolverine Support Network
Wolverine Support Network (WSN) empowers University of Michigan students to create an inclusive community and support each other's identity, mental well-being, and day-to-day lives.
Individual Peer Counseling
Individual Peer Counseling (IPC) is designed to offer students the opportunity to meet with peers who are trained by the professional staff at UM's Counseling and Psychological Services (CAPS). The IPC program connects students with someone of a similar age and lifestyle who can serve as a resource or simply someone to talk to.
Mental Health Services at University Health Service (UHS)
UHS provides medication management of common mental health issues; a Care Manager for screenings, referral and follow-up, or just to talk; Wellness Coaching to discuss how mental health and well-being impact success at the University of Michigan; and the Collegiate Recovery Program for students in recovery from alcohol or other drug addiction, or those interested in learning about recovery.
Physical Health
Nutrition Counseling and Wellness Center
The School of Public Health Nutrition Counseling Center (SPH NCC) is open to all UM students and is sponsored by the Department of Nutritional Sciences as part of their dietetics training model.
The SPH NCC is a peer-to-peer nutrition counseling program where Master's level dietetic students meet individually with clients seeking nutrition counseling under the supervision of a Registered Dietitian Nutritionist (RDN). Peer-to-peer counseling allows the student counselor to build confidence and self-esteem in a safe environment, while connecting and engaging with their peers. Student counselors will use a Motivational Interviewing approach to guide sessions. Examples of counseling session topics include better meal planning, eating tips for increased energy, grocery shopping tips, eating on a budget, digestive issues, or overcoming barriers that prevent better nutrition.
Appointments are generally 30-45 minutes and can be via Zoom or in-person at the SPH NCC Wellness Center space located in SPH II room 5327. Additional information can be found in our FAQs. If you'd like to make an appointment please go to our Acuity Scheduling platform.
University Health Service (UHS)
University Health Service (UHS) is your campus health clinic and wellness resource. University of Michigan students who are currently enrolled in regular classes on the Ann Arbor campus pay a health service fee as part of tuition. As a result, students can receive the following UHS services at no cost:
Clinic visits in Primary Care Clinic, Quick Clinic, Women's Health Clinic, Specialty Clinics, and Nutrition Clinic
Nurse Advice by phone (734-764-8320), day or night
Laboratory testing for sexually transmitted infections (STI), pregnancy and hormonal testing for trans care
Sexual assault exam services and any associated laboratory testing
Wolverine Wellness services including Wellness Coaching, safer sex supplies, and Collegiate Recovery Program
And more
For other UHS services, students (and/or their personal health insurance) may be billed. See more at Costs for Students. Any out-of-pocket expenses depend on what kind of care you need and your insurance plan. Health insurance plans vary a great deal and may cover only part of the costs. Please check with your insurance about coverage, because students are responsible to pay any part that isn't covered by health insurance.
Health Insurance
Health insurance is highly recommended to cover some costs at UHS and costs for services received elsewhere, including at Michigan Medicine hospitals and clinics. Costs may include medications, visits to specialists outside UHS, ambulance, emergency room visits, and hospitalization. If you do not have insurance, consider purchasing the Domestic Student Health Insurance Plan.
International students with an F-1 or J-1 visa type are required to have health insurance that meets the University's standards. Health insurance coverage is coordinated through the University of Michigan International Center. For contact information and office hours, see the the University of Michigan International Center Health Insurance Office Hours.
UHS can help if you have questions about health care services and insurance on campus. Call 734-764-8320 or email ContactUHS@umich.edu. For more information about health resources on campus, see Well-being for U-M Students.
Dental Health
The University of Michigan School of Dentistry offers a wide variety of dental services to the public and University community. Service is provided by supervised student providers or specialty residents.
The Dental Faculty Associates is a private practice setting within the School of Dentistry where patients are treated exclusively by faculty dentists. The Dental Faculty Associates offer a full range of dental services.
Michigan Medicine
https://www.uofmhealth.org/, located at 1500 E. Medical Center Dr., offers inpatient and outpatient care, in addition to vast research and teaching facilities. The eight-unit complex includes University Hospital, Von Voigtlander Women's Hospital, and C.S. Mott Children's Hospital. More than 110 specialty services, ranging from Emergency Services and Obstetrics-Gynecology to Pediatrics and Psychiatry, are available. The costs of care at Michigan Medicine, however, are not covered by student fees. Check with your health insurance for questions about copays and coverage.
Sports and Recreation
U-M Recreational Facilities
There are three indoor U-M Department of Recreational Sports facilities:
Memberships are available to students, faculty, staff, alumni, and the general public. All University of Michigan students have an automatic membership which includes access to all of the facilities when they pay their student activity fee each semester.
Rec-sports Programs
MHealthy Exercise and Relaxation Classes
University of Michigan faculty, staff, students and the general public can register for more than 100 MHealthy Exercise and Relaxation Classes, including yoga, Pilates, Zumba, body sculpting, spinning, step aerobics, and much more. Classes are offered at various locations on or near the University's Ann Arbor campus.
Kinesiology Community Programs
Kinesiology Community Programs has been providing group exercise classes for over 30 years. It offers a wide variety of group exercise and wellness classes to University of Michigan faculty, staff, students, and others affiliated with the university. Cardio, strength and conditioning, yoga and Pilates classes, as well as instruction in swim, tennis, golf, and Tae Kwon Do are among the offerings. Most are held at the Central Campus Recreation Building.
Ann Arbor Rec & Ed
Ann Arbor Rec & Ed offers cardio classes, water aerobics, weight training, Pilates, yoga, Zumba, dance, and many other health and wellness classes for children and adults year round. Check the website for schedules and fees.
Ann Arbor YMCA
The Ann Arbor YMCA, located at 400 W. Washington, has free-weight areas, exercise machines, and a swimming pool available for members. Additionally, they offer aerobics, weight training, martial arts, yoga, spinning, and other fitness classes year round for a fee (no membership necessary).
Religion and Spirituality
Reflection Rooms
There are a number of reflection rooms on campus and at the School of Public Health intended for students and other members of the university community to pray, meditate, and otherwise spend time in quiet reflection.
Religious/Spiritual Student Groups
Visit Maize Pages to view a list of student groups with a religious or spiritual focus and links to group information.