Faculty Profile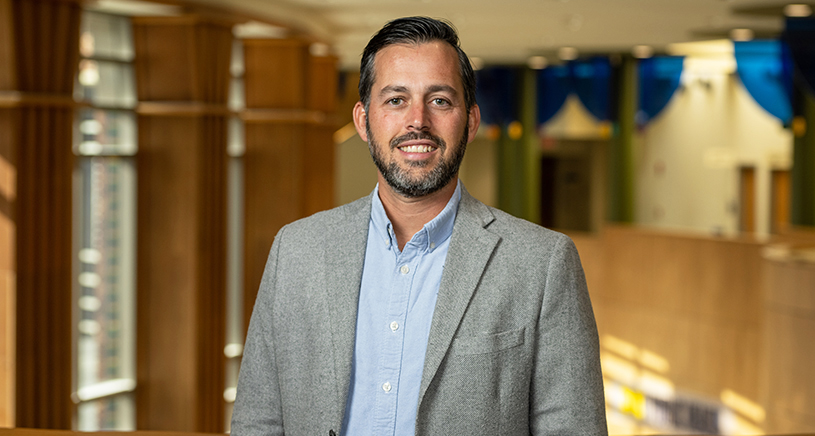 Paul J. Fleming, PhD, MPH
Assistant Professor, Department of Health Behavior & Health Education
3814 SPH I
1415 Washington Heights
Ann Arbor, MI 48109-2029
Dr. Fleming focuses his work on the root causes of racial health inequities and strategies to address them. He conducts community-based participatory research focused on the health needs of Latinx immigrants in Michigan and examines how to best integrate anti-racist principles into public health training and practice. He also is a member of Public Health Awakened and contributes to community organizing efforts to promote health through social change.
NIDA T32 Postdoctoral Fellowship, Division of Global Public Health, University of California, San Diego, 2015-2016
PhD, Health Behavior, University of North Carolina at Chapel Hill, 2015
MPH, Behavioral Sciences & Health Education, Emory University, 2011
B.A., Political Science and Spanish, University of Illinois at Urbana-Champaign, 2006
Fleming, P.J., Novak, N., Lopez, W.D. U.S. Immigration Law Enforcement Practices and Health Inequities: A Conceptual Model and Public Health Agenda. American Journal of Preventive Medicine.
Fleming, P.J., Lopez, W.D., Mesa, H., Rion, R., Rabinowitz, E., Bryce, R., Doshi, M. The impact of the 2016 US election on immigrant families: perspectives from health and social service workers in Southeast Michigan. BMC Public Health.
Fleming, P.J., Lopez, W.D., Ledon, C., Waller, A., Harner, M., Martinez, R., Kruger, D.J. (2019) 'I'm going to look for you and take your kids': Reproductive justice in the context of immigration enforcement. PLOS One. Epub ahead of print.
Fleming, P.J., Villa Torres, L., Taboada, A., Richards, C., Barrington, C. (2016) Marginalisation, discrimination and the health of Latino immigrant day labourers in a central North Carolina community. Health and Social Care in the Community. DOI: 10.1111/hsc.12338
Fleming, P.J., Gruskin, S., Roja, F., Dworkin, S.L. (2015). Men's violence against women and men are inter-related: Recommendations for simultaneous intervention. Social Science & Medicine. 146, 249-56.
Fleming, P.J., McCleary-Sills, J., Morton, M., Levtov, R., Heilman, B., Barker, G. (2015). Risk factors for men's perpetration of intimate partner violence: Results from the International Men and Gender Equality Survey in eight countries. PLoS ONE. 10(3).
Fleming, P.J., Lee, J.G.L., Dworkin, S.L. (2014). 'Real men don't': Constructions of masculinity and inadvertent harm in public health interventions. American Journal of Public Health. 104(6), 1029-1035.
Paul Fleming in the News