Faculty Profile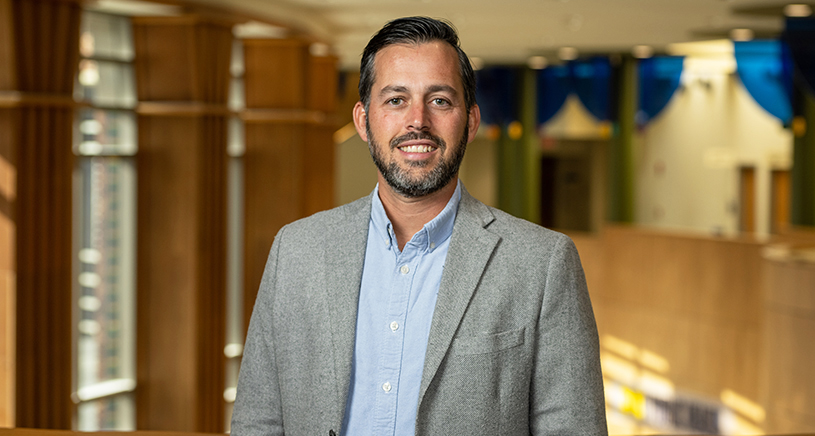 Paul J. Fleming, Ph.D., M.P.H.
Assistant Professor, Department of Health Behavior & Health Education
3814 SPH I
1415 Washington Heights
Ann Arbor, MI 48109-2029
Professional Summary
Paul Fleming is an Assistant Professor in Health Behavior and Health Education at the University of Michigan School of Public Health. He received his Ph.D. in Health Behavior with a graduate minor in Sociology from the University of North Carolina and his M.P.H. in Behavioral Sciences and Health Education from Emory University. He has previously worked as a Community Health Peace Corps Volunteer in Nicaragua developing and implementing sexual and reproductive health programs for men and also as a consultant on issues related to the social determinants of health for the World Bank and U.S. Agency for International Development. Currently, his mixed-methods research focuses on the social determinants of health and health behaviors, with a particular focus on developing and evaluating interventions in poor and marginalized communities in Michigan and abroad. In the work he is initiating in Michigan, he uses a community-based participatory approach with Latino immigrants to examine how policies and discrimination contribute to poor physical and mental health outcomes. In his international work, he focuses on how gender norms - and their intersection with class and race/ethnicity - can result in men's harmful behaviors, including partner violence, sexual risk behaviors, and lack of support for family planning.
Education
NIDA T32 Postdoctoral Fellowship, Division of Global Public Health, University of California, San Diego, 2015-2016
Ph.D., Health Behavior, University of North Carolina at Chapel Hill, 2015
M.P.H., Behavioral Sciences & Health Education, Emory University, 2011
B.A., Political Science and Spanish, University of Illinois at Urbana-Champaign, 2006
Selected Publications
Fleming, P.J., Colvin, C., Peacock, D., Dworkin, S.L. (2016) What role can gender-transformative programming for men play in increasing South African men's HIV testing and engagement in HIV care and treatment? Culture, Health & Sexuality. DOI:10.1080/13691058.2016.1183045
Fleming, P.J., Barrington, C., Pearce, L.D., Lerebours, L., Donastorg, Y., Brito, M.O. (2016) 'I feel like more of a man': A mixed methods study of masculinity, sexual performance, and circumcision for HIV prevention. Journal of Sex Research. DOI: 10.1080/00224499.2015.1137539
Fleming, P.J., Dworkin, S.L. (2016). The importance of masculinity and gender norms for understanding institutional responses to HIV testing and treatment strategies. AIDS. 30(1): 157-161.
Fleming, P.J., Villa Torres, L., Taboada, A., Richards, C., Barrington, C. (2016) Marginalisation, discrimination and the health of Latino immigrant day labourers in a central North Carolina community. Health and Social Care in the Community. DOI: 10.1111/hsc.12338
Fleming, P.J., DiClemente, R.J., Barrington, C. (2016). Masculinity and HIV: Dimensions of masculine norms that contribute to men's HIV-related sexual behaviors. AIDS & Behavior. 20(4), 788-98.
Dworkin, S.L., Fleming, P.J., Colvin, C.J. (2015). The promises and limitations of gender transformative health programming with men: Critical reflections from the field. Culture, Health, and Sexuality. 17(Supp 2), S128-S143.
Fleming, P.J., Gruskin, S., Roja, F., Dworkin, S.L. (2015). Men's violence against women and men are inter-related: Recommendations for simultaneous intervention. Social Science & Medicine. 146, 249-56.
Fleming, P.J., McCleary-Sills, J., Morton, M., Levtov, R., Heilman, B., Barker, G. (2015). Risk factors for men's perpetration of intimate partner violence: Results from the International Men and Gender Equality Survey in eight countries. PLoS ONE. 10(3).
Fleming, P.J., Lee, J.G.L., Dworkin, S.L. (2014). 'Real men don't': Constructions of masculinity and inadvertent harm in public health interventions. American Journal of Public Health. 104(6), 1029-1035.