Faculty Profile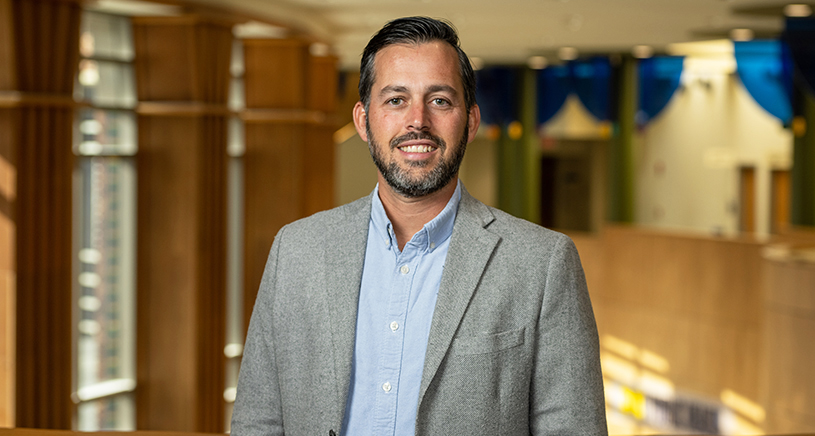 Paul J Fleming, PhD, MPH
Associate Professor, Health Behavior and Health Education
Faculty Lead, Diversity, Equity, and Inclusion
Dr. Fleming focuses his work on the root causes of racial health inequities and strategies to address them. He conducts community-based participatory research focused on the health needs of Latinx immigrants in Michigan and examines how to best integrate anti-racist principles into public health training and practice. He also is a member of Public Health Awakened and contributes to community organizing efforts to promote health through social change.
PhD, University of North Carolina, 2015
MPH, Emory University, 2011
BA, University of Illinois, 2006
Research Interests:
Latinx and immigrant health
anti-racism in public health
community-based participatory research
health equity
Research Projects:
Fleming collaborates with the Washtenaw Health Plan on a project funded by the Michigan Health Endowment Fund to create a coalition of Latinx-serving organizations to better meet the needs of Latinx residents in Washtenaw County.
In a collaboration with colleagues in the School of Social Work, Fleming is pursuing work to understand how unarmed non-police response programs might improve public safety, reduce police violence, and reduce health inequities.
Fleming works with Drs. Melissa Creary and Whitney Peoples on two projects to integrate anti-racist principles into public health teaching and practice. One project is creating an online resource for anti-racist teaching and the other works with a local health department to transform policies and practices.

Fleming, P.J., Cacari-Stone, L., Creary, M.S., Greene-Moton, E., Israel, B.A., Key, K.D., Reyes, A., Wallerstein, N., Schulz, A.J. Anti-racism and Community-Based Participatory Research: Synergies, challenges, and opportunities. American Journal of Public Health.
12. Fleming P.J., Spolum M., Lopez W.D., Galea S. (2020) Public Health Funding Paradox: How funding the problem and the solution impedes public health progress. Public Health Reports. 136(1):10-13.
Fleming, P. J., Lopez, W. D., Spolum, M., Anderson, R. E., Reyes, A. G., and Schulz, A. J. (2021). Policing is a public health issue: the important role of health educators. Health Education and Behavior, 48(5), 553-558.
Fleming, P.J., Novak, N., Lopez, W.D. U.S. Immigration Law Enforcement Practices and Health Inequities: A Conceptual Model and Public Health Agenda. American Journal of Preventive Medicine.
Fleming, P.J., Lopez, W.D., Mesa, H., Rion, R., Rabinowitz, E., Bryce, R., Doshi, M. The impact of the 2016 US election on immigrant families: perspectives from health and social service workers in Southeast Michigan. BMC Public Health.