Kendrin Sonneville, Sc.D., R.D.
Faculty Profile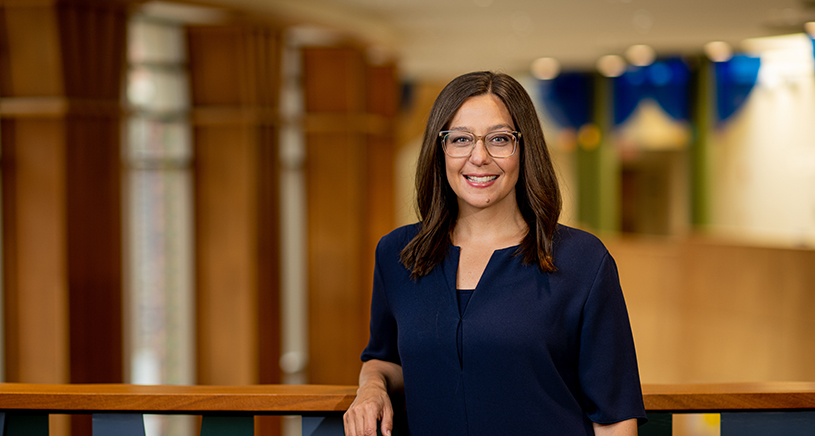 Kendrin Sonneville, Sc.D., R.D.
Assistant Professor, Nutritional Sciences


Research Assistant Professor, Center for Human Growth and Development
3855 SPH I

1415 Washington Heights
Ann Arbor, Michigan 48109-2029
Professional Summary
Dr. Sonneville is an Assistant Professor in the Department of Nutritional Sciences at the University of Michigan School of Public Health. Dr. Sonneville also holds an adjunct appointment at Harvard Medical School and is a Collaborating Mentor for the Strategic Training Initiative for the Prevention of Eating Disorders (STRIPED) at Boston Children's Hospital and the Harvard School of Public Health. She is a registered dietitian, behavioral scientist, and public health researcher whose research focuses on the intersection of obesity and eating disorders among children, adolescents, and young adults. Dr. Sonneville has a particular interest in studying the causes and consequences of binge eating disorder, in understanding the clinical and public health implications of body dissatisfaction and weight misperception, and examining the unintended consequences of obesity prevention programs. She earned her ScD in Public Health Nutrition at the Harvard School of Public Health.
Courses Taught
Education
Sc.D., Public Health Nutrition, Harvard School of Public Health, 2010
M.S., Human Nutrition, Tufts University, 2002
B.S., Nutritional Sciences and Dietetics, Michigan State University, 2000
Selected Publications
Sonneville KR, Calzo JP, Horton NJ, Haines J, Austin SB, Field AE. Body satisfaction, weight gain and binge eating among overweight adolescent girls. Int J Obes (Lond). 2012 Jul;36(7):944-9. PMID: 22565419; PMCID: PMC3394875


Field AE, Sonneville KR, Micali N, Crosby RD, Swanson SA, Laird NM, Treasure J, Solmi F, Horton NJ. Prospective association of common eating disorders and adverse outcomes. Pediatrics. 2012 Aug;130(2):e289-95. PMID: 22802602; PMCID: PMC3408691


Sonneville KR, Horton NJ, Micali N, Crosby RD, Swanson SA, Solmi F, Field AE. Longitudinal associations between binge eating and overeating and adverse outcomes among adolescents and young adults: Does loss of control matter? JAMA Pediatr. 2013 Feb;167(2):149-5. PMID: 23229786; PMCID: PMC3654655


Field AE, Sonneville KR, Crosby RD, Swanson SA, Eddy KT, Camargo CA, Jr, Horton NJ, Micali N.

Prospective associations of concerns about physique and the development of obesity, binge drinking, and drug use among adolescent boys and young adult men.

JAMA Pediatr. 2014 Jan;168(1):34-9. PMID: 24190655; PMCID: PMC3947325


Wright DR, Austin SB, LeAnn Noh H, Jiang Y, Sonneville KR. The cost-effectiveness of school-based eating disorder screening. Am J Public Health. 2014 Sep;104(9):1774-82. PMID: 25033131


Sonneville KR, Long MW, Rifas-Shiman SL, Kleinman K, Gillman MW, Taveras EM. Juice and water intake in infancy and later beverage intake and adiposity: Could juice be a gateway drink? Obesity (Silver Spring)

. 2015 Jan;23(1):170-6

. PMID: 25328160; PMCID: PMC4276519


Sonneville KR, Grilo CM, Richmond TK, Thurston IB, Jernigan M, Gianini L, Field AE. Prospective association between overvaluation of weight and binge eating among overweight adolescent girls. J Adolesc Health. 2015 Jan;56(1):25-9. PMID: 25438968; PMCID: PMC4275318


Sonneville KR, Calzo JP, Horton NJ, Field AE, Crosby RD, Solmi F, and Micali N. Childhood hyperactivity/inattention and eating disturbances predict binge eating in adolescence. Psychological Medicine. 2015;22:1-10. PMID: 26098685


Sonneville KR, Thurston IB, Milliren CE, Kamody RC, Gooding HC, Richmond TK. Helpful or harmful? prospective association between weight misperception and weight gain among overweight and obese adolescents and young adults. Int J Obes (Lond). 2015 Aug 25. PMID: 26303350



Sonneville KR, Thurston IB, Milliren CE, Gooding HC, Richmond TK. Weight misperception among young adults with overweight/obesity associated with disordered eating behaviors. Int J Eat Disord. 2016 May 24. PMID: 27218865