2015 U-M School of Public Health Graduation
""Inspire the world to hope and believe, and to wish upon you like a star."

-Sekou Andrews, to the graduating class of 2015.
The School of Public Health graduation festivities took place April 30, when 359 students celebrated their accomplishments as members of the SPH Class of 2015. Read a recap and see video of the ceremony.
Graduation Speaker: Sekou Andrews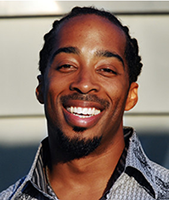 This year's graduation speaker, Sekou Andrews, visits SPH for the second time in two years. He was the keynote for last year's Innovation in Action finals.
As an award-winning and internationally acclaimed poetic voice, Sekou creates personalized poetic presentations to inspire and engage audiences. He will give voice to the messages and mission of public health, and help us tell our most powerful stories.
Sekou is the creator and leader of this cutting-edge category of speaking, which combines strategic storytelling, inspirational speaking, spoken word poetry, and the power of theater and comedy to make events into experiences, and transform listeners into responders. Sekou does more than inspire us with his story; he inspires us with our story.
Eligibility to Participate & Register for Graduation
All School of Public Health students who will have completed their degree requirements before or during Fall 2014, Winter 2015, or Summer 2015 terms are welcome to participate in both the School of Public Health Graduation and the University-wide Spring Commencement .
Students receiving a PhD or MS degree may also be eligible to participate in the University Graduate Exercises.
All students must "Apply for Graduation" through Wolverine Access.
AND
All students must ALSO register separately to attend the SPH ceremony (registration is now closed).
Guest Tickets
SPH Graduation tickets are NOT required for guests attending the SPH graduation ceremony. There is no limit on the number of guests who can attend. However, students must register their guests for the SPH reception when they complete the online registration form for SPH graduation
Graduation Day
| | |
| --- | --- |
| 1:55 p.m. | PhD's arrive for overview of hooding process. Proceed directly inside of the Auditorium. (Enter from EAST entrance off Ingalls Mall) |
| 2:00 p.m. | Graduates arrive, proceed to the balcony level, visit the registration tables, and are directed to the processional staging area. (Enter from EAST entrance off Ingalls Mall) |
| 2:15 p.m. | Doors open for guest seating in the auditorium. |
| 2:45 p.m. | Graduates line up to begin the procession. |
| 3:00 p.m. | Graduation begins promptly with procession of graduating students. |
| 5:00 p.m. | Although there is no way to predict the exact end time of the ceremony, 5:00 p.m. should be a reasonable approximation and most guests typically leave the reception by 5:45 p.m. |
Assembly
Graduates should assemble in their academic attire, in the balcony level of Hill Auditorium. Upon arriving at Hill please enter via the EAST entrance (Ingalls Mall entrance) and go directly to the registration tables in the balcony to pick up your name card and to complete a card for the photographer. You will hand these cards to the marshal on stage when receiving your recognition. From there you will be directed to the appropriate location to prepare for the processional line-up.
For the procession, graduates will line up by degree earned. In the auditorium, graduates will sit next to individuals of the same degree. SPH staff will assist you in lining up for the procession and with seating. The procession into the auditorium will begin promptly at 3:00 p.m.
Hill Auditorium is full of activity on graduation day, and seating for graduates is tight. There is no safe place in the building to store or leave anything. Please leave any valuables, coats and purses, umbrellas, and other such items with your guests.
When you cross the stage to be recognized, you will want to have both hands free and be unencumbered by extra items. Out of courtesy to others and for your own safety, we ask that you not bring items with you to the ceremony.
Graduates - please do not bring any valuables or anything that does not fit in your pockets. There is no safe place to store them.
Footwear
We highly recommend that you wear shoes that are comfortable, supportive, and suitable for standing, walking, and climbing steps.
Reception
All graduates, their family and their friends are invited to attend the School of Public Health graduation reception to be held on Ingalls Mall (adjacent to Hill Auditorium) immediately following the ceremony. Students must register their guests when they complete the online registration form for graduation.
Photographer
A photographer will take a color photo of each graduate as he or she is recognized on stage. Graduates will receive a free color proof. There is no obligation to buy reprints.
Family and Guest Information
Guest Information
Hill Auditorium will open to guests at 2:15 p.m. Guests should enter through the front doors and be seated by 2:45 p.m. Seating for graduation is general seating. Please encourage your guests to arrive early for a good seat. Guests are requested to remain seated throughout the program. For guests with disabilities, please see the next section.
Students and Guests with Disabilities
The University of Michigan wants to ensure that all graduates, candidates, and guests can participate fully in graduation. The following arrangements are made in cooperation with the Accessibility Task Force of the Council for Disability Concerns.
If your guest(s) have mobility limitations (wheelchair, walker, etc.) please plan to have them arrive by 2:00 p.m. so that they can be seated before we open the doors to the general public. By entering Hill Auditorium from the WEST entrance (off Thayer) you will be nearest the ramps into the auditorium. Ushers will be available to assist in locating wheelchair-accessible seating and restrooms for guests. Please contact (734) 764-5425 if you have any questions regarding your guests' needs. A sign language interpreter will be present.
All requests for special arrangements should be made by March 31, 2015.
Notes for International Students
Family members who are not the children or spouse of the F-1 student or J-1 exchange visitor must apply for a B-1/B-2 visitor visa to gain entry into the U.S. Family members from certain countries may be eligible to travel to the U.S. to visit for stays of up to 90 days without obtaining a B-1/B-2 visa through the U.S. Department of State Visa Waiver Program. The University of Michigan will provide a letter of invitation to assist graduates whose parents need to apply for a visa in order to attend their student's commencement ceremony. The letter can be requested by sending an email to visarequest@umich.edu.
The email should include:
graduate's name
graduate's local mailing address
graduate's gender
graduate's degree being earned
graduate's school or college
date(s) of ceremony(ies) in which the graduate plans to participate (Example: School of Public Health ceremony on May 1, 2014; University Graduate Exercises on May 2, 2014; Spring Commencement ceremony on May 3, 2014)
names of parents (please specify relationship next to parent's name, Example: mother, father)
The letter from the University will be mailed to the graduate, who can then forward it to the parents for use in documenting their visa request. Please allow three weeks to receive the letter.
Diplomas
Master's Degree Graduates
Diplomas for Winter Term 2015 graduates will be mailed by the end of July to the address you specified on your diploma application. Diplomas for Summer graduates will be mailed in early November.
Doctoral Degree Recipients
PhD graduates attending the University Graduate Exercises will receive their diplomas at the program. Those who do not attend the University Graduate Exercises may pick up their diplomas at the Office of the Registrar, Diploma Department in the LSA Building at 500 State Street during regular business hours in the week prior to, and the week after commencement. You must call 734-763-9066 in advance. Diplomas not picked up during that time will be mailed to the address you specified on your diploma card.
Name Change on Diploma
In order to change your name or add your middle name to your diploma, you will need to add it to your academic record. This can be done by providing legal proof of your name (e.g., driver's license, birth certificate, passport, etc.) to the Central Registrar's Student Services Office. Their contact information is below. You will need to bring a photo ID with you for this process as well. Once your middle name is added to your academic record, you should be able to log into Wolverine Access to access your graduation application and add the middle name to appear on the diploma.
Student Services - Central Campus
Office of the Registrar
University of Michigan
1207 LS&A Building
500 S. State Street
Ann Arbor, MI 48109-1382
Office 734-647-3507
Fax 734-763-9053
The hours of operations are from 8:00 a.m. - 5:00 p.m., Monday - Friday.
Graduation Announcements
Standard announcements may be purchased at the Barnes and Noble @ University of Michigan Bookstore, 734-995-8877, at 530 South State Street. Personalized announcements take up to two weeks to print.
Academic Attire
Graduates participating in any University of Michigan graduation ceremonies must wear academic attire. You may purchase your attire when you register to participate in graduation or follow this link.
March 6th is the deadline to order for free shipping to SPH. Gowns will be available for pick up the week of April 6th. You will be contacted directly by SPH with more details.
April 3rd is the deadline to order to ship directly to your home. The shipping fee is $15.95.
Graduates may also order their academic attire from the Barnes and Noble @ University of Michigan Bookstore, 734-995-8877, at 530 South State Street. Store hours are 9 a.m.-6 p.m., Monday-Friday, and 10 a.m.-5 p.m. on Saturday.
Hood Colors
To ensure that you purchase the correct hood, please note your hood color:
| Degree | School | Hood Color |
| --- | --- | --- |
| MHSA | public health | salmon |
| MPH | public health | salmon |
| M.H.I. | health informatics | silver-gray |
| MS | science | gold |
| PhD | | blue |
Travel and Parking
Accommodations & Transportation
Hotel arrangements for your guests should be made as soon as possible. Please visit the SPH website for a listing of accommodations, as well as information on directions, airport, and other transportation.
Parking
Public parking will be available in the UM parking structures on Thayer and Fletcher Streets. These are the closest structures to Hill Auditorium and they provide handicapped parking. (The UM Parking Office will suspend enforcement for the Thayer and Fletcher street parking structure/lots for graduates and their guests. The gates to the Thayer, Fletcher and Palmer Blue area will be opened at 11 a.m. on Thursday for graduation attendees. Please avoid any specialty parking spaces such as the reserved spots for UM vehicles only. If a parking attendant is at the gate, please tell them you are attending UM SPH Graduation.) Parking spaces are provided on a first come, first served basis so there is no guarantee that you will find parking in these two lots. Please reference the parking diagram for all parking options near Hill Auditorium (PDF).
For a complete listing of all city and campus parking please visit:
Important Resources
School of Public Health Graduation: Hill Auditorium, April 30, 2015, 3:00 p.m.
University Graduate Exercises (Rackham), Hill Auditorium, May 1, 2015, 10:00 a.m.
University-wide Spring Commencement, Michigan Stadium, May 2, 2015, 10:00 a.m.
Contact Information
General Info: SPHgraduationquestions@umich.edu, 734-764-5425
Academic Attire Rental/Sales: Barnes and Noble@University of Michigan Bookstore, 734-995-8877
University Commencement Hotline: 734-647-6037
University Graduate Exercises: 734-615-0520
Campus Information Centers: 734-764-4636
Diploma and Transcript Office: 734-763-9066