Center for Precision Health & Data Science
Welcome to Center for Precision Health Data Science website.
News
New Publication:
Research Spotlight:
COVID-19 Research In the Media
---

---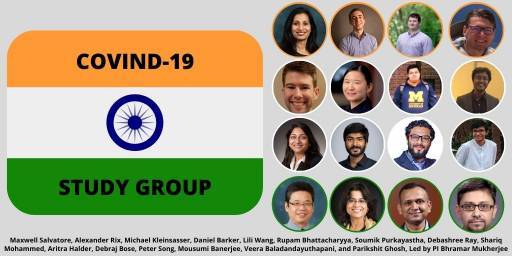 COV-IND-19 Study Group completes trilogy of articles about COVID-19 in India
India has taken strong and early public health measures for arresting the spread of the COVID-19 epidemic. With only 536 COVID-19 cases and 11 fatalities, India – a democracy of 1.34 billion people – took the historic decision of a 21-day national lockdown on March 25.
Nation vs. State Heterogeneity pre-print
Read the paper, recently published in Harvard Data Science Review
Read the trilogy:
Part I: Pre-lockdown
Part II: Studying the lockdown
Part II: Unlocking the lockdown
COVID-19 Outbreak in India
Center Director, Bhramar Mukherjee, discusses the COVID-19 outbreak in India and work related to the COV-IND-19 Study Group to create an interactive online forecast application (updated daily).
"We could create a prediction algorithm which will predict who are at higher risk for certain pregnancy-related complications, developmental delays, and early childhood disorders and we can direct trained professionals to the places where they will be needed."
John D. Kalbfleisch Collegiate Professor of Biostatistics