Occupational & Environmental Epidemiology
Occupational & Environmental Epidemiology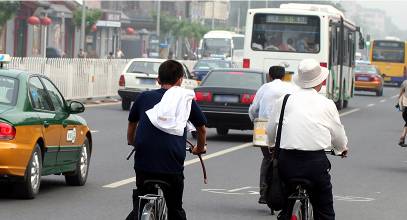 Environmental and occupational epidemiologists investigate patterns and causes of disease and injury in humans, and seek to reduce the risk and occurrence of negative health outcomes through community education and health policy. Scientists in this field examine air pollution, asthma, and cardiovascular disease; gene-environment interactions and the toxicity of metals and pesticides in children, workers, and other adults; exposures to phthalates and asbestos; and much more.
The Program
The U-M School of Public Health provides a dynamic, well-funded, and exciting atmosphere for graduate training in occupational and environmental epidemiology. We offer a curriculum leading to a Master of Public Health (M.P.H.) or a Doctor of Philosophy (Ph.D.) degree.
The goal of the Occupational & Environmental Epidemiology (OEE) Program is to provide graduate students with the knowledge and skills needed to study the effects of environmental and occupational exposures on human health, using the best available techniques in environmental epidemiology. The OEE concentration, a cross-disciplinary program, is designed to accommodate the interests of students in both the Environmental Health Sciences (EHS) and Epidemiology (EPID) departments.
Degrees
The OEE curriculum comprises courses from the departments of Environmental Health Sciences, Epidemiology, and Biostatistics, and fulfills requirements for the M.P.H. degree in Environmental Health Sciences or Epidemiology; Ph.D. students will, in addition, take upper-level courses specific to the subject matter of their targeted theses.
Master of Public Health (M.P.H.)
The Occupational and Environmental Epidemiology (OEE) M.P.H. program provides students with a comprehensive, professionally oriented curriculum that imparts the knowledge, skills, and preparation to:
design and conduct occupational and environmental epidemiologic studies;
critically review and understand published environmental epidemiologic papers;
perform statistical analyses appropriate for environmental and occupational epidemiologic data;
use advanced exposure assessment techniques for environmental/occupational epidemiology, such as personal air sampling, in vivo body composition measures, and biological markers of dose;
explain occupational and environmental diseases with regard to biological mechanisms by hazardous agents; and
contribute to applications of epidemiologic knowledge to policy making and standard setting.
Sample M.P.H. Curriculum
Field Experience (May-August)
Year 2 - Fall Term (September - December)
Credit Hours
Credits
14
BIOSTAT 523 - Statistical Methods in Epidemiology
4
Select one (1) of the following:
3
EHS 600 - Professional Perspectives in Environmental Health
2
EHS 656 - Applications in Epidemiology
3
Select one (1) of the following:

EPID 514, EPID 550, EPID 552, EPID 604, EPID 605,
EPID 616, EPID 621, EPID 677

3

Credits

15
Year 2 - Winter Term (January - April)
Credit Hours
Select one (1) of the following:
3
EHS 670 - Applications in Environmental Epidemiology
3
EHS 668 - Occupational Health Seminar
1
Select one (1) of the following:

EPID 514, EPID 550, EPID 552, EPID 604, EPID 605,
EPID 616, EPID 621, EPID 677

3
BIC Requirement (HBHE or HMP) or Elective
4
Doctor of Philosophy (Ph.D.)
Our Ph.D. program follows conventional norms in terms of essential coursework, proficiency examinations, proposal writing/presentation, research and professional development, and defense of the written dissertation.
Admissions and Financial Aid
Admissions
Applicants must have a strong background in the natural sciences. Successful applicants have at least one course in the basic sciences which includes:
biology and/or physiology

general chemistry

organic chemistry

physics

calculus
Some deficiencies may be made up after admission to the program. Courses taken to fulfill basic deficiencies do not count toward fulfillment of the degree's course requirements.
Visit the Admissions & Aid section of the U-M SPH site for details on the application process and financial aid options. Additional information for international applicants can be found here.
Financial Aid
Qualified students can receive financial support from one or more of the following sources:
Traineeship from the NIOSH ERC
Grants/Scholarships from the Rackham Graduate School or the School of Public Health
Teaching assistantships (mainly from undergraduate programs throughout the University, i.e. biology, chemistry, etc)
Research assistantships from faculty research grants (mostly for M.S. or Ph.D.)
Every effort is made to provide financial aid for admitted students.
More Information
If you want to find out if OEE is for you, please contact one of our faculty members or our graduate program coordinator:
Sue Crawford
Graduate Program Coordinator
734-764-3018
sac@umich.edu
Marie O'Neill, Ph.D.
Program Director of Occupational and Environmental Epidemiology
734-615-5135
mario@umich.edu