Toxicology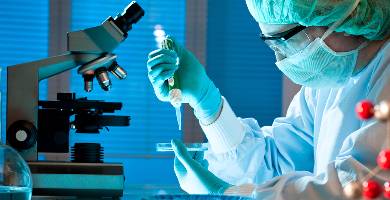 The field of toxicology identifies environmental and therapeutic exposures of concern, reveals mechanisms by which exposures create pathological dysfunction or disease, identifies interventions for the prevention of adverse effects, conducts safety assessments, and estimates acceptable levels of exposure for the protection of the public's health. The major goal of toxicology is to ensure that the products and chemicals that we use are safe for people and the environment.
Graduates of our program are well positioned to work at the front lines of public health in positions in research, government, the pharmaceutical industry, product safety evaluation, public service, health policy, and regulatory affairs. Recent graduates of our program have found employment in federal agencies as scientists and regulators; in academic institutions as professors and researchers; in industry as safety study directors and scientific consultants; as professionals in chemical and environmental risk assessment; and in many other interesting and important positions.
What do Toxicologists Do?
Toxicologists assist with product safety evaluations, conduct research to identify health hazards, and investigate efficacy of interventions for toxicant exposures. In many ways toxicology is the true translational science because it allows those who work in the field to extend their expertise and contributions for improvement of health outcomes from molecular mechanistic research to the clinic and beyond, by setting and enforcing health policies regulating the safety of drugs and consumer products.
The Program
As the oldest predoctoral toxicology training program in the country at a leading teaching and research institution, the EHS Toxicology Program provides a dynamic, well-funded, and exciting atmosphere for graduate training. We offer curricula leading to M.P.H., M.S., and Ph.D. degrees. A broad selection of elective courses provides opportunities for specialized academic preparation.
Many of our graduates have combined their M.P.H, M.S., and Ph.D. degrees in toxicology with human or veterinary medicine degrees, urban planning, policy, sustainability, and many other important disciplines.
Degrees
We offer the Master of Public Health (MPH), Master of Sciences (MS) and Doctor of Philosophy (PhD) degrees. Some relevant aspects include:
The MPH and MS require four semesters to complete.
The MPH includes a summer internship (field experience), typically in private industry or with a governmental agency, either in the U.S. or abroad.
The MS degree includes a focused thesis project guided by one or more faculty mentors.
The PhD degree entails in-depth training/mentorship in research skills, and the generation of high-impact, scholarly research findings that are published in the peer-reviewed scientific literature.
The curricula are comprehensive, yet sufficiently flexibility to permit students to pursue any of a number of other interests, including "minor" concentrations and Certificate Degrees.
Admissions
Applicants should have a strong background in the natural sciences. Successful applicants have at least one course in the basic sciences which includes:
biology and/or physiology
general chemistry
organic chemistry
physics
calculus
The Toxicology Program recommends coursework in biochemistry before starting the program.
Some deficiencies may be made up after admission to the program. Courses taken to fulfill basic deficiencies do not count toward fulfillment of the degree course requirements.
Financial Aid
Qualified Toxicology students can receive financial support from one or more of the following sources:
Traineeships from the NIEHS ETEP Training Grant
Fellowships/Scholarships from the Rackham Graduate School and the School of Public Health
Teaching assistantships from EHS or other SPH departments
Research assistantships from faculty research grants (mostly for M.S. and Ph.D. students)
Smaller scholarship awards from external organizations, such as the Society of Toxicology.
Visit the Admissions & Aid section of the U-M SPH site for details on the application process and financial aid options. Additional information for international applicants can be found here.
Curriculum and Sample Schedules
Master of Public Health (M.P.H.)
The mission of the toxicology track of the Environmental Health Sciences M.P.H. is to prepare graduates for leadership roles as toxicologists in local, state, and federal agencies, educational institutions, private industry, and community health organizations. Students learn the skills and knowledge needed to investigate and interpret adverse consequences to human health that may result from occupational and environmental exposures.
In addition to the general public and environmental health education provided by SPH and EHS Core Curriculum, students, the Toxicology track acquire advanced knowledge and understanding about:
the nature of human exposures to chemical, physical, and biological agents;

the potential of such agents to cause injury, disease, or death, with specific reference to those agents as they occur in living and working environments;

major symptoms and mechanisms of intoxication in the main organ systems;

relationships between physical and chemical properties of toxicants, and their biological effects;

molecular, cellular, and pathophysiologic mechanisms by which toxicants induce health disorders and disease;

biological characteristics of susceptibility to environmental exposures;

intervention options for the prevention of adverse health effects;

methods by which acceptable levels of exposure may be estimated; and

current approaches to assess potential health risks from occupational and environmental exposures.
Field Experience (May-August)
Master of Sciences (M.S.)
The M.S. curriculum features coursework in core toxicology topics and will serve students either as a terminal degree, for those seeking research careers and professional practice, or as a doctoral preparatory program.
M.S. Sample curriculum

| Year 1 - Fall Term (September - December) | Credit Hours |
| --- | --- |
| Credits | 13 |
| BIOLCHEM 515 - Intro to Biochemistry | 3 |
| BIOSTAT 521 - Applied Biostatistics | 4 |
| EHS 602 - Essentials of Toxicology | 3 |
| Select one (1) of the following (2 courses required): | 3 |
| BIOLCHEM 550 - Protein Structure and Function | |
| HUMGEN 541 - Gene Structure and Regulation | |
| CDB 530 - Cell Biology | |
Doctor of Philosophy (Ph.D.)
The Ph.D. program follows conventional norms in terms of essential coursework, proficiency examinations, proposal writing/presentation, research and professional development, and defense of the written dissertation.
Interactions among toxicology students and faculty are facilitated by numerous activities outside of the classroom, including:
an annual symposium;
regional and national professional toxicology meetings;
a seminar series featuring guest speakers and U-M students, postdoctoral fellows, and faculty members across campus; and
journal clubs formed by individual labs or groups of researchers on specified topics.
Faculty members have ongoing research projects that provide opportunities for research training in molecular, biochemical, cellular, pathophysiological, and epidemiological toxicology, reflecting the breadth and interactive nature of toxicological science, from the molecule to human populations. Research projects in epigenetics, developmental and reproductive toxicology, computational toxicology, cancer epigenetics/epidemiology, and other topics of current interest are being pursued.
Check out the faculty profiles to view their current projects.
More Information
If you want to find out if Toxicology is for you, please contact one of our faculty members or our student services coordinator:
Sue Crawford,
Graduate Program Coordinator
734-764-3018
sac@umich.edu