Environmental Health Promotion and Policy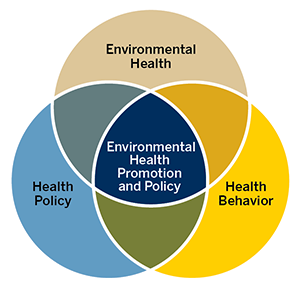 The Environmental Health Promotion and Policy MPH program will provide students with the public health background and skills to evaluate environmental and occupational health risks and develop solutions based on health promotion and policy tools to reduce such risks.
Exposures to environmental and occupational stressors, as well as potential mitigation strategies, are studied through a combination of courses in environmental health sciences, health behavior and health education, natural resources and the environment, health management and policy, and public policy. The environmental and public health knowledge gained through the program will provide the basis for designing and promoting innovative solutions that manage adverse occupational and environmental exposures and promote human health.
Graduates of the Environmental Health Promotion and Policy program will work in government agencies, non-governmental organizations, consulting firms, and industry to meet present and future needs for environmental health policy and promotion efforts necessary to improve public health by mitigating hazard exposure in communities and workplaces. There is a growing need for individuals with the skill set provided by this degree given the increasing number and complexity of environmental health hazards facing people in the US and across the globe.
Applicants to this program have a variety backgrounds and interests and the department welcomes applicants from all undergraduate majors. It is expected that the successful applicant will have at last one course in biology but no other specific undergraduate courses are required. The department places greater emphasis on overall sound scholarship and promise of development than on the precise focus of the baccalaureate degree. Specfiic admission requirements for the EHS MPH degree are found here.
Visit the EHS MPH degree site and the Admissions & Aid section of the U-M SPH site for details on the application process and financial aid options. Additional information for international applicants can be found here.
Curriculum
The Environmental Health Promotion and Policy program provides the foundation for understanding and anticipating environmentally- and occupationally-related health impacts, the skills for using this knowledge and available policy and health promotion tools to improve human health, and an understanding of approaches to evaluating the success or failure of environmental health interventions.
1. Summarize qualitative and quantitative aspects of exposure assessment (EHS 601)
2. Recognize adverse health consequences of common environmental and occupational exposures (EHS 603)
3. Apply risk assessment approaches to environmental and occupational hazards (EHS 602)
4. Analyze policies addressing environmental health issues (EHS 796)
5. Evaluate strategies for promote environmental health (HBHE 690)
SPH Core Requirements
Select one of the following:
BIOSTAT 501 Introduction to Biostatistics, 3 credits
BIOSTAT 521 Applied Biostatistics, 3 credits
PUBHLTH 508 Social Determinants of Health, 1 credit
PUBHLTH 510 Communcation Fundamentals, 1 credit
PUBHTLH 511 Nutrition and Public Health, 2 credits
PUBHLTH 512 Principles of Epidemiology for Public Health, 3 credits
PUBHLTH 513 Public Health Systems, Policy and Management, 3 credits
PUBHLTH 516 Leadership Skills for Interprofessional Practice, 1 credit
EHS Core Requirements
EHS 510 Responsible Conduct in Research and Scholarship, 1 credit
EHS 601 Exposure Science and Health, 3 credits
EHS 602 Essentials of Toxicology, 3 credits
EHS 603 Occupational and Environmental Diseases, 3 credits
EHS 604 Professional Perspectives in Environmental Health, 2 credits
EHS 688 Professional Development in Environmental Health Sciences , 0.5 credit (Fall Term)
EHS 688 Professional Development in Environmental Health Sciences , 0.5 credit (Winter Term)
EHS 689, Professional Development in Environmental Health Sciences II , 0.5 credit
EHS 796 Topics in EHS: Environmental Health Policy, 3 credits
EHPP Core Requirements
EHS 588 Environmental Law (EAS 475)
EHS 796 Topics in EHS: Environmental Health Policy, 3 credits
HBEHED690 Enironmental Health Promotion
HMP 653 Law and Public Health
PUBPOL 650 Intro to Science & Technology
Select a minimum of one of the following selective courses:
HBEHED 661 Designing Sticky Communications for Health Advocacy, Educaiton & Mass Media, 3 credits
HBEHED 662 Risk Communcaiton: Theory, Techniques and Applicatinos in Health, 3 credits
HBEHED 668 Health Communication for Public Health, 3 credits
Select a minimum of one of the following selective courses:
CEE 587 Water Resource Policy, 3 credits
EAS 562 Environmental Policy, Politics and Organizations, 3 credits
HMP 617 Food Policy and Public Health, 3 credits
HMP 624 Health Policy Challenges in Developing Countries, 3 credits
LAW 671Climate Change Law, 3 credits
LAW 679 Environmental Law and Policy, 3 credits
LAW 682 International Environmental Law and Policy, 3 credits
PUBPOL 564 Government Regulation of Industrial and Environment, 3 credits
Select one of the following:
HMP 640 Program Evaluation in Public Health, 3 credits
PUBPOL 639 Quantitative Methods Of Program Evaluation, 3 credits
Recommended Electives:
EAS 512 Strategies for Sustainabile Development, 1.5 credits
HBHE 641 Materials & Methods in Health Education Programs, 3 credits
HMP 610 Cost-Effectiveness Analysis in Health HMP 636, 3 credits
Internship
All MPH students in the Department of Environmental Health Sciences are required to complete a 10-12 week (at least 318 hours) internship between their first and second years of study. The primary purpose of the internship is to help students learn how to apply theory and principles to work situations and to develop and expand professional skills and competencies essential to these tasks. It is intended to help students explore areas of interest and affords the opportunity to become acquainted with agencies and organizations commonly engaged in the environmental health sciences.
INTERNSHIP (May-August)
| Year 2 - Winter Term (January - April) | Credit Hours |
| --- | --- |
| Credits | 16 |
| EHS 688 Environmental Law | 3 |
| HMP 653 Law and Public Health | 3 |
| PUBHLTH 511 Nutrition and Public Health | 2 |
| PUBHLTH 513 Public Health Systems, Policy and Management | 3 |
| PUBHLTH 516 Leadership Skills for Interprofessinal Practice | 1 |
| EHPP Selectives/Electives | 4 |
More Information
For answers to questions about the Environmental Health Promotion and Policy program, please contact
Professor Rick Neitzel
Environmental Health Promotion and Policy Director
rneitzel@umich.edu