Symposium 2010 Reaching Excellence
Highlights
Below are highlights of the Reaching Excellence in Health Management Symposium Proceedings. The full symposium proceedings can be viewed and downloaded. If you missed John Griffith's "last lecture" the entire text is included in the unabridged proceedings.
The weekend of celebrations included a dinner honoring John Griffith, breakfast mentoring for current students, the symposium, alumni and friends cocktail event, and a tailgate before the Michigan football game.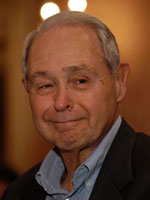 Friends, colleagues, family, and former students crowded into the University of Michigan's Lydia Mendelssohn Theater November 5, 2010 to hear John R. Griffith, the Andrew Pattullo Professor of Hospital Administration and professor of health management and policy, deliver his last lecture before retirement. Griffith explained the significance of the phrase "reaching excellence," which he said is "a catchword for an inevitable, profound, and ultimately positive revolution in American health care. Even though it may take two decades to reach fulfillment, this revolution in care will come close to meeting the Institute of Medicine aims for safe, effective, patient-centered, timely, efficient, and equitable care. That's a bold forecast. It's not casual. I've staked my career on it, and I'm willing to be judged by history on whether or not it comes true."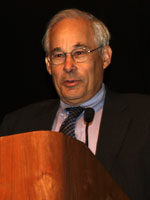 Donald Berwick, MD, MPP, Administrator, Centers for Medicare and Medicaid Services (CMS) In his keynote address, President Obama's new chief of the Centers for Medicare and Medicaid Services (CMS), Donald Berwick, outlined his "triple-aim" philosophy for improving health care in the U.S.: care, health, and cost. Berwick said Americans must improve the care of people; improve the health of the population by fighting conditions like obesity and environmental factors that negatively impact health, such as smoking; and lower the cost of health care. It was Dr. Berwick's first public presentation outside of Washington since assuming the leadership of CMS in July.
Letter to Our Friends
Dear Friends,
In 2008, the Advisory Board of the Griffith Leadership Center (GLC) concluded it needed to have an event that had a major impact on health care leaders, alumni and students during a time of major health care reform. We committed ourselves to achieving 3 objectives:
To hold a national symposium on health management and policy involving the top practitioners, researchers and policy makers today.
To impact health care practice by bringing leaders from all aspects of health management and policy together to listen and share ideas.
To convene alumni as a tribute to John R. Griffith and celebrate the University of Michigan Health Management and Policy Department as the #1 program in the nation.
The events, speakers, and conversations detailed in the proceedings provide a rich debate about how to improve health management and policy. We hope that if you were able to be a part of this amazing event you were challenged by the speakers and motivated by the exceptional colleagues that you interacted with that day. If you were not, we hope that this summary will guide you and motivate you to learn more. The GLC is dedicated to linking research, practice and teaching, assisting those dedicated to the health field in achieving excellence in each of our communities.

We thank our sponsors and our Griffith Leadership Center Board for making our Center and this event so successful. We also thank those who participated with us in Ann Arbor on November 5. It was truly a spectacular event.
Gail Warden ('62)
Griffith Leadership Center Advisory Board Chair
Christy Harris Lemak ('98)
Griffith Leadership Center Steering Committee Chair
Paula Lantz
SJ Axelrod Collegiate Professor and Chair of Health Management & Policy
Linda Grosh ('97)
Griffith Leadership Center Managing Director