Michigan COVID-19 Recovery Surveillance Study (MI CReSS)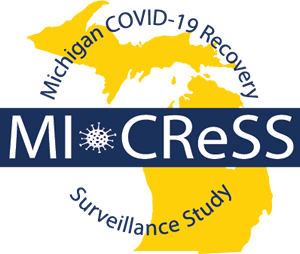 The Michigan COVID-19 Recovery Surveillance Study (MI CReSS) is a joint project between the University of Michigan School of Public Health and the Michigan Department of Health and Human Services (MDHHS).
Study Goals
Conduct public health surveillance to learn about Michiganders' experiences with COVID-19 using a representative sample of confirmed cases within
the state.
Document sociodemographic inequities in COVID-19 treatment and the differential impact of COVID-19 illness on communities throughout the state.
Disseminate findings broadly to lay the foundation for data-driven change.
Study Design
A probability sample of 2,000 cases was drawn from the Michigan Disease Surveillance System in June 2020. The sample consisted of noninstitutionalized adults from Michigan with COVID-19 onset on or before April 15, 2020, who were alive at the time of the study. A total of 638 surveys were completed. Responses were weighted to be representative of adults with COVID-19 onset during the designated timeframe who met our inclusion criteria.
Michigan COVID-19 Recovery Surveillance Study Data Report 2: Black-White Differences in Access to Care, Recovery, and the Social Impact of COVID-19 January 29, 2021
Black COVID-19 survivors had a more severe disease course than White respondents. More Black than White respondents reported severe or very severe symptoms (72.9% vs. 60.5%) or required an overnight hospital stay (45.4% vs. 27.9%).
Black respondents reported poorer experiences than White respondents when attempting to access COVID-19 care.

8.7% of Black respondents believed their experiences seeking healthcare were worse than people from other races, while 18.9% of White respondents believed their experiences were better than people from other races.
10.6% of Black respondents (vs. 1.6% of White respondents) reported that their COVID-19 testing or treatment made them feel emotionally upset due to how they were treated based on their race.

More Black respondents reported increased social stressors since the start of the pandemic, with 25.6% being unable to pay important bills like mortgage, rent, or utilities (vs. 10.3% of White respondents).
More Black respondents (23.0%) were afraid to disclose their COVID-19 status to their friends or family than White respondents (9.8%).
DOWNLOAD THE january 2021 REPORT
Michigan COVID-19 Recovery Surveillance Study - October 2020
Nearly a quarter (23.0%) of respondents waited more than a week to seek medical care following COVID-19 symptom onset.
At the time of survey completion, 26.2% of respondents had not recovered from COVID-19 to their usual state of health. Among those who had recovered, there was a wide range in symptom duration, ranging from less than 1 week to 18 weeks.
The COVID-19 outbreak worsened stress levels and mental health for 52.7% of respondents.
When asked about challenges faced by themselves or their family members since the pandemic began, nearly 60% reported experiencing a loss of employment or reduction in hours worked and nearly 20% reported being unable to pay important bills.
More than two-thirds (68.6%) of employed respondents had to physically report to work following the "Stay Home, Stay Safe" executive order. Among employed respondents, 34.0% did not take sick leave during their COVID-19 illness.