Application Process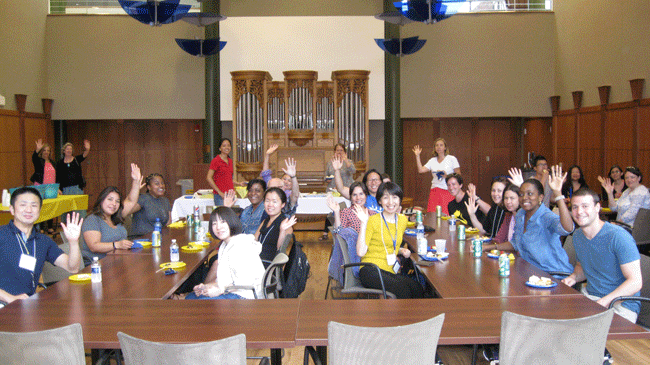 COVID-19 NOTICE
To our interested applicants: We are continuing to accept applications for the 2020 Summer Session in Epidemiology. However, due to the COVID-19 crisis, we will be implementing our courses strictly via online instruction. No on-site courses at the University of Michigan, School of Public Health, will be available. We are currently under construction to accomplish this transition, but in the interim, please submit your application with the understanding that all courses will be offer via the distance learning option. If you apply to the program and courses are canceled due to COVID-19, your application fee and tuition will be refunded.
Please expect some delays in response as we are working remotely at the time.
THANK YOU FOR YOUR PATIENCE AND BE WELL.
For questions, please email:
Jody Gray: jodygray@umich.edu
Maria Gilson: mcgi@umich.edu
Application Deadline
Applications must be received by June 1, 2020, to ensure receiving course confirmation and to avoid cancellations. Space permitting, applications are accepted until the start of class. Enrollment is limited in a number of courses. If a course becomes full before the application is received, applicants will be placed on a waiting list and notified when space becomes available.
Apply Online
The Application is currently closed.
All registrants should be prepared to provide payment to the University of Michigan for the balance of their tuition in U.S. dollars by June 15, 2020. Checks (payable to the University of Michigan in U.S. Dollars only), Visa and Mastercard will be accepted. Payment of the balance of fees in advance will expedite the registration procedures. Purchase orders are not accepted for tuition.
Payment
Full payment for tuition must be submitted or postmarked on or before June 15, 2020. Any payments after June 15th will be subject to a $50 fee.
Final Registration/Check-in
All SSE participants must attend one check-in session to complete their registration. At check-in, participants can finalize payment on any remaining balance of their tuition/fees, as well as pick up name badge, schedule with classroom locations, campus map, wireless instructions and other information and materials.
The first check-in will be held from 1:00 p.m.- 4:00 p.m. on Sunday, July 12, 2020, at the School of Public Health, 1415 Washington Heights, Ann Arbor, MI 48109. Registrants whose first day of class begins after July 13th will check-in on Monday of their first scheduled day of class between 7:00 a.m.-1:00 p.m. You are permitted to check in for final registration anytime during these hours. All faculty and registrants are urged to make their travel plans so that they arrive in time to receive course materials and new information about the program.
Cancellation and Refund Policy
The Summer Session reserves the right to cancel a course due to low enrollment, in which event the full enrollment fee for students will be refunded. Notification of withdrawal must be received in the Summer Session administrative office via email to jodygray@umich.edu on or before July 5, 2020, and include a reason for the cancellation. The $60 application fee is non-refundable. Refunds will be processed within 30 days following the end of the program (July 31, 2020). No tuition refunds due to cancellation after July 5, 2020, will be processed.
Graduate Course Credit Information
Courses have been evaluated with respect to their equivalency to the University of Michigan campus-based day classes. The requirements of course content, homework, participation in class, and grading are reviewed and approved by the Advisory Committee on Academic Programs of the School of Public Health. Their credits are valid in various academic programs of the University of Michigan. Acceptance of our courses for credit or substitution for similar courses offered by an institution is dependent upon the policy of that institution.
Grading for Graduate Credit
The Summer Session in Epidemiology adheres to the grading policy of the School of Public Health. Each instructor will provide grading requirements specific to their course (e.g. homework, exercises, exams, presentations, etc.) with clear deadlines and grading schemes. Grading requirements and details can be found on the course syllabus.
Federal Financial Aid
To receive financial aid at the University of Michigan, students must be accepted for enrollment, be enrolled at least half-time, and working towards a degree or combined degree/certificate. Students enrolled only in a certificate program are not eligible for federal student aid, including federal loan programs. Students may apply for aid before being accepted or enrolled. For more information from the U-M Office of Financial aid, visit the Office of Financial Aid
Continuing Medical Education Credit
This activity has been planned and implemented in accordance with the accreditation requirements and policies of the Accreditation Council for Continuing Medical Education (ACCME) through the joint providership of the University of Michigan Medical School and (insert name of non-accredited provider). The University of Michigan Medical School is accredited by the ACCME to provide continuing medical education for physicians. The University of Michigan Medical School designates this live activity for a maximum of 105 AMA PRA Category 1 Credit(s)™. Physicians should claim only the credit commensurate with the extent of their participation in the activity.
Certificate of Participation
Participants registering for the University of Michigan Summer Session in Epidemiology may register for credit or non-credit. A certificate of participation will be issued to all participants. Non-credit participants are expected to complete all course exercises but are not required to take examinations. (Letter grades are not issued to non-credit participants.) Course credit hours assigned by the University of Michigan are indicated in the course descriptions. (Letter grades will be issued to graduate credit students only.) Official grade reports will not be available until early September. Grades will not be issued for non-credit participants.
Program Scholarships
Participants who enroll in at least three graduate credit hours can request financial assistance up to $500 and will be awarded on the basis of financial need and academic merit.
Personal Computers
A laptop computer is essential and required for enrolled students (tablets or other similar devices are also suitable). We recognize computers to be an extension of the learning tools needed to successfully participate in our courses. Coursepacks for most courses will be available digitally via the University's Canvas course learning management system.