Ph.D. Student Profile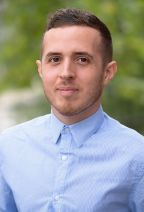 Mislael A. Valentín Cortés, MPH, MSW, BA
Education
MPH, Health Behavior and Health Education, University of Michigan, 2019
MSW, Social Policy & Evaluation, University of Michigan , 2019
BA, English & Social Science, Universidad de Puerto Rico Recinto de Mayagüez, 2017
Research Interests & Projects
My research broadly examines health inequities within the context of climate change, environmental hazards, extreme events, and social structures. I'm particularly interested in the interplay of environmental exposures (i.e. heat, air pollution, water and energy insecurity), extreme events (i.e. hurricanes, earthquakes, drought), and social inequities in socially-made vulnerable populations (racial and ethnic minorities, immigrants, etc.). I have worked with academic institutions, governmental agencies, and non-profit organizations to apply social and environmental justice frameworks to address health inequities through community-based participatory research and mixed-methods techniques.
Selected Publications
Valentín-Cortés, M.A., Benavides, Q., Bryce, R., Rabinowitz, E., Rion, R., Lopez, W., and Fleming, P.J. (2020). "Application of the Minority Stress Theory: Understanding the Mental Health of Undocumented Latino Immigrants. American Journal of Community Psychology. Doi: 10.1002/ajcp.12455
Handal, A.J. Iglesias-Rios, L., Fleming, P., Valentín-Cortés, M.A., & O'Neill, M.S. (2020). "Essential" but expendable: Farmworkers during the COVID-19 pandemic – The Michigan Farmworker Project. American Journal of Public Health. In press.
Additional Information