Fighting COVID on the Last Frontier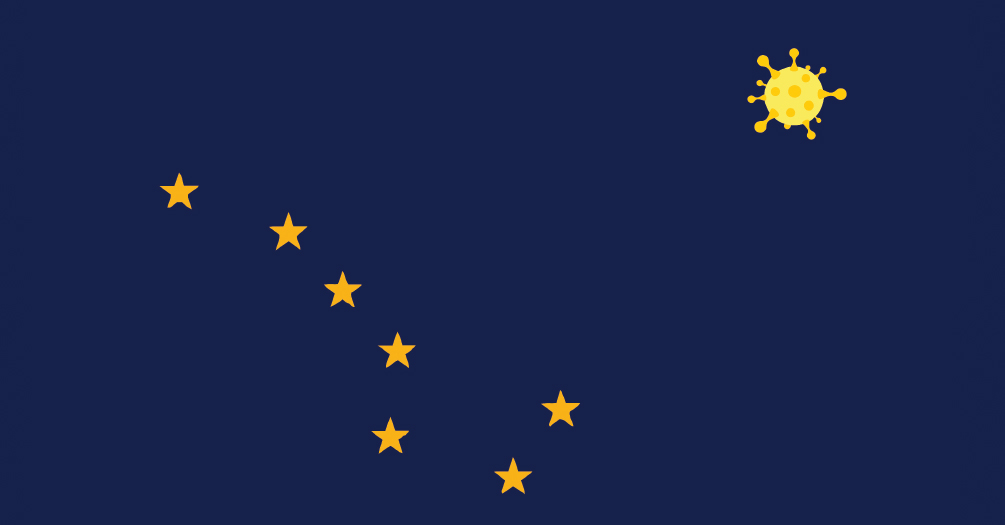 Alumnus recalls early days of pandemic efforts in Alaska
By Bob Cunningham
"From the beginning, even though Alaska was somewhat remote, we definitely were the tip of the spear in various ways."
In early 2020, some of the first American flights out of Wuhan, China, the epicenter of the COVID-19 pandemic, landed in Alaska.
It's a memory Sean Armstrong, MPH '07, won't soon forget.
"We saw the folks from China, the diplomats and other expats who had been living in the area who were being evacuated," Armstrong said. "I was responsible for putting together a support team that was being led by the CDC's border control. I remember getting my staff prepared; we were trying to find some face shields. We had the gowns, gloves and masks and were told by the CDC that was unnecessary. We were told that these people had already been tested. None of them were symptomatic and without being symptomatic there was no need for that type of equipment.
"I still had my staff wear face shields, masks and gloves. They declined to wear the gowns because that was going to be a challenge with the equipment we had at the time at the airport. Looking back, it's crazy to think about going without PPE at that time."
During his time in Alaska, Armstrong spearheaded various public health IT projects, administered federal grants from the Centers for Disease Control and Prevention, and developed a new, $1 million innovative substance misuse prevention program. But his experiences during the early days of the pandemic—like most things in the public health consciousness—seem to overshadow many of his other successes.
When COVID came to Alaska, Armstrong implemented a statewide contact tracing program, utilizing the CommCare software solution program. He also established and maintained a partnership with RingCentral, developing a call center solution that hosted the statewide COVID hotline. The system screened more than 6,000 calls a day, assisting over 15,000 individuals with online COVID vaccine appointments.
Life in Alaska was certainly different from Armstrong's time in Ann Arbor, where he earned a Master of Public Health in Health Behavior and Health Education from the University of Michigan School of Public Health in 2007. For context, Alaska has six times the land mass as Michigan, but only about 730,000 people.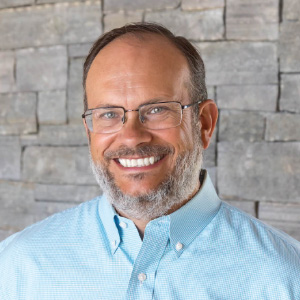 Nearly 110,000 people crowd into Michigan Stadium on football Saturdays. Armstrong, who also received a Bachelor of Arts in History and Chinese from Michigan in 1998, was the deputy chief for Public Health Nursing for the State of Alaska from April 2018 to May 2021.
Alaska's public health system is state-managed, so all the public health centers throughout the state are managed by nurses.
Now, Armstrong is the population health nurse informaticist solution owner for the Defense Health Agency (DHA) in Falls Church, Virginia.
COVID comes to the frontier
Alaska had its challenges before COVID, but just like the Lower 48, the state had its share of disruptions from the pandemic.
Before COVID, Armstrong helped coordinate the work that was going on at the public health centers around the state. As the deputy chief, his role was principally centered around infrastructure as opposed to staff. He oversaw staff development, quality improvements and quality management, the informatics systems that they used, the preparedness infrastructure and all the federal grants that went to the State of Alaska for public health that were being implemented by the public health centers.
"I mean, a lot of what we were doing was continuing to emphasize the role of public health. We'd faced pretty consistent cuts from the elected administrations that were overseeing public health," Armstrong said. "We were going through the effort of trying to modernize our informatics infrastructure as well as demonstrate to state officials how public health contributed to communities and how we could potentially manage even more with additional amounts of funding."
I mean, a lot of what we were doing was continuing to emphasize the role of public health. We'd faced pretty consistent cuts from the elected administrations that were overseeing public health. - Sean Armstrong
Some of Alaska's challenges at the beginning of the pandemic were unique to the state, and not just within public health. In other parts of the country, rural areas were less susceptible to breakouts early on because of lockdowns. In Alaska, remote communities depend on air transportation for travel and commerce, which allowed the virus to spread from town to town via airplane.
Because many indigenous populations of Alaska are self-governed, many of the politicized distractions that public health officials had to work through in the public sector throughout the US didn't apply.
"We had the advantage of having very strong support within the tribal public health system in Alaska," he said. "Many of the communities are separate government entities governed independently to some degree by tribes. The tribal health systems are the only health system within that community and are a little more sensitive to the impacts of public health.
"The tribes also didn't have to worry as much about national politics and were able to keep themselves on lockdown for much longer periods of time than other communities. At least at the beginning, I think that's what really ended up saving the most remote communities because they had very little capacity to move people to hospital beds capable of providing the care that acute COVID often demanded."
Telehealth proves to be invaluable
Like others across the US, Alaska residents had trouble accessing sanitizing solutions early in the pandemic. Many companies all over the country pivoted production to make hand sanitizer more available to help stop the spread of the disease at the beginning of the pandemic. With the disruption of the supply chains, Alaska needed to be even more self-reliant than usual.
The Yukon Kuskokwim Health Corporation was no different as it created a solution from four or five different chemicals that had to be measured "just so or it could be caustic."
"They used their telehealth capacity to provide videos to villages and community health aids that live there to be able to show them exactly how to mix it and educate them about its use so they had ways to wipe down surfaces," Armstrong said.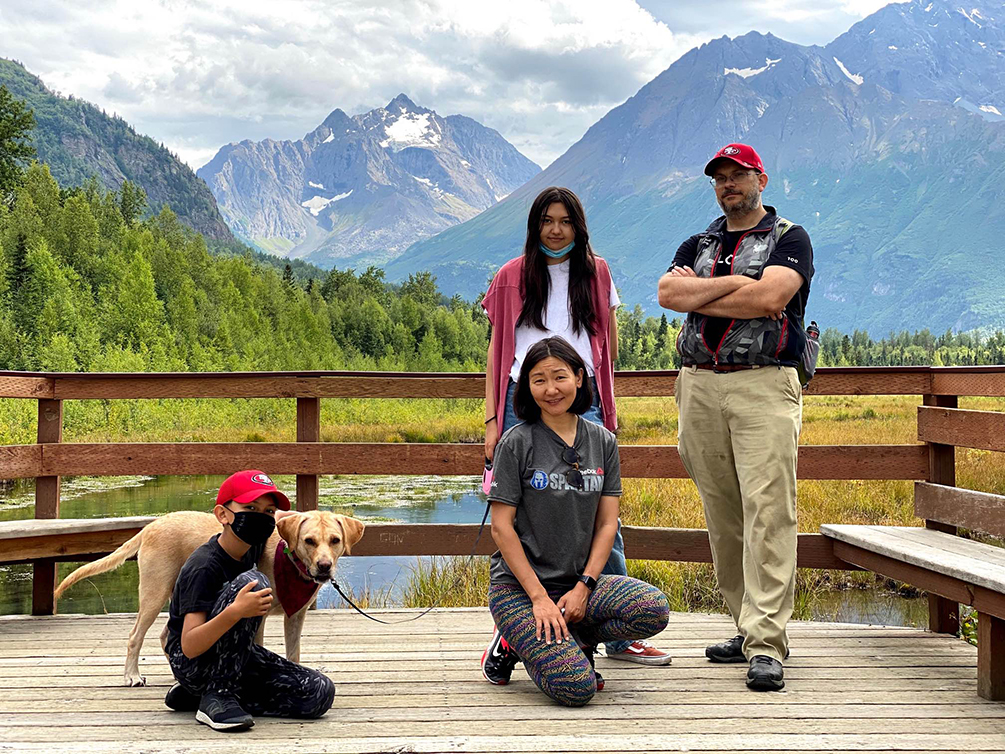 Telehealth also was used to provide support and to coach people on how to use Narcan to treat opioid overdoses in anticipation of ongoing behavioral health issues that weren't going to be well managed during the pandemic.
"I think those were efforts that bore fruit and utilized that infrastructure in unique ways and benefited from the fact that Alaska's tribal communities had a long history of utilizing telehealth," he said.
Making do with less
As the pandemic unfolded, Armstrong and his team didn't have the means to share and utilize data effectively.
"Much of what public health had done had either been kind of let go or contracted out," he said. "We had to incorporate the public health nursing contact tracing, get people hired who could provide on-the-ground support and coordination for health systems that were overtaxed, as well as trying to organize and utilize local data so that local decision-makers had information they could build on and utilize and try to make policy decisions."
Once the vaccines started to become available in early 2021, the lack of public health staffing was such an issue that Armstrong and his team had to leverage the National Guard to work the call centers. It was a creative, but necessary, maneuver to make sure they had the capacity to distribute and administer the vaccine to Alaska's residents and help set up contact tracing.
"All of that had to be done within a month's time," Armstrong said. "We did it successfully and that gave us a tremendous amount of information, but there was only so much we could take from that because none of the systems we were using could be integrated with the CDC's reporting system. All we could do is simply look at the numbers—where they were coming from, what sort of outcome there might be—that was a tremendous limitation to us."
Because of the support from tribal health in pooling vaccines—and the fact the contact tracing, mass vaccination program and call center had all been developed by public health nursing—initial vaccination efforts were quite successful.
"We got two shipments of vaccines—one for our native partners and one for the state—and we leveraged the call center to coordinate the deliveries," he said. "By April 2021, we were already having visits go unfilled at mass dispensing events because we had more vaccines than we needed.
"I found a contact-tracing solution for the state. I moved it through, we got it online quickly because there wasn't one available, but one that was being used by epidemiologists was the disease investigation solutions provided by the CDC.
"Because of the very detailed information that's contained within it meant that nobody who was not a trained and certified epidemiologist would be allowed to access it—and there were only five of those in the state. Therefore, we needed a new solution."
Effective communication skills have helped Armstrong navigate his career—in Alaska and beyond.
"How do you make sure that public health is understood by the individuals and the populations you're addressing?" he said. "I would say I am able to do that because of what I learned at Michigan Public Health, and I often will cite that fact to others as being at the core of what makes me effective as a public health professional. I've always worked very hard with our health systems to develop new ways of measuring social determinants of health. My education at Michigan Public Health helped set me up for success."
---