Video & Media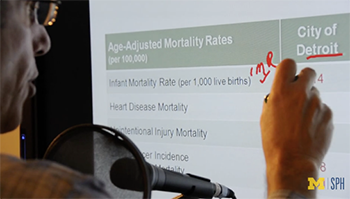 While media is integral in our personal lives and the lives of our students, it's also never been more important to our instructional and communication goals. Our expert team can help align your objectives with the proper video tools and techniques making it easy for you to quickly, effectively, and clearly engage the widest audience possible.
---
Educational Video Examples
There are many different styles of videos you can create for teaching and learning. Each has its own strengths and drawbacks. Here are a handful of examples to spark your thinking, but don't be limited by these. You can mix and match these formats or invent something else that fits the idea you are trying to convey. View the examples.
Video/media creation and hosting
SPH Media and Computing Services offers HD video production for every opportunity and situation. With the latest camera and software technologies, our media experts are ready to collaborate with you to enhance your next project. Thanks to the university's MiVideo hosting service, we're equipped to house your new videos on a platform that supports HD, mobile, and slow internet connections, distributing your content across the globe.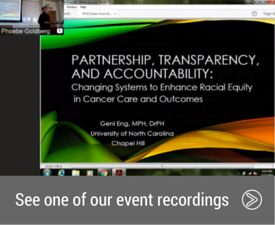 Live event recording/streaming
Our live event recording and streaming service is a great way to share and archive your event to a wide audience. SPH ICS is ready to capture, store, and distribute your live event. Thanks to a variety of cutting edge software platforms, we can stream your event to an audience of up to 3,000.
Lecture capture
Modern students and audiences want the ability to reexamine content. SPH Media and Computing Services captures hundreds of hours of lectures every week, simply and reliably. With built-in Canvas integration and microphones in most classrooms, faculty and staff can capture their own lectures and presentations with a few mouse clicks. See an example.
Learn more about Panopto, our lecture capture service, or email us to get started.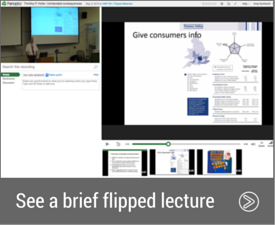 Flipped classes
"What is the best use of my face-to-face class time?" - Jon Bergmann
The flipped classroom model asserts the importance of using class time for active learning and application instead of information dissemination. Using video and other learning technologies allows for the creation a more personalized and self-paced learning environment. Our team can meet with you to help plan and co-create media content to meet your teaching goals.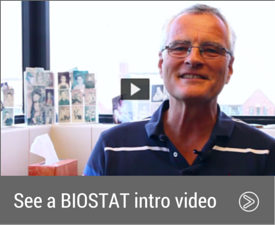 Class introduction videos
Short videos featuring the professor or GSIs can be perfect for providing an introduction to the class or specific topics and concepts. They add a personal touch and are especially helpful for distance students or instances where you are not able to be physically present.
Web/video/phone conferencing
Whether you want to teach distance students, bring in a guest speaker, or collaborate at a distance, web conferencing is a great tool to create a rich education environment. SPH Media and Computing Services has dedicated video conference rooms and equipment to make your next web conference experience seamless. Email Classroom Services at sph.classroom@umich.edu to reserve a room, request a webcam, or for help setting up your upcoming remote collaboration.