Ph.D. Student Profile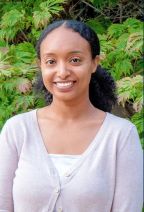 Education
MPH, General Epidemiology, University of Michigan, 2021
BA, Psychology & Comparative Human Development, University of Chicago, 2016
Research Interests & Projects
I am interested in psychiatric and social epidemiology, broadly, and in further understanding psychiatric and behavioral disorders and their intersections with chronic conditions and physical health. I have worked on a number of injury prevention projects, including those on the topic of youth suicide prevention, medical opioid misuse in adult populations, and psychosocial coping in adolescents.
Selected Publications
Kahsay, E., Magness, C. S., Persky, S., Smith, P. K., & Foster, C. E. (2020). Suicide Prevention Training in the Child Welfare Workforce: Knowledge, Attitudes, and Practice Patterns Prior to and Following safeTALK Training. Child Welfare, 98(1).

Foster, C. E., Magness, C., Czyz, E., Kahsay, E., Martindale, J., Hong, V., ... & King, C. (2021). Predictors of parent behavioral engagement in youth suicide discharge recommendations: implications for family-centered crisis interventions. Child Psychiatry & Human Development, 1-12.