Ph.D. Student Profile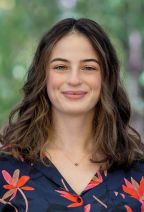 Education
MPH, Epidemiology and Health Behavior/Health Education, University of Michigan, 2019
BA, International Development Studies, University of California Los Angeles, 2013
Research Interests & Projects
I am interested in Arab American health and cancer disparities. I have been working with Dr. Leigh Pearce on SAHA-HPV, a community based cervical cancer prevalence and self-sampling acceptability study in Dearborn, MI with ACCESS. I have also been involved in a number of projects related to ovarian cancer risk and survivorship.
Selected Publications
Lee AW, Rosenzweig S, Wiensch A, … Khoja L, Alimujiang A, Phung MT, Brieger K, Mukherjee B, Pharoah PDP, Wu AH, Pike MC, Webb PM, Pearce CL. Expanding our understanding of ovarian cancer risk: the role of incomplete pregnancies. J Natl Cancer Inst. 2020 Aug 7;. doi: 10.1093/jnci/djaa099. [Epub ahead of print] PubMed PMID: 32766851.
Kader F, Bazzi L, Khoja L, Hassan F, de Leon CM. Perceived Discrimination and Mental Well-being in Arab Americans from Southeast Michigan: a Cross-Sectional Study. J Racial Ethn Health Disparities. 2020 Jun;7(3):436-445. doi: 10.1007/s40615-019-00672-y. Epub 2019 Dec 12. PubMed PMID: 31833009.
Alimujiang A, Khoja L, Wiensch A, Pike MC, Webb PM, Chenevix-Trench G, Chase A, Richardson J, Pearce CL. "I am not a statistic" ovarian cancer survivors' views of factors that influenced their long-term survival. Gynecol Oncol. 2019 Dec;155(3):461-467. doi: 10.1016/j.ygyno.2019.10.007. Epub 2019 Nov 6. PubMed PMID: 31706666.
Additional Information
Rackham Merit Fellow