Ph.D. Student Profile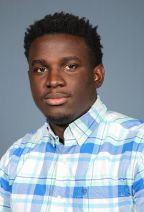 Education
BSc. Biology and Chemistry, Kentucky State University, Frankfort, KY (2017)
MSc. Environmental and Public Health Studies, Kentucky State University, Frankfort, KY (2019)
Research Interests & Projects
My research interests include cancer and clinical epidemiology, particularly prevention, screening, control and survivorship among low and middle-income populations.
I am interested in understanding some relationships between factors such as obesity, nutrition, physical activity, lifestyle and various cancers (prostate, colorectal, cervical, etc.) to further support prevention strategies, enhance treatments, and improve quality of life and survival outcomes for patients. I have been involved with several prominent institutions including the University of Kentucky Markey Cancer Center, Kentucky Cancer Registry, Alliance for Clinical Trials in Oncology and the National Public Health Institute of Liberia.
Selected Publications
Myint ZW, Momo HD, Otto DE, Yan D, Wang P, Kolesar JM. Evaluation of Fall and Fracture Risk Among Men With Prostate Cancer Treated With Androgen Receptor Inhibitors: A Systematic Review and Meta-analysis. JAMA Netw Open. 2020;3(11):e2025826.

doi:10.1001/jamanetworkopen.2020.25826

Myint Z, Momo HD, Otto, DE, Yan D, DiPaola RS., Wang P, Kolesar J. Risk of fall and clinical fracture associated with androgen receptor inhibitors: Journal of Clinical Oncology 38, no. 6_suppl (February 20, 2020) 71-72.