Master of Science Degree in Nutritional Sciences
The two-year Master of Science in Nutritional Sciences degree is intended for students interested in pursuing academic or research careers in nutrition and related fields, including those looking to continue in doctoral programs.
MS students can decide whether to pursue a dietetics concentration. This optional concentration has additional requirements as a path to the Registered Dietitian Nutritionist (RDN) credential.
MS Degree Options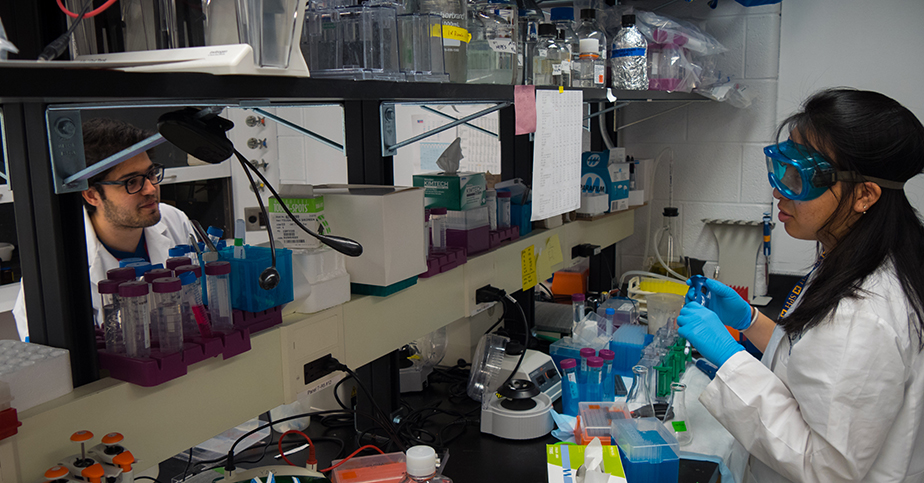 MS in Nutritional Sciences
2-YEAR PROGRAM | 32-34 CREDIT HOURS | THESIS
The MS in Nutritional Sciences is a two-year, 32-34-credit-hour degree program intended for students with a strong interest in science and health who plan to pursue scientific careers in academia, research institutes, and governmental agencies, or as a step toward a doctoral program. A thesis is required with the goal of a published manuscript. Students will work alongside Nutritional Sciences faculty and a committee to complete their research.
*The dietetics concentration is an option with this degree. Please inquire for more information.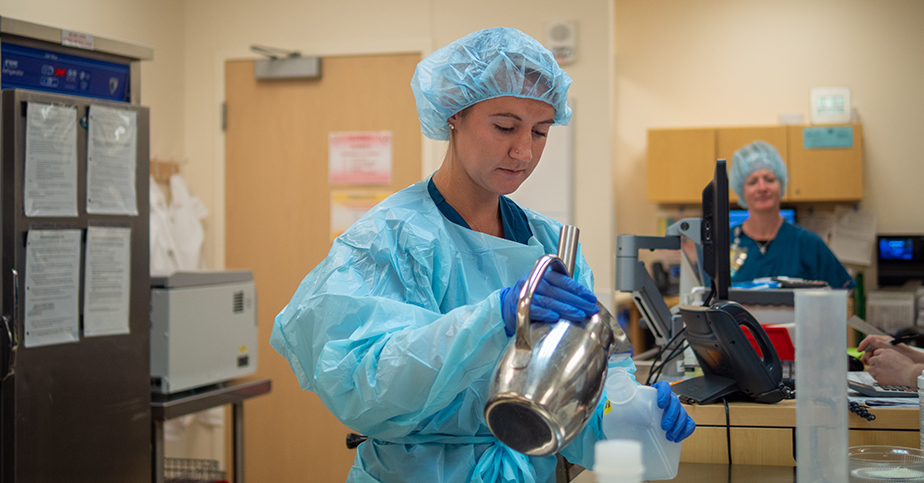 MS in Clinical Nutrition - Dietetics
2-YEAR PROGRAM | 50+ CREDIT HOURS | RESEARCH PROJECT
The new MS in Clinical Nutrition is intended for students wishing to complete an in-depth research project in the field of Clinical Nutrition while pursuing their Registered Dietitian Nutritionist (RDN) credential. By employing statistics, theories and evidence-based practice, students will focus on the prevention, diagnosis and management of nutritional changes in people with chronic disease, in healthcare or research settings. Students in this program can also choose to include an elective series.
Program Curriculum and Prerequisites
SPH Core Requirements
Course Number
Credits
Course Name
Term
BIOSTAT 521
4
Applied Biostatistics
F
Select one of the following:
BIOSTAT 522
3
Biostatistical Analysis for Health-Related Studies
W
NUTR 620
3
Nutritional Biostatistics
W

EPID 600

or

PUBHLTH 512

4

3

Introduction to Epidemiology

Principles of Epidemiology for Public Health

F

F
NS Core Requirements
Course Number
Credits
Course Name
Term
NUTR 630
3
Principles of Nutritional Science
F
NUTR 631
3
Metabolism of Vitamins and Minerals
W
NUTR 688
1
Nutrition Seminar (year-long course)
NUTR 698
6
Research **
NUTR 699
1
Thesis ***
NUTR 701
2
Research Methods in Nutritional Sciences
W
NUTR 869
1
Innovations in Nutrition Research (year-long course)
Select one of the following:
NUTR 640
3
Nutritional Assessment
W
PUBHLTH 511
3
Nutrition and Public Health
F
Select one from the following: (consult with your academic advisor)
NUTR 624
3
Nutritional Epidemiology
F
NUTR 626
3
Cont topics on Role of Nutr on Chronic Disease
W
NUTR 639
3
Pathophysiology of Obesity
W
NUTR 642
3
Community Nutrition
F
*May be exempt from previous coursework, but students must take at least two NUTR classes at Michigan during their degree.
**Students may elect NUTR 698 in any term but are required to complete a minimum total of 6 credits in this course to meet both departmental and program requirements.
***Master's Thesis: all MS students are required to perform a research project during the program, to write an acceptable thesis on the project, to present the research results in a seminar to defend the thesis before a committee of the faculty (see thesis guidelines).
The chart below details the additional coursework that is required for MS students who would like to specialize in dietetics.
Additional Coursework for an MS with Dietetics

| Course Number | Credits | Course Name |
| --- | --- | --- |
| NUTR 540 | 2 | Maternal and Child Nutrition |
| NUTR 547 | 2 | Food Science |
| NUTR 585 | 2 | Food Service Management |
| NUTR 636 | 3 | Medical Nutrition Therapy I |
| NUTR 637 | 2 | Medical Nutrition Therapy II |
| NUTR 640 | 3 | Nutritional Assessment |
| NUTR 642 | 3 | Community Nutrition |
| NUTR 646 | 3 | Nutritional Counseling |
Prerequisites
Applicants should have a strong interest in science and health, an undergraduate degree in a field of basic or applied science. Applicants are best prepared if they have taken courses in biology, physiology, general and organic chemistry, biochemistry, and calculus. The following are required:
Calculus* or Statistics* (1 semester)
Inorganic/general chemistry* (1 semester, lab not required)
Organic chemistry (1 semester, lab not required)
Biochemistry (1 semester, lab not required)
Human Physiology (1 semester) or Human Anatomy and Physiology (1 semester of each)
Microbiology (for Dietetics students only)
*AP high school courses are accepted based on AP final exam score
Funding Information
In addition to financial aid and funding opportunities from the School of Public Health, Nutritional Sciences MS students can receive financial support from the Rackham Graduate School. A separate application for Nutritional Sciences funding is not required.
How to Apply
MS applicants apply to our program through the University of Michigan Rackham Graduate School.
Visit our 'Applications and Deadlines' page to start the application process.
View Applications and Deadlines
More Information
For questions, please contact Carole Durgy, Graduate Program Coordinator, at beckca@umich.edu.