From Hashtag to Global Movement: Students Against COVID-19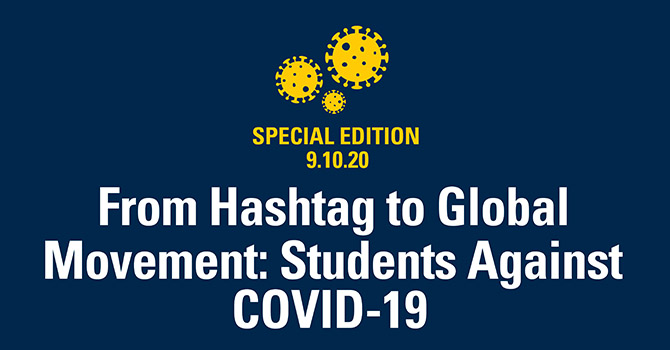 Click Here for the Latest on COVID-19 from Michigan Public Health Experts
With over 500 members representing nearly 70 countries, the grassroots organization Students Against COVID-19 is addressing the coronavirus pandemic with global collaborations that cross borders, disciplines, and perspectives. Organization founder Marina Haque, an alumna of the University of Michigan School of Public Health and School of Medicine, joins us to talk about the explosive growth of Students Against COVID-19 and the innovative, interdisciplinary ways its members are addressing COVID-19 around the world.
Listen to "From Hashtag to Global Movement: Students Against COVID-19" on Spreaker.
Subscribe and listen to Population Healthy on Apple Podcasts, Spotify, Google Podcasts, iHeartRadio, YouTube or wherever you listen to podcasts!

Be sure to follow us at @umichsph on Twitter, Instagram, and Facebook, so you can share your perspectives on the issues we discussed, learn more from Michigan Public Health experts, and share episodes of the podcast with your friends on social media.
Haque: The world is this incredible place. There's many drawbacks, of course, with the virtual world that we've come into, but there's also this great opportunity to connect with people we'd never have met otherwise and to learn from them and to grow from them.

Speaker 1: Addressing a global crisis like the coronavirus pandemic, one that crosses borders and impacts nearly every aspect of life for billions of people across the globe, requires an interdisciplinary approach that spans fields and perspectives. But in a world where travel, communication, and work have fundamentally changed, collaborations need to happen differently, and that may be one part of the success for a student-led organization.
Hello and welcome to Population Healthy, a podcast from the University of Michigan School of Public Health. This episode is part of a series of special editions of our podcast, focusing on the ongoing coronavirus pandemic. Marina Haque is a recent graduate of the University of Michigan School of Public Health and of the University of Michigan Medical School. In March of 2020, while juggling life as a masters student and a medical student, she founded Students Against COVID, an international grassroots movement that's brought individuals and perspectives together from all over the world to address the coronavirus pandemic in new innovative ways.
Haque: I currently am a first year resident at the Detroit Medical Center/Wayne State University, and I'm actually working in the critical care unit right now, so I work with a lot of COVID-19 patients.
Students Against COVID is a global grassroots movement that aims to bring to other students and allies from across the globe to create a common platform to share ideas, to brainstorm together, and collaborate if possible during the coronavirus pandemic. Our members span many different educational and career pathways, and they are from over 63 countries. We have fashion designers, we have government employees, we have nuclear scientists, we have engineers, we have many different medical students, we have young physicians, writers, etcetera. We have over 500 plus members. I believe at least 300 of them were active at this time. Anyone can get involved.
When I was an undergraduate student at the University of Michigan, I realized quickly that if I wanted to get involved into anything that I was interested in, I would have to take initiative. And so even as a University of Michigan student, by my sophomore year, I started creating my own initiatives. One of the things I was passionate about was actually teaching, so I actually started even teaching Arabic when I was a student. I was learning it and I started teaching it. And so by the time I got to grad school as well, the same concept applied, is that many times you can't wait for an opportunity to present itself, you kind of just have to make that opportunity for yourself. And so I created my own research study. I did research in Pakistan on healthcare accessibility, which was really exciting, and I created my own team. A lot of things just won't happen unless you take initiative yourself.
So for example, the study I did in Pakistan, it's the fifth most populated country on the planet with some of the worst health indices, and yet there's almost like no research on it. Unless you create the change you wanna see in the world, it might just not happen. So when I got this opportunity with Students Against COVID, I ran with it. I was now able to connect with all these people across the world who had so much passion and energy.
I'd done a little bit of public health work in the past, and one theme I've consistently noticed is that sometimes it takes a few extra steps to get everyone on the same page. And when the coronavirus pandemic broke out, one of the first things they'd noticed is that a lot of people were trying to help, but they were doing it kind of on their own. And a lot of people were doing a lot of the same great work, but there wasn't anything necessarily connecting them. And so I wanted to help as well.
And so initially I put out a tweet - I believe this was around March 13th - asking "I'm a medical student, what can I do to help? Someone who is as able bodied as me?" and I started getting a lot of great responses around the world. And then I thought, do you know what, what if there was a way to somewhat connect everyone? And so then I put up another tweet on March 16th asking for everyone to use the hashtag Students Against COVID. So if anyone could click on the hashtag, you could find out what anyone else across the world was doing and you could more easily connect with them. For example, a lot of people were creating Telehealth hot lines, people were creating different ways to help healthcare workers. So essentially we started off as a hashtag, and then a medical student from Greece reached out and he asked what if we could move this conversation to a more sustainable platform such as Facebook.
And so then we created a Facebook group on March 16th, and then we also created a Twitter, an Instagram, a website. And you see how the wheels started turning and people started coming together to spread that hashtag. And then they started creating a team. So our video team is led by a British medical student, Rusa Ilias from the United Kingdom. So that was one of our first teams. And our social media team was from Adriana Belamaranda from Indonesia. Those teams that started forming, then merged into more collaborative teams overall, which is why we have over 25 plus active initiatives that are still running, which is pretty amazing.
For example, we have a research team. One of the first people who started our research team was a physician and research affiliate from John Hopkins. He started working with different mentees and they started creating different research projects. They have had over 15 different papers submitted. They have over seven active research projects. And so they're very prolific, they're very, very smart. They have over a hundred members from all across the globe. So this is pretty exciting.
Another team was the Clinical Resources team. So that was started by Dr. Rosen Bush. He was a fourth year medical student at the time. And so he noticed a lot of clinics in Washington DC where he was based at, were struggling to figure out how to treat COVID patients. And so he started creating a data bank with his peers to help clinicians better figure out how to do clinical care for COVID patients. And that became a clinical resources team. And now it's also co-led by an Egyptian pharmacist. And they create data banks for physicians, for students, for patients, and they also create clinical cases for medical students to learn from. So we've also started going into things like medical education.
We have a women's health team, which is extremely prolific. A lot of these really important topics, for example, that impact our health in so many different ways, a lot of things have been pushed to the back burner because of COVID. And so we've had a lot of these incredible youth activists. They've really been stepping up and they've been educating people, they've been reaching out to people, they've been spreading awareness. People have done PPE collection drives. We have a metro Detroit volunteering Initiative as well. We have an affiliation with Detroit Is My Home, which is another non-profit here that works with the homeless population. So it's a lot of different educational-based campaigns, a few different social awareness campaigns, writing campaigns. So it's just been really exciting.
Our translation team, for example, that's actually led by a 19-year-old student at Wayne State University, has over 40 languages represented within it. And so she corresponds regularly with people from at least 50 different countries. A 19-year-old - this is incredible. And they help translate all these different materials. She's studying sociology and she also helps run Replenish Detroit, which is a movement to help increase water accessibility within Detroit.
The value of a lot of what we were doing with Students Against COVID is it teaches young learners, helps drive professional development, and it also really focuses on spreading good work ethics. For example, we try to ensure that most of our material is translated into as many languages as possible, because we strongly believe in language accessibility, inclusion. We also have a protocol to bring children into our team. So for example, one of them is a fourth grader from Pakistan named Sana Ali. And so she created a series of videos for other youth around the world, especially kids her age on like, what is COVID-19, how as a child can I step up, what are common myths and perceptions. And she oriented them towards people her age. And our Children, Health and Safety team helped spread that out.
Students Against COVID is a pretty large movement. So we have an evaluation committee of all things. And we actually have a bureaucrat from the Pakistani government who's the advisor for it. He's actually also an entering PhD student at the University of Michigan. So it's pretty cool. People from all different spectrums are involved in Students Against COVID. Our Media Relations team is run by someone who used to work for the Crisis Center in DC.

Speaker 1: By bringing in diverse perspectives and building a large coalition, Students Against COVID is setting itself up to make long-term impact, something Haque knows is needed during this ongoing global crisis.

Haque: Initially there was a lot of energy towards helping healthcare workers when COVID-19 very first broke out, and then there was this realization about the horrendous impact the healthcare workers were facing, the hospitals who are facing. And now it's interesting, like five months later, now I am in a lot of these healthcare workers shoes. I'm working closer to 80 hours a week. I'm working in a critical care unit with a lot of COVID-19 patients. I see the horrible devastation that COVID-19 is causing upon people. I have a lot of younger patients who were relatively healthy, who've had COVID-19 and who honestly may not survive due to COVID-19. This is a very devastating disease.
When I was working much more intensively within Students Against COVID when we first began, it was a little bit hard to appreciate whether or not our efforts will pay off. But now I'm very grateful for all the work that public health people do in particular, and all these people volunteering and spreading positive messages of like social distancing. COVID-19 really is a very devastating disease, and it can strike at any time. And it's still killing many Detroiters, it's still killing many Americans and people across the world. And there has to be better public health measures put in place. And there also has to be better measures put in place towards educating the youth and creating a platform for youth leaders to learn at this time.
So we know that education, for example, is something that's been incredibly impacted through COVID-19 and it's something that's going to continue to be impacted, especially with many people having lost access to the internet. A lot of the internet infrastructure is not out there. Virtual education is not something many of our teachers can cope with or you know, easily adjust to. We have to create a system where the youth are still learning, because they're gonna be in these leadership positions soon enough, and they're going to be the ones responsible for acting. Whether it's like now or 10 years from now, or 25 years from now, change has to be done, and I think it starts at a very grassroots level.

Speaker 1: If you're interested in getting involved with Students Against COVID, there are plenty of ways to connect and contribute.

Haque: They can go to our Instagram page, so that's @StudentsAgainstCOVID. We have a Twitter, @SACOV10. We have a website sacov19.com. They can message me. We have studentsagainstcovid@gmail.com. So many different avenues.
Speaker 1: This has been a special edition of Population Healthy, a podcast from the University of Michigan School of Public Health. During the ongoing coronavirus pandemic, we'll work to bring you analysis from our community of experts to help you understand what this public health crisis means for you. To stay up-to-date in between special edition episodes, be sure to check out our website publichealth.umich.edu, subscribe to our Population Healthy newsletter at publichealth.umich.edu/news/newsletter and follow us on Twitter, Instagram, and Facebook @umichsph.
In This Episode
Marina Haque, MD, MPH
Marina Haque graduated from the University of Michigan School of Public Health and the University of Michigan School of Medicine in 2020 with a Master of Public Health (MPH) and a Doctor of Medicine (PhD). She is currently working as an anesthesiology resident physician at the Detroit Medical Center, Wayne State University, and helps lead the #Students_Against_COVID movement which she helped found upon the beginning of the pandemic.
Tags