UM-CEHC Organization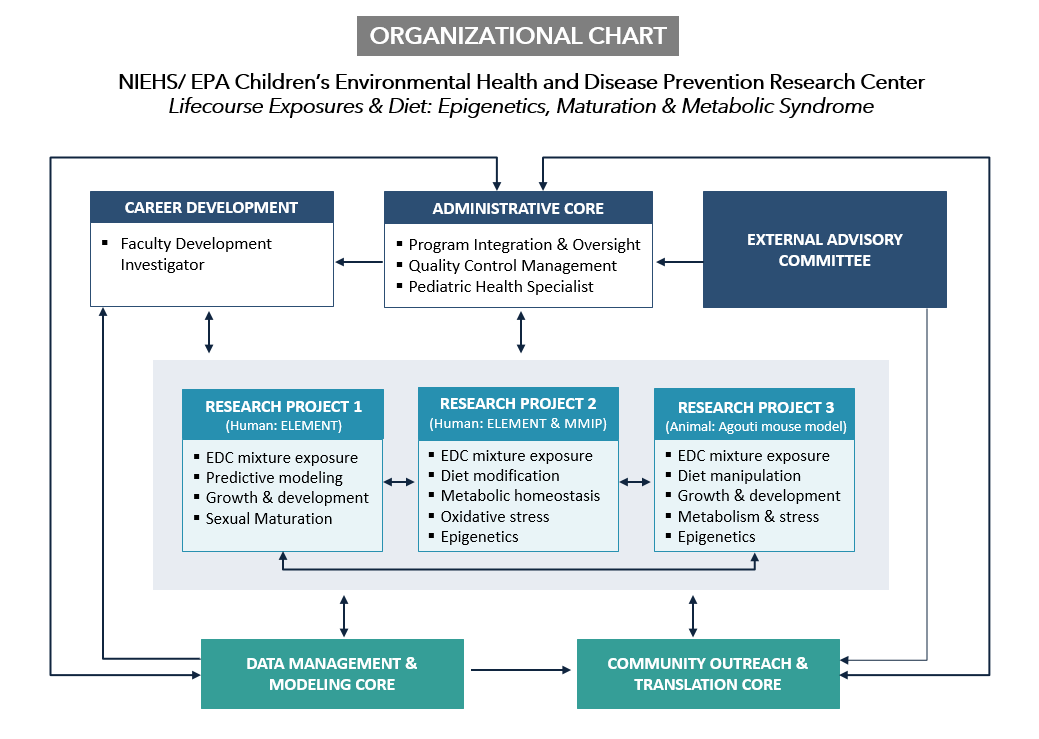 Administrative Core
The Administrative Core provides oversight, coordination, and integration of UM-CEHC activities.
Specific aims of the Administrative Core:
Coordinate and integrate the scientific aims of the Projects and Cores, track and evaluate progress and outputs, and ensure successful completion of all Center aims.

Manage Center and University resources to meet the needs and priorities of Projects and Cores.

Act as coordinating center by convening meetings of Project, Core, and subcontract investigators, organize the External Advisory Committee, ensure timely translation of research findings, prepare Center-wide reports, and interface with NIEHS and EPA project officers.

Evaluate the progress and success of the Career Development plan, with specific focus on the career development of Faculty Development Investigator.

Ensure quality control of all stages of research namely study design, establishment of standard operating procedures and study protocols, secure sample and data transfer and management, data analysis, and accurate interpretation I translation of research findings to academic, government, healthcare and community stakeholders.
Data Management and Modeling Core (DMMC)

The DMMC provides integrated biostatistics, bioinformatics, and database management support for all common statistical, bioinformatics, and database issues across the U-M CEHC.
Specific aims of the DMMC:
To provide statistical and bioinformatics support for all projects, including study design, conduct of statistical analyses, integration with biological information and interpretation of research findings.

To support data management, data quality controls, and integration of databases for conduct of the projects.
The COTC enhances the multiple, diverse stakeholders' understanding of the role that environmental exposures have on children's health and the potential points of prevention and intervention.
Specific aims of the COTC:
To develop and evaluate innovative, state-wide translation networks and activities connecting cutting edge academic research findings to public health practice.

To increase the awareness, understanding, and translation of the most recent scientific findings in children's environmental health into practice among families, community members, and community public health practitioners.

To translate children's environmental health research for use by advocacy organizations and other stakeholders in order to advance policies which protect children's health.