Bhramar Mukherjee Named Chair of Biostatistics | U-M School of Public Health
Bhramar Mukherjee Named Chair of Biostatistics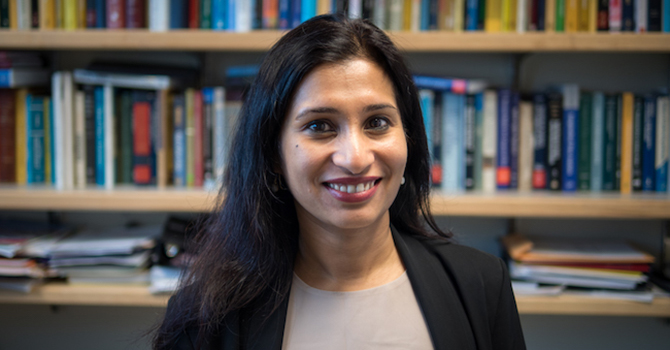 Bhramar Mukherjee, the John D. Kalbfleisch Collegiate Professor of Biostatistics, has been named chair of the Department of Biostatistics at the University of Michigan School of Public Health. Her appointment, effective July 1, has been approved by the University of Michigan Board of Regents.
"Professor Mukherjee's recent research in using data to affect population health has been transformational," said Cathleen Connell, interim dean of the School of Public Health. "It is her commitment and enthusiasm to training the next generation of biostatistics leaders that makes her an exceptional choice for chair."
Joining the department in fall 2006, Mukherjee's principal research interests lie in electronic health records, modeling health effects of multiple pollutants and environmental mixtures, Bayesian methods in epidemiology and studies of gene-environment interaction. Collaborative interests include reproductive and cancer epidemiology and global public health. Mukherjee has been serving as the Associate Director for Cancer Control and Population Sciences at the University of Michigan Rogel Cancer Center since 2016. She is the founding director of the University of Michigan's undergraduate summer institute on Big Data.
Mukherjee holds a Bachelor of Science degree in statistics from Presidency College (now Presidency University), a Master of Statistics degree with a specialization in applied statistics and data analysis from The Indian Statistical Institute, and a Master of Science degree in mathematical statistics and probability and a PhD in statistics from Purdue University. She is the first woman to hold the prestigious position of chair since the department was founded in 1949.
Michigan Public Health's Department of Biostatistics is ranked the top program in the country by the National Academies. One of six graduate-level departments housed within the School of Public Health, the Department of Biostatistics includes 46 faculty, 202 students and 111 staff members.
Read more about Mukherjee and her work in precision health on We Are Michigan Public Health.