Ph.D. Student Profile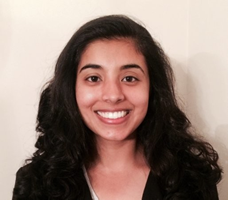 Aarohee Fulay, BA, MPH
Cognate: Nutritional Epidemiology
Education
MPH in Nutritional Sciences, University of Michigan
BA in Biology and Psychology, Cornell University
Research Interests & Projects
I am broadly interested in investigating how food insecurity, food access, and the food environment (nutrition policies and programs, etc.) impact dietary quality, chronic disease risk, and overall well-being in vulnerable populations. I am particularly interested in studying the association of food insecurity with dietary quality and chronic disease risk in children, adolescents, and college students.
Selected Publications
Moran, A., Thorndike, A., Franckle, R., Boulos, R., Doran, H., Fulay, A., Greene, J., Blue, D., Block, J. P., Rimm, E. B., & Polacsek, M. (2019). Financial Incentives Increase Purchases Of Fruit And Vegetables Among Lower-Income Households With Children. Health affairs (Project Hope), 38(9), 1557–1566. https://doi.org/10.1377/hlthaff.2018.05420
Vercammen KA, Moran AJ, McClain AC, Thorndike AN, Fulay AP, Rimm EB. Food Security and 10-Year Cardiovascular Disease Risk Among U.S. Adults. Am J Prev Med. 2019;56(5):689-697. doi:10.1016/j.amepre.2018.11.016
Musicus AA, Vercammen KA, Fulay AP, et al. Implementation of a Rooftop Farm Integrated With a Teaching Kitchen and Preventive Food Pantry in a Hospital Setting. Am J Public Health. 2019;109(8):1119-1121. doi:10.2105/AJPH.2019.305116
Fulay AP, Rifas-Shiman SL, Oken E, Perng W. Associations of the dietary approaches to stop hypertension (DASH) diet with pregnancy complications in Project Viva. European Journal of Clinical Nutrition (2018) doi:10.1038/s41430-017-0068-8.