PhD Student Profiles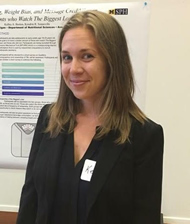 Kelley Borton, MPH is focusing on nutritional epidemiology and is also currently pursuing her dietetic internship at the University of Michigan. She is interested in nutrition advice as well as weight stigmatizing messages portrayed in reality weight loss television, as well as weight misperception in adolescents and its association to weight related health behaviors. In addition, Kelley is interested in the relationship between social media use and body satisfaction, and the implications on the prevention of disordered eating.
---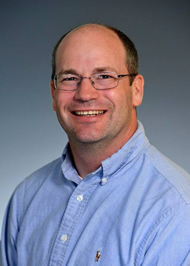 James Casey, MS is looking at the identification of diet analysis using metabolomics. James is also interested in identifying specific metabolomic pattern changes due to obesity, exercise, and changes in diet.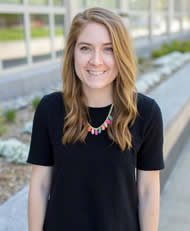 Ellen Davis, BS is interested in how the metabolism interacts with the immune system. Specifically, she studies the signaling between the cytokine interleukin-6 and GLP-1, an important regulator of glucose, during sepsis.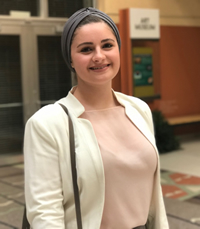 Noura El Habbal
---
Innocence Harvey, MS is interested in the mechanisms by which chronically elevated glucocorticoids lead to metabolic diseases, such as insulin resistance and fatty liver, as well as the impact of obesity on these outcomes. Specifically investigating glucocorticoid-induced alterations in gene and protein expression in adipocytes and how these changes result in the systemic physiological abnormalities that contribute to metabolic disease.
---
Vivienne Hazzard, MPH, RD dissertation project seeks to examine psychosocial and genetic risk factors for disinhibited eating behaviors, as well as to explore corresponding gene-by-environment interaction. Her long-term goal is to advance understanding of risk and protective factors for disordered eating in order to design effective interventions, with special interests in sexual and gender minority and athlete populations.
---
Jennifer LaBarre, MPH, RD research interests includes studying how nutrition influences metabolism during sensitive periods in human growth and development leading to an increased chronic disease risk. Jen's dissertation will test the hypothesis that nutrient exposures in utero, as reflected in the metabolome, has a direct influence on the development of the offspring and the offspring's epigenome. Further, the metabolic pathways modified by intrauterine exposure will be reflected in the metabolome of the infant at birth and these altered metabolomic profiles will be identified in adolescents with phenotypic characteristics of excess adiposity and progression towards insulin resistance. Upon completion of these studies, she hopes to develop the necessary information to form a model for how intrauterine exposure can lead to altered metabolism in later life.
---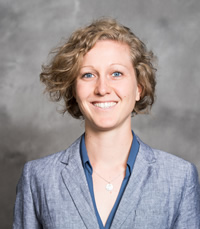 Nathalie Lambrecht, BS research focuses on the intersection between diet, human health, and the environment. In particular, Nathalie studies how livestock rearing may impact human health through multiple pathways, including diet and infection. She is also interested in sustainable diets, especially how animal-source foods affect human and planetary health on a global scale.
---