Ph.D. Student Profile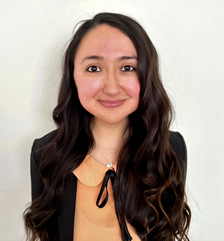 Astrid Zamora , BS, MPH (she/her)
Cognate: Nutritional Epidemiology
Education
MPH in Public Health Nutrition, UC Berkeley School of Public Health
BS in Nutrition Science and Biochemistry, UC Davis
Research Interests & Projects
I'm broadly interested in understanding the role of environmental exposures (i.e., toxicants and diet intake) in early life and during critical reproductive life stages on subsequent sleep and metabolic health outcomes of Latin American populations. Current projects involve my ongoing dissertation research which utilizes
data from the Early Life Exposure in Mexico ENvironmental Toxicants (ELEMENT) cohort study, and an ethnographic study that aims to gather qualitative information on the experience of sleep and menopause within the context of working-class Mexican women in midlife.
Selected Publications
Zamora AN, Watkins DJ, Peterson KE, Téllez-Rojo MM, Hu H, Meeker JD, Cantoral A, Mercado-Garc

ía A & Jansen EC. (2022). Prenatal maternal pesticide exposure in relation to sleep health of offspring during adolescence. Environmental Research, 204, 111977.

https://doi.org/10.1016/j.envres.2021.111977
Additional Information
My doctoral research is funded by the
National Institute of Environmental Health Sciences (NIEHS)
Research Supplement to Promote Diversity in Health-Related Research (3R24ES028502-04S1).
The University of Michigan
Center for Latin American and Caribbean Studies
and
International Institute
funded the ethnographic research project titled "Drivers of sleep health among perimenopausal working-class Mexican women."