Ph.D. Student Profile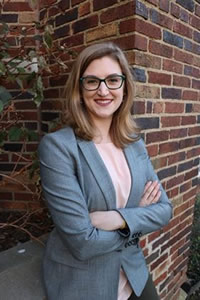 Molly Mulcahy, MS, RD
Cognate: Molecular and biochemical nutrition
Education
BS, Nutrition and Foods, minor in Chemistry, Texas State University - 2016
MS, Nutritional Sciences, University of Michigan School of Public Health - 2018
Dietetic Internship, University of Michigan School of Public Health
Research Interests & Projects
I am interested in how maternal diet and timing of eating and sleeping during pregnancy (chronobiology) impacts maternal metabolic health and offspring through adulthood. My dissertation is multidisciplinary, utilizing both preclinical and human observational methods. My preclinical work involves time-restricted feeding during gestation on maternal glycemia and offspring metabolic health. The observational PRESS study
(Pregnancy Related Eating, Sleeping and Stress)
is a longitudinal cohort that assesses associations between the timing of eating and sleeping during pregnancy and maternal and child health outcomes.
Selected Publications
Additional Information
I currently serve as a registered dietitian preceptor for nutrition students during patient counseling sessions with the Student Run Free Clinic. I also am part of both the nutritional sciences departments and school wide Diversity, Equity, and Inclusion (DEI) committees.
CERTIFICATIONS and PROFESSIONAL CREDENTIALS
Registered Dietitian
Commission on Dietetic Registration (Feb 14, 2020)
Certificate of Training
Central Texas Phlebotomy Institute, LLC (Jun 2014)
CLRA Level One Tutor
College Reading and Learning Association (Spring 2014)
certified through Student Support Services at Texas State University
PROFESSIONAL MEMBERSHIPS
American Society for Nutrition(2014-present), student member
Academy of Nutrition and Dietetics (2016-present), early career member
American Diabetes Association (2020-presnt), student member
Michigan Academy of Nutrition and Dietetics (2020-preesent), professional member