Undergraduate Degree Requirements
Undergraduate Degree Requirements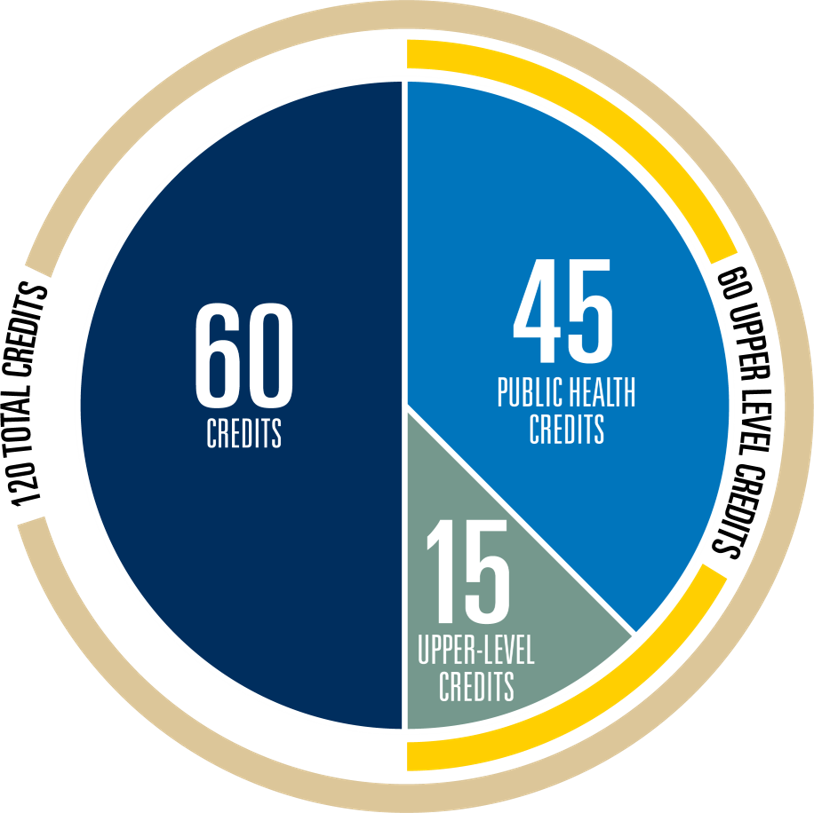 The University of Michigan School of Public Health Bachelor of Arts (BA) in Community and Global Public Health and Bachelor of Science (BS) in Public Health Sciences provide an interdisciplinary undergraduate liberal education through the lens of public health. Undergraduate students take a variety of courses to build general public health knowledge and develop a broad, interdisciplinary understanding of how to address existing and emerging public health problems. Both degrees require a set of integrated core courses with additional requirements that encourage students to explore a breadth of coursework.
The requirements listed here apply to students admitted in Fall 2020.
To qualify for a Bachelor's degree from the School of Public Health, a student must complete a minimum 120 credits. This includes successful completion of the admission requirements and a minimum of 60 upper-level credits, with 45 of those credits coming from courses offered by the School of Public Health. The remaining 15 credits can be fulfilled by any upper-level course (see exceptions for lower-level courses that may count).
I. Integrated Core Courses
Complete ALL of the following in the term indicated:
II. Major Specific Requirements
Bachelor of Arts in Community and Global Public Health:
Bachelor of Science in Public Health Sciences:
PUBHLTH 370 – Public Health Biology and Pathophysiology, 4 credits (Fall 2020)
One of the following:
18 credits of public health electives
III. Culminating Experience
PUBHLTH 481 - Public Health Practice and Professionalism, 3 credits (Fall 2021)
PUBHLTH 482 - Writing in Public Health, 3 credits (Winter 2022)
PUBHLTH 516 - Leadership Skills for Interprofessional Practice, 1 credit (Winter)
Public Health Electives
Any public health course (300-level and above), outside the specific requirements can count towards the public health elective credits. Elective courses can include courses from the other major or graduate courses.
Exceptions to the upper-level credits
Students must complete a minimum of 60 upper-level credits (300-level and above). The 45 public health credits are included in this requirement. The remaining 15 credits can be fulfilled by any upper-level course. The following lower-level courses are exceptions which may also count towards this requirement.
Language courses used to fulfill the fourth-term proficiency in a foreign language*
The following pre-health courses*:

BIOLOGY 207
BIOLOGY 225 & 226
CHEM 210
CHEM 211
CHEM 215
CHEM 216
CHEM 230
CHEM 260
PHYSICS 240 or 126
PHYSICS 241 or 128
PHYSICS 235
PHYSICS 236
PHYSICS 260
PHYSICS 261
PHYSIOL 201
*These courses are offered by the College of Literature, Science, and the Arts, please the LSA Course Guide for more information.