Biostatistics Ph.D. Student Profiles
Ph.D. Student Profile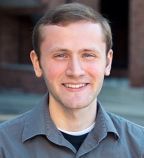 Education
MS Biostatistics, University of Michigan (2018)
BS Mathematics, Advanced and Statistics, Michigan State University (2016)
Research Interests & Projects
My methods work primarily focuses on multi-pollutant modeling, non-linear interaction selection in the presence of many environmental contaminants, and statistical inference when exposure data are subject to multiple detection limits. I have a number of applied collaborations in environmental statistics ranging from amyotrophic lateral sclerosis, racial disparities in telomere length, and gestational duration in pregnant women.
Selected Publications
Goutman SA, Boss J, Patterson A, Mukherjee B, et al. High plasma concentrations of organic pollutants negatively impact survival in amyotrophic lateral sclerosis. J. Neurol. Neurosurg. Psychiatry. 2019;90(8):907-912.

Alimujiang A, Wiensch A, Boss J, Fleischer NL, et al. Association Between Life Purpose and Mortality Among US Adults Older Than 50 Years. JAMA Netw. Open. 2019;2(5):e194270.

Boss J, Mukherjee B, Ferguson KK, Aker A, et al. Estimating outcome-exposure associations when exposure biomarker detection limits vary across batches. Epidemiology. 2019. doi: 10.1097/EDE.0000000000001052. [Epub ahead of print].

Huang Z, Zhang H, Boss J, Goutman SA, et al. Complete hazard ranking to analyze right-censored data: An ALS survival study. PLoS Comput Biol. 2017;13(12):e1005887.
Boss J, Zhai J, Aung MT, Ferguson KK, et al. Associations between mixtures of urinary phthalate metabolites with gestational age at delivery: a time to event analysis using summative phthalate risk scores. Environ Health. 2018;17(1):56.
Rosen EM, van't Erve TJ, Boss J, Sathyanarayana S, et al. Urinary oxidative stress biomarkers and accelerated time to spontaneous delivery. Free Radic Biol Med. 2019;130:419-425.