Biostatistics COVID-19 Research
This page highlights the professional and community service work done by members of Michigan Biostats with the goal of fostering collaboration and shared service work both within and outside of the department.
---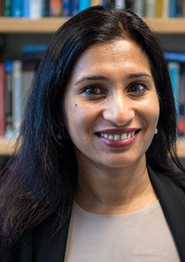 "I have been inspired by the outpouring of research and service from so many people: from within our department to across the globe. Together we are working ceaselessly to predict and mitigate the viruses' spread, influence governmental policies, find cures, protect medical workers, design testing strategies, characterizing disparities in outcomes and perform contact tracing. With our scientific training we can make a difference!"
- Dr. Bhramar Mukherjee, Department Chair
---
Clinical Trials
Community and Health Workers Service
Lu Wang (Faculty), Wen Ye (Faculty)
Our efforts in this "Fight COVID-19" campaign focus on securing adequate personal protective equipment (PPE) to protect our frontline colleagues at Michigan Medicine and healthcare workers at local hospitals so that they can perform their heroic work more safely.
Based on incomplete statistics, we have donated 164,271 pieces of PPEs to Michigan Medicine, IHA, St Josheph Mercy Hospital, Detroit Medical Center, DMC Sinai Grace Hospital, Pittsfiled Police, VA in Detroit, Dearborn Beaumont, Beaumont Wayne, Henry Ford Hospital, Glacier Hills Care & Rehabilitation Center, Detroit Rescue Mission Ministries, Convenant House Michigan, Homeless Youth Program in Ypsilanti, SOS Community Services in Ypsilanti, Food Gatherers in Ann Arbor, DMC Harper Hutzel Hospital, Hope Clinic, Essential Workers Mother's Pantry, St Josheph Mercy Hospital Canton, Hurley Medical Center Flint, Washtenaw County Community Health Service, Doyle Ryder Education Center, Packard Health, Homewatch Care Givers, U-M GICT Internal Medicine CMR, Green Rd Post Office, and PACE.
UM-ACP deeply appreciates the great efforts of our ACP members, collaborators and U-M alumni all over the world. The huge support from our postdocs, students and parents from China, the local Chinese community, U-M staff, and all those who have donated and participated will be remembered forever. We are proud of everyone who is in this drive. Any achievement in this campaign is impossible without you! Thank you!!
Mousumi Banerjee (Faculty), Bhramar Mukherjee (Faculty
Advocacy work with the Government of West Bengal, India
We were engaged in COVID-19 related activism work for India, specifically the state of West Bengal, from where we come. We raised our public health voice about undercounts and misreporting/false reporting of COVID data in West Bengal, assembling a group of public health scientists from the US (mostly biostatisticians of Bengal origin) and writing an open letter to the Chief Minister of West Bengal. The letter created a lot of political and public uproar, eventually leading to revised data reporting and COVID statistics for the state. Faculty outside UM involved in the initiative: Sudipto Banerjee, Nilanjan Chatterjee, Malay Ghosh, Sanjib Basu, Debashree Ray.
Data Apps and Maps
Bhramar Mukherjee, Maxwell Salvatore, Alexander Rix, Michael Kleinsasser, Daniel Barker, Lili Wang, Rupam Bhattacharyya, Soumik Purkayastha, Debashree Ray, Shariq Mohammed, Aritra Halder, Debraj Bose, Peter Song, Mousumi Banerjee, Veera Baladandayuthapani, and Parikshit Ghosh.
A resource to describe the COVID-19 outbreak in India to date as well as prediction models under various hypothetical scenarios. The figure and forecasting models update as new data becomes available (i.e., at least daily). You may download PNG files of each figure by clicking on the camera icon when you are hovering within each plot. Please cite our medium article and this website in any publication that you use this resource for.
Deesha Bhaumik (student)
An interactive map of the COVID-19 cases across the world. Includes a summary graph for top 10 most affected countries.
Grants
R01. The goal is to systematically study coronavirus diseases (with a focus on COVID-2019) using integrative ontological and bioinformatics approaches.
Grant submitted to Lifearc foundation .
This is a randomized multicenter study in patients with COVID 19 within 48 hours of intubation and initiation of mechanical ventilation. We hypothesize that single dose of surfactant will improve oxygenation, reduce ventilator free days and ICU length of stay in these critically ill patients.
In the News
Washington Post - India passes coronavirus milestone: The largest number of daily cases in the world
AgenciaBrasil: Part of India is banned.
aljazeera.com: India declares 21-day 'total lockdown' as coronavirus cases rise.
Asia Insurance Post: India faces spike in coronavirus cases, says study, in test for health system
BLOGGVALLEY.CO: Coronavirus lockdown.
Bmj.com: Covid-19: India imposes lockdown for 21 days and cases rise.
Brookings: COVID-19: Is India's health infrastructure equipped to handle an epidemic?
Busines Insider India: Coronavirus cases in India can rise 230,000 in a month, and 1.3 million by May: Report.
Business Standard: India coronavirus dispatch: Long-term strategy needed against Covid-19
Catve.com: Part of India is banned after spread of coronavirus.
CheddarTV: University of Michigan Team Studies Coronavirus
Center for Precison Health Data Science: COV-IND-19 Study Group releases report as COVID-19.
Currency Live: GBP/INR: Rupee Turns Bearish After Modi's Lockdown Measures
Daily Mirror Online: India declares 21-day 'total lockdown' as coronavirus cases rise.
Economic Times: India could see a reduction in the number of coronavirus cases by next week.
Economic Times: India may have 13 lakh confirmed Coronavirus cases by mid-May: Study
El.Nacional.Cat: India confines 1.3 billion people with coronavirus
Evening Standard UK: India announces country-wide lockdown.
exame: India imposes total confinement on 1.3 billion inhabitants by coronavirus
Firstpost.com: India could face 1.3 million confirmed coronavirus cases by May.
How we see it: Episode 01 Interview with Dr Brhamar Mukherjee on the COVID threat to India
Hindustantimes: Coronavirus Crisis: 100,000 dead in 101 days.
Hindustantimes: India may have 97k-1.3mn Covid-19 infections by mid-May, shows projection.
India Today: As Covid-19 cases surge in India, is the nation prepared to deal with pandemic?
India Today: How long will Covid-19 crisis last? Top epidemiologists share their insights
Info news: Coronavirus lockdown: Study projects wave of infections in India.
Internetnewscast: India announces countrywide lockdown of 1.3 billion people.
Lankaeverything: Sri Lanka's neighbour to go on total lockdown.
Medium.com: Predictions and role of interventions for COVID-19 outbreak in India.
Money Control: Coronavirus pandemic | India may see 1.3 million COVID-19 cases by mid-May: Report.
National Post: India faces spike in coronavirus cases, says study, in test for health system.
NDTV: Coronavirus: 80 Cities Across India Go Into Lockdown Till March 31. What It Means.
NewsInAsia: India's 13 billion people to begin world's largest virus lockdown.
News.umich.edu: Coronavirus modeling, impact on India's pandemic response.
Pakistan Defense: Overcome by anxiety: Indians in lockdown many can ill afford.
Politicopathy: India extends lockdown as coronavirus appears in small towns.
radar Amazonico: India is banned after spread of coronavirus.
Rediff.com: 'There will be a drastic drop with the lockdown'
RealFMGY.com: #India Extends Lockdown As Coronavirus Appears In Small Towns.
Reuters: India faces spike in coronavirus cases, says study, in test for health system.
Sahiwal.tv: Scientists warn, 1.three million circumstances of corona could also be revealed in india by may.
shethepeople: COVID-19 Cases In India Can Rise To 1.3 Million By May: US-Based Study.
Techinfeed: India Goes for 21 Days "Complete Lockdown".
The Caravan: Centre rushes to prepare for ventilator shortage, repeats mistake of protective-gear crisis.
The Daily Observer: India under lockdown for 21 days.
The English Print.Com: India faces spike in Coronavirus cases.
The Express Tribune: Most of India under lockdown as coronavirus appears in small towns
The Guardian: Overcome by anxiety: Indians in lockdown many can ill afford.
The News Minute: Virus isn't going to disappear after lockdown: Expert says long-term strategy needed.
The News Minute: Why is the lockdown 21 days long? Experts break it down for you.
The new paper: Indian cops enforce lockdown as cases expected to spike.
The Print: At current rate, India can see 30,000 COVID-19 deaths by May, no hospital bed by June: Data.
The Spinoff: Covid 19 Live Updates
The Telegraph India: Target Set for India to Reduce Figures
The Telegraph India: Calcutta Girls in UK Coronavirus Fight
The Telegraph India: Shine on: From a home of liberal arts to medicine & public health.
The Times of India: 'Epidemiologic models show we need aggressive measures in the early phase
The Top 10 News: India extends lockdown as Coronavirus appears in small towns.
Time 24 News: Most of India is banned after coronavirus appears in small towns.
Today India: Coronavirus pandemic | India may see 1.3 million COVID-19 cases by mid-May: Report.
Travel Wire News: India extends lockdown as coronavirus appears in small towns.
Ummid.com: Coronavirus: India may see 13 lakh cases by mid-May.
Wic News: India declares 21-day 'total lockdown' as coronavirus cases rise.
World Socialist Web Site: Modi places India's 1.3 billion people under lockdown
Yahoo News: Severe steps can drastically cut cases drastically says study.
Modeling
Observational Studies
Omics and Molecular Markers
Lili Zhao (Faculty)
The study will measure biomarkers and associate them with cardiovascular, kidney and nervous system complications outcomes, using the Michigan Medicine COVID-19 Cohort.
Laura Scott (Faculty), Anne Jackson (Staff), Li Guan (Student)
T2D and obesity are risk factors severe illness in individuals infected with COVID19. The receptor for COVID19, ACE2, is expressed in many tissues across the body including subcutaneous adipose tissue. Our work aims to identify genetic variation that influences ACE2 gene expression in subcutaneous adipose tissue and to identify associations between T2D-related phenotypes, such as obesity and fasting insulin, and ACE2 expression.
Work performed with investigators from other institutions: Kerrin Small, Karen Mohlke, Sarah Brotman and Julia El-Sayed Moustafa
Lana Garmire (Faculty)
Coronavirus disease (COVID-19) is an infectious disease discovered in 2019 and currently in outbreak across the world. Lung injury with severe respiratory failure is the leading cause of death in COVID-19, brought by severe acute respiratory syndrome coronavirus 2 (SARS-CoV-2). However, there still lacks efficient treatment for COVID-19 induced lung injury and acute respiratory failure. Drugs can be developed to target proteins such as Angiotensin-converting enzyme 2 (ACE2), inhibited by spike protein of SARS-CoV-2. We have previously proposed two candidate drugs, COL-3 (a chemically modified tetracycline) and CGP-60474 (a cyclin-dependent kinase inhibitor), for treating lung injuries in COVID-19, based on their abilities to reverse the gene expression patterns in HCC515 cells treated with ACE2 inhibitor and in human COVID-19 patient lung tissues. We are continuing research in this area to expand the search of drugs to additional targets using bioinformatics approaches.
Prospective Studies
Tom Braun (Faculty)
This is a prospective study designed to study healthcare workers at Michigan Medicine who are involved in direct face-to-face (in-person) patient care during the COVID-19 pandemic or HCWs who are not involved in direct (in-person) patient care, but work in a unit where COVID-19 patient care does or may occur. Subjects will be on-study for 30 days during which they will continuously wear a non-invasive TempTraq axillary temperature sensor patch and wear a Fitbit device.
Lu Wang (Faculty), Nina Zhou (Student)
This is a prospective observational study among those hospitalized COVID-19 patients who were enrolled or transferred to Michigan Medicine. We applied propensity score based causal inference methods to assess the effect of Tocilizumab among the ventilated COVID-19 patients at Michigan Medicine.
Reviews
Bhramar Mukherjee, Debashree Ray, Maxwell Salvatore (Student), Rupam Bhattacharyya (Student), Lili Wang (Student), Jiacong Du (Student), Shariq Mohammed (Post Doc), Soumik Purkayastha (Student), Aritra Halder, Alexander Rix (Staff), Daniel Barker (Staff), Michael Kleinsasser (Staff), Yiwang Zhou (Student), Debraj Bose (Student), Peter Song (Faculty), Mousumi Banerjee (Faculty), Veerabhadran Baladandayuthapani (Faculty), Parikshit Ghosh
With only 536 cases and 11 fatalities, India took the historic decision of a 21-day national lockdown on March 25. The lockdown was first extended to May 3 soon after the analysis of this paper was completed, and then to May 18 while this paper was being revised. In this paper, we use a Bayesian extension of the Susceptible-Infected-Removed (eSIR) model designed for intervention forecasting to study the short- and long-term impact of an initial 21-day lockdown on the total number of COVID-19 infections in India compared to other less severe non-pharmaceutical interventions. We compare effects of hypothetical durations of lockdown on reducing the number of active and new infections. We find that the lockdown, if implemented correctly, can reduce the total number of cases in the short term, and buy India invaluable time to prepare its healthcare and disease-monitoring system. Our analysis shows we need to have some measures of suppression in place after the lockdown for increased benefit (as measured by reduction in the number of cases). A longer lockdown between 42-56 days is preferable to substantially "flatten the curve" when compared to 21-28 days of lockdown. Our models focus solely on projecting the number of COVID-19 infections and thus, inform policymakers about one aspect of this multi-faceted decision-making problem. We conclude with a discussion on the pivotal role of increased testing, reliable and transparent data, proper uncertainty quantification, accurate interpretation of forecasting models, reproducible data science methods and tools that can enable data-driven policymaking during a pandemic. Our software products are available at covind19.org.
Tools for Clinicians
Holly Hartman (Student), Matthew Schipper (Faculty), Kelly Kidwell (Faculty), Yilun Sun (Faculty), Theresa Devasia (Student), Elizabeth Chase (Student), Emily Morris (Student), Pin Li (Student), Kim Hochstedler(Student), Madeline Abbott (Student)
Currently, oncologists are weighing the benefits and risks of both immediate cancer treatment and delaying cancer treatment during the SARS-COV 2 pandemic. We used published estimates of COVID-19 mortality and epidemiologic trends and integrated this with survival estimates for cancer to develop the OncCOVID web app which allows clinicians to make personalized treatment plans for cancer patients during the pandemic.
Watch news video here.