Ph.D. Student Profile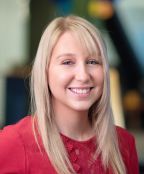 Education
MS Biostatistics, University of Michigan (2018)
B.A. Mathematics and Psychology, Coe College (2016)
Research Interests & Projects
Emily is currently working on her dissertation research on causal inference methods for surrogate endpoint validation in clinical trials and is advised by Drs. Taylor and Elliott. She began her research in the department on the NIH Training Grant for Cancer Research in Biostatistics. She has also worked with several cancer biostatistics faculty on applied cancer research projects that include lymphoma, head and neck melanoma, prostate cancer, breast cancer, and the microbiome. She has worked on a series of projects to better understand complex associations with telomere length and was awarded a Telomere Research Network Pilot grant as a Co-PI. She is currently a National Science Foundation Graduate Research Fellow, and she also spends her time combining her interests in statistics and helping others through STATCOM and Girls Who Code organizations.
Selected Publications
Geer, M.*, Roberts, E.*, Shango M., Till B., Smith S., ... and Phillips T. (2019). Multicentre retrospective study of intravascular large B‐cell lymphoma treated at academic institutions within the United States. British journal of haematology. *equal contribution authors
East, E. G., Roberts, E., Zhao, L., & Jorns, J. M. (2019). Repeat Biomarker Status in Breast Resection Specimens With Controlled Cold Ischemic Time. American journal of clinical pathology.
Siontis, B., McHugh, J., Roberts, E., Zhao, L., Thomas, D., Baker, L., Owen, D., Biermann, J.S., Schuetze, S.M., Chugh, R. (2019). Radiation-Associated Versus Sporadic Osteosarcoma: A Single-Institution Experience. Frontiers in Oncology.
Needham, B. L., Salerno, S., Roberts, E., Boss, J., Allgood, K. L., Mukherjee, B. (2020). Do Black/White Differences in Telomere Length Depend on Socioeconomic Status? Biodemography and Social Biology.
Hanks, J. E., Kovatch, K. J., Ali S. A., Roberts E., Durham, A. B., Smith, J. D., Bradford, C. R., Malloy, K. M., Boonstra, P. S., McKean, S. A. (2020). Sentinel Lymph Node Biopsy in Head & Neck Melanoma: Long-Term Outcomes, Prognostic Value, & Accuracy.

Otolaryngology–Head and Neck Surgery

.