Biostatistics Ph.D. Student Profiles
Ph.D. Student Profile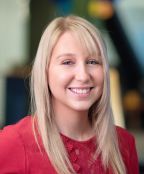 Education
MS Biostatistics, University of Michigan (2018)
B.A. Mathematics and Psychology, Coe College (2016)
Research Interests & Projects
Emily is currently working with Drs. Taylor and Elliott on topics of survival analysis and causal inference including surrogate endpoints for clinical trials. She began her research in the department on the NIH Training Grant for Cancer Research in Biostatistics. She has also worked with several cancer biostatistics faculty on applied cancer research projects that include lymphoma, head and neck melanoma, and breast cancer. She is currently a National Science Foundation Graduate Research Fellow.
Selected Publications
Muller, K. E., Roberts, E., Zhao, L., & Jorns, J. M. (2017). Isolated Atypical Lobular Hyperplasia Diagnosed on Breast Biopsy: Low Upgrade Rate on Subsequent Excision With Long-Term Follow-up. Archives of pathology & laboratory medicine, 142(3), 391-395.
East, E. G., Gast, K. M., Kuzon Jr, W. M., Roberts, E., Zhao, L., & Jorns, J. M. (2017). Clinicopathological findings in female‐to‐male gender‐affirming breast surgery. Histopathology, 71(6), 859-865.
Kahn, J. M., Cole, P. D., Blonquist, T. M., Stevenson, K., Jin, Z., Barrera, S., R Davila, Roberts, E., .... & Clavell, L. A. (2018). An investigation of toxicities and survival in Hispanic children and adolescents with ALL: Results from the Dana‐Farber Cancer Institute ALL Consortium protocol 05‐001. Pediatric blood & cancer, 65(3), e26871.
East, E. G., Gabbeart, M., Roberts, E., Zhao, L., & Jorns, J. M. (2018). A rapid triage protocol to optimize cold ischemic time for breast resection specimens. Annals of diagnostic pathology, 34, 94-97.