Getting to know … Tara Allendorfer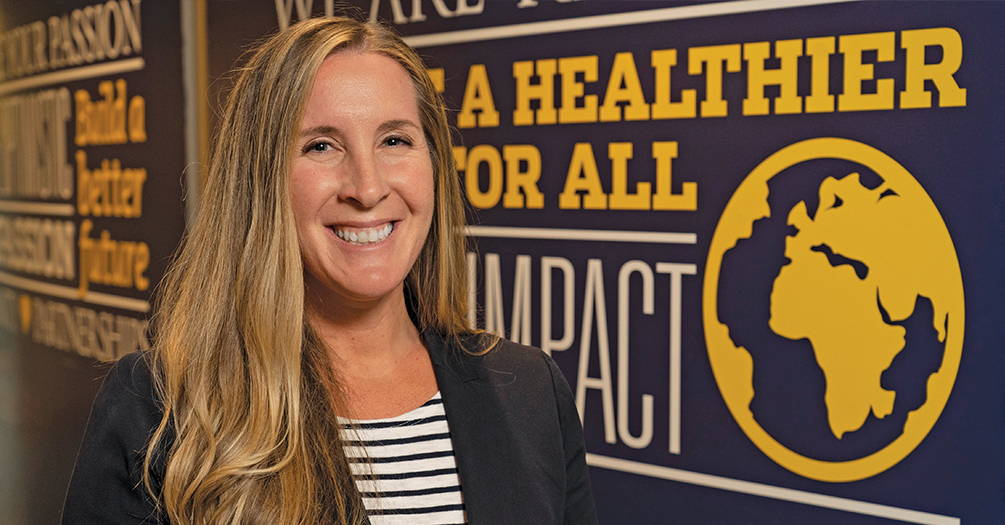 Director of Alumni Engagement
Tara has nearly 15 years of experience in higher education, working in alumni engagement and student career development. As director of Alumni Engagement, she works with the Michigan Public Health alumni community, engaging individuals in the life of the school through communications and events as well as leading high-impact programs for students and alumni to connect and learn from each other. Supporting the success of others and ensuring individuals have access to these difference-making experiences is a rewarding experience.
What do you enjoy doing away from work?
Running. About 12 years ago, a colleague of mine asked if I would be interested in taking her spot at the Crim Race. The community college we worked at had a block of sponsorship passes that they gave out, but she was no longer able to go. I went and loved everything about it—the amazing energy and support of the running community. It was such a spectacular event. During the next year, I convinced my sister to train with me, which was easy because she is awesome, and we ran the 10-mile race together. My husband also started to join in the fun (and now our 2-year-old son loves the opportunity to get outside with us too). Throughout the years, we have run many different races all over the state of Michigan—5Ks, half marathons and one marathon. To this day, I still think about how that one gift has given me so much joy, and I am grateful.
What is your favorite thing about the Michigan Public Health community?
The people. The Michigan Public Health community is filled with the most incredible individuals. We are surrounded by leaders, advocates and agents of change for the world's most pressing public health issues. Students, alumni, faculty and staff are shaping the future of public health and it is reassuring to know that the members of our deeply talented community have a seat at the table. We also have the privilege to connect with and work alongside genuinely great people. Those conversations and relationships leave a lasting impression and make this community truly special.
What's one of your favorite professional experiences?
During my time at the University of Michigan-Flint, I was managing their student career development and internship programs at the School of Management and was asked to help with some of our international recruitment efforts for the university. I was given the opportunity to learn more broadly about the different degrees and programs at Flint and traveled across Turkey for several large-scale recruitment events. It was a special experience.
Do you have a favorite quote, song or saying that inspires you? If so, could you provide it?
"Small acts, when multiplied by millions of people, can transform the world." —Howard Zinn
I did not know this quote until recently, but to me that message is very powerful. It's a reminder that we are all in this together and can each contribute to a healthier, kinder more equitable world for everyone.
•
Tara and her colleagues on the Development and Alumni Engagement Team are always looking for passionate alumni to partner with the School of Public Health. Email sph.alumni@umich.edu to learn about opportunities for mentoring, speaking, hosting internships, giving and more.
---