Class Notes, In Memoriam, Storyline, and More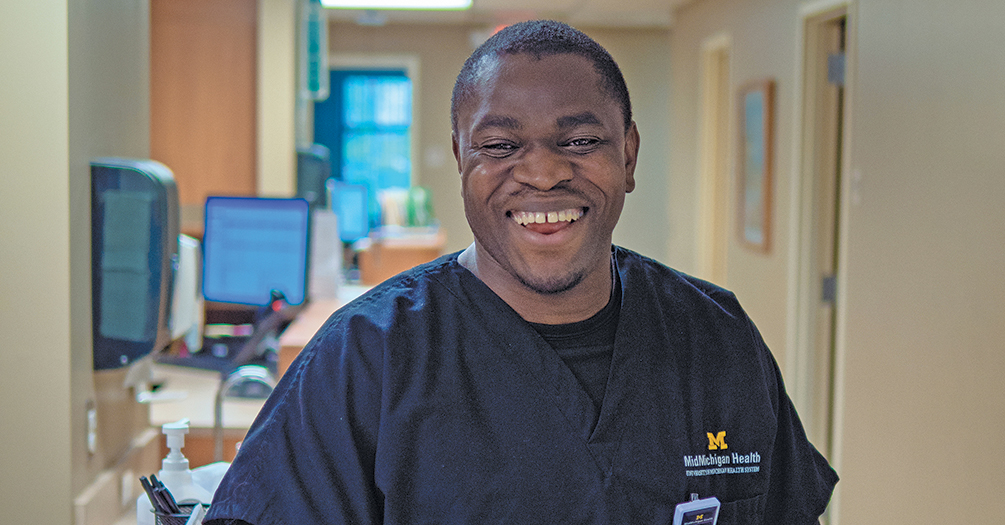 One Jab, Two Smiles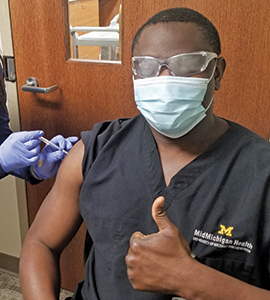 Utibe Effiong, MPH '14, receiving a COVID-19 vaccine and, right, greeting patients prior to the pandemic. Effiong is an internal medicine physician at the MidMichigan Health Center in Mount Pleasant, a clinical assistant professor of medicine at Central Michigan University, and a senior fellow with the Aspen Institute in Washington, DC.
Read more about Effiong in a A Desire to Be More: How Public Health Connects Medicine to Patient Communities.
---
Class Notes
1950s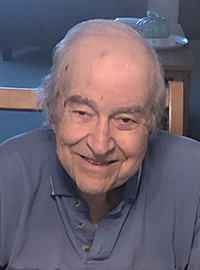 Herman Koren, MPH '59, recently published Management and Supervisory Practices for Environmental Professionals: Occupational Health, Public Health, Environmental Health—a two-volume introduction for professionals now in a fourth edition—and Sustainable Developmental Goals Implemented through Creative Programs, a monograph in support of the United Nations sustainable development goals, offering practical advice on implementing UN goals to alleviate poverty. The monograph is a practical guide to addressing a system-wide challenge like poverty by breaking it into component parts and applying public health principles to each. The book is available free of charge to anyone in the world through Routledge.
1970s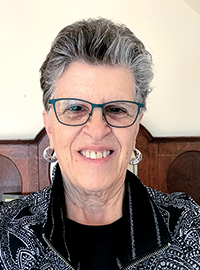 Jean (Hochheimer) Hochron, MPH '76, was recently awarded the Philip W. Brickner National Leadership Award—which recognizes service and advocacy efforts that address the health status of people experiencing homelessness—from the National Health Care for the Homeless Council. Hochron, a former senior official with the US Department of Health and Human Services, received the award in recognition of her "profound impact on systems affecting the health of our neighbors without homes."
1980s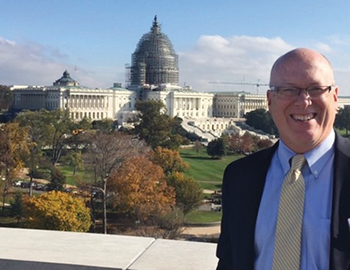 Neal Baker, MHSA '83, was named Senior Privacy Counsel for iRhythm Technologies, Inc., a leading Independent Diagnostic Treatment Facility in the long-term continuous recording, analysis and diagnosis of patient heart rhythms.
Mary Beth Powers, MPH '88, was appointed President and CEO of the Catholic Medical Mission Board, an international nonprofit based in New York City. Powers was previously CEO of the SeriousFun Children's Network and has spent the majority of her career supporting maternal and child programs in more than 25 countries.
1990s
Christina Arndt Greeley, BS '89, MPH '91, joined Novartis Gene Therapies as senior director of Pipeline Patient Advocacy in Bannockburn, Illinois. In this capacity she coordinates patient advocacy group relationships for rare neuromuscular conditions under development for possible gene therapy.
Peter A. McCullough, MPH '94, is vice chairman of medicine at Baylor University Medical Center and a professor of medicine at Texas A&M College of Medicine in Dallas. An internist, cardiologist, and epidemiologist, he is the editor in chief of Cardiorenal Medicine and Reviews in Cardiovascular Medicine.
2000s
Jonathan Doorn, MS '98, PhD '01, was named chair of the department of Pharmaceutical Sciences and Experimental Therapeutics and John L. and Carol E. Lach Endowed Chair in Drug Delivery Technology at the University of Iowa College of Pharmacy.
Mona Hanna-Attisha, BS '98 MPH '08, was honored by USA Today as one of the Women of the Century. She is credited with helping uncover the Flint Water Crisis and is founder and director of the Michigan State University and Hurley Children's Hospital Pediatric Public Health Initiative, an innovative public health program in Flint, Michigan.
2010s
Ali Abazeed, BS '13, MPP/MPH '17, serves as public health advisor at the National Institutes of Health, US Department of Health and Human Services. This winter, he presented to undergraduate students on campus about Thinking Global, Acting Local: Careers in Public Health.
Storyline
Storyline is a new feature in Findings that invites any and all alumni of the School of Public Health to share stories with the community by responding to a different question in each issue.
We'll read all responses and send a brief note of response by email. We'll also select a few of the responses to publish in the next issue of Findings. All writers whose submission is selected for publication will receive a Michigan Public Health T-shirt. Tell us your story by June 15, 2021, using the Storyline form.
Keep in Touch
We love hearing from alumni! Did you recently have a baby? Finish your first marathon? Share life changes, job updates, and accomplishments of all kinds on the Class Notes page. Send photos if you like—especially if they feature Michigan Public Health gear. Most submissions are published in the Class Notes section of an upcoming issue of Findings.
We also love it when alumni share great news about other alumni. On the Class Notes page, you can now submit a Shout Out to tell us about other Michigan Public Health alumni doing great things in public health, giving of their time, talents, and passion to the public good, or otherwise living out the school's mission of pursuing a healthier, more equitable world for all.
Update your contact info on the Leaders & Best page. Or indicate changes on the address label and mail to the address on the back cover.
Interested in sharing your knowledge and experience with current students and fellow alumni? Join Michigan Public Health Connect—the School of Public Health's online mentoring and networking platform—to have meaningful conversations, answer questions, and offer advice.
Looking for a new job or have an opening to fill? Michigan Public Health Careers is the central job, internships, and project-based work posting site for students and graduates. Check out umsphjobs.org or email position openings to sph.jobs@umich.edu.
In Memoriam
Faculty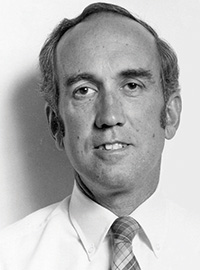 Tom Hickey, professor emeritus of Health Behavior and Health Education, died November 8, 2020, at the age of 80. Hickey earned a bachelor's degree from Gonzaga University, a master's degree from California State University, and master's and doctoral degrees from UCLA. He taught at Pennsylvania State University, joined the University of Michigan faculty in 1976, and was appointed faculty associate in the Institute of Gerontology in 1987. Hickey served as chair of the School of Public Health's Health Gerontology department, which later merged with other departments, and directed the health gerontology program. Hickey's research addressed problems of chronic impairment in the elderly, and he taught courses on aging, management of chronic illness, and health ethics classes that were widely attended by students from across campus. Hickey was an accomplished scholar, author, and advocate. He testified before Congress and served as a consultant to many government agencies. In 1992, he was elected president of the Gerontological Society of America. He was a founding member and early president of the Association for Gerontology in Higher Education and was the first chair of the American Public Health Association's gerontological health section. Hickey received distinguished research awards from the Association for Gerontology in Higher Education and the National University Extension Association.
---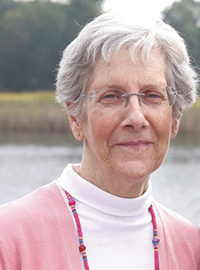 Toby Epstein Jayaratne, assistant research scientist in Health Behavior and Health Education, died on October 2, 2020 at the age of 73. Jayaratne earned a PhD in psychology from the University of Michigan in 1989 and spent her career conducting research for the School of Public Health and the Women's and Gender Studies department of the College of Literature, Science, and the Arts, as well as teaching at the Residential College. She made significant contributions to the fields of public health genetics and gender studies, as evidenced by the two National Institute of Health grants she received.
---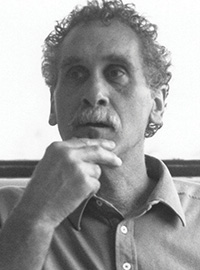 Michael Anthony (Tony) Schork, professor emeritus of Biostatistics, died on February 25, 2021, at the age of 84. Schork earned bachelor's and master's degrees at the University of Notre Dame and a master's degree in public health and PhD in Biostatistics at the University of Michigan. During his long tenure as a professor in the School of Public Health, Schork made valuable contributions to teaching fundamental and applied biostatistics and coauthored one of the earliest, and still highly respected, textbooks developing concepts and interpretations of basic statistical procedures for researchers and students in health sciences. Schork was an important collaborator on many research projects in public health and medicine, most notably in the areas of cardiovascular, rheumatologic, and pulmonary diseases. Schork chaired or served on over 150 doctoral dissertation committees and in 1996 received the school's first-ever teacher-of-the-year award for, among other things, his dedication to mentoring. For the three years prior to his 1999 retirement, Schork served the School of Public Health in the role of senior associate dean for academic affairs.
Alumni
1950s
Marion E. Anderson, BSPHN '53 – October 5, 2020
Donald G. Comb, PhD '56 – October 4, 2020
Irene J. Dobb, BSPHN '57 – May 19, 2020
Hazel M. Deuble, MPH '58 – August 22, 2020
Vivian M. Larson, MPH '58, PhD '63 – September 12, 2020
Edwin L. Marcus, MPH '58 – December 29, 2020
Warren V. Powell, MPH '59 – May 11, 2020
1960s
Gerald A. Bax, MHA '65 – May 27, 2020
Chuan W. Chao, MPH '66 – August 23, 2020
Sherwin R. Fishman, MPH '64 – September 12, 2020
Jane F. Garry, BSPHN '61 – September 18, 2020
Marilyn G. Jeffs, MPH '65 – July 16, 2020
Ralph E. Knowles, MPH '63 – July 18, 2020
Nina I. McClelland, MPH '64, PhD '68 – August 16, 2020
Ruth E. Miller, MPH '69 – July 29, 2020
Ann F. Mizgerd, MPH '68 – June 6, 2020
Donald T. Oakley, MS '67 – May 28, 2020
Mary A. Pfannenstiel, MPH '65 – September 2, 2020
Margaret A. Sandberg, MPH '69 – June 13, 2020
Robert L. Sanders, MPH '68 – July 1, 2020
Doris A. Slack, MPH '65 – June 15, 2020
1970s
Ophelia V. Baker, MPH '72 – July 3, 2020
Bernice D. Boykin, MPH '73 – October 15, 2020
Ralph R. Cook, MPH '71 – June 8, 2020
Baxter Harwood, MPH '75 – June 8, 2020
William B. Leaver, MHSA '76 – May 16, 2020
Margaretann McMillan, MPH '75 – July 1, 2020
Douglas M. Person, MPH '72 – August 11, 2020
Frank E. Roberts, MHA '71 – August 29, 2020
David R. Wade, PhD '78 – November 7, 2020
1980s
Carolyn M. Gibbs, MHSA '80 – November 29, 2020
Kristin Hoppe, MPH '85 – September 8, 2020
Silvana G. Nelson, MHSA '80 – October 8, 2020
Stephen J. Loney, MPH '84 – October 23, 2020
1990s
Curtis D. Fandrich, MPH '95 – October 18, 2020
Jay C. Warden, MHSA '92 – March 1, 2020
2000s
Edna A. Viruell-Fuentes, PhD '05 – August 23, 2020
---