Pandemic Telehealth: Vital Virtual Care from Behavioral Health Providers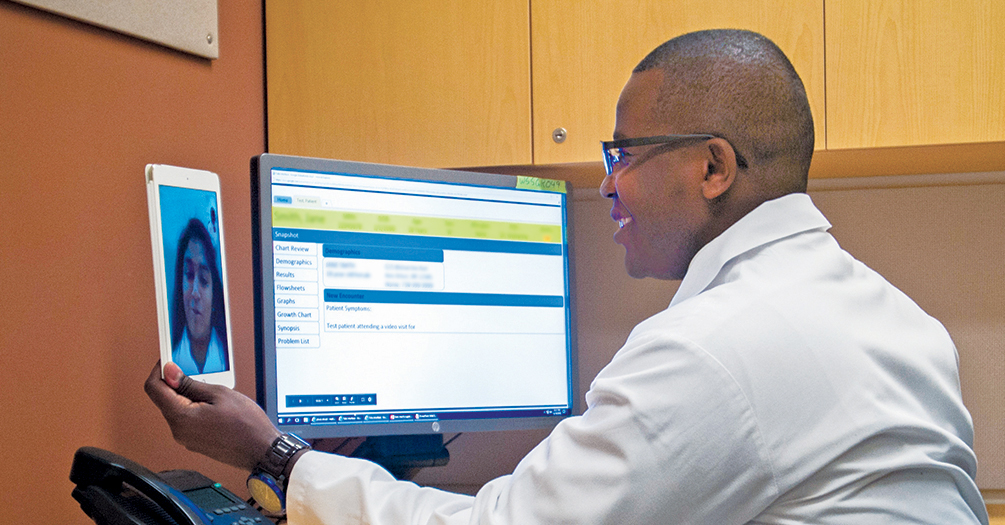 By Meghan Petiprin
Federal and state policy changes prompted by the COVID-19 pandemic have enabled behavioral health providers in Michigan and across the country to rapidly expand their telehealth services.
The adjustment allows them to continue treating clients for mental health and 
substance abuse disorders from a safe 
social distance.
Until March 2020, behavioral health providers were slow to adopt telehealth services, often because of regulatory barriers. As the coronavirus began to spread across the US, the Centers for Medicare and Medicare Services loosened regulations and reimbursement requirements. Michigan and 29 other states passed emergency orders to permit expansion of telehealth services. Most of these policy changes, however, are set to expire once the COVID-19 pandemic is declared over.
To help assess the impact of these policy shifts, a report coauthored by School of Public Health researchers examined behavioral health provider perspectives and experiences using telehealth, including their views on care quality, access to care, and client satisfaction.
"With the rollout of COVID-19 vaccines underway, policymakers will decide whether to make many of the recent telehealth reimbursement and authorization policy changes more permanent," said senior author Angela Beck, associate dean for Student Engagement and Practice and director of the Behavioral Health Workforce Research Center, which conducted the study. "It's important for policymakers to consider behavioral health providers' perspectives on how telehealth has impacted their day-to-day work and how they view its role in a post-pandemic world."
Between late July and mid-August of 2020, the researchers conducted remote interviews with behavioral health providers across the state of Michigan, including a psychiatrist, psychologists, clinical social workers, mental health counselors, registered nurses, substance use disorder counselors, and peer support providers.
The providers reported they felt better equipped to meet clients' diverse needs after receiving the flexibility to offer telebehavioral health services when appropriate. The majority of providers reported that clients were satisfied with telebehavioral health services, and over half said virtual care was of the same or better quality than in-person care.
Most providers noted that telehealth helped mitigate barriers to accessing behavioral health care, including lack of transportation, inability to miss work, and childcare issues. Moreover, providers said telebehavioral health helped decrease no-show and cancelation rates for appointments.
Telehealth works better for some clients than others and is more effective for certain services. Ultimately, more choices for providers and clients means better access to care.
—Angela Beck, Associate Dean for Student Engagement and Practice
Audio-only telebehavioral health services, in particular, helped providers expand access to care for clients who were geographically isolated, lacked transportation, and had limited access to internet or internet-connected devices. Nearly half of the providers reported that audio-only telebehavioral health services were as effective as audio-visual services and were sometimes preferable for clients with anxiety, serious mental illness, or trauma who were uncomfortable with video.
But virtual care does not work well for everyone nor for all services. More than a third of providers reported that certain behavioral health services, such as group therapy and physical health assessments, were not well suited for telebehavioral health.
"Telehealth works better for some clients than others and is more effective for certain services," said Beck. "Ultimately, more choices for providers and clients means better access to care. And providers feel they should be allowed the flexibility to identify the most effective modality to serve their clients' 
specific needs."
All providers said they preferred to continue offering telebehavioral health moving forward, most often as a hybrid model with both in-
person and virtual options offered to clients for certain services as appropriate.
Photo. Stanley Gitau Mukundi, a physician assistant at Michigan Medicine, conducts a telehealth visit with a patient. Photo from Michigan Medicine, University of Michigan.
---