Public Health Diplomacy: Serving and Supporting Public Health in Rwanda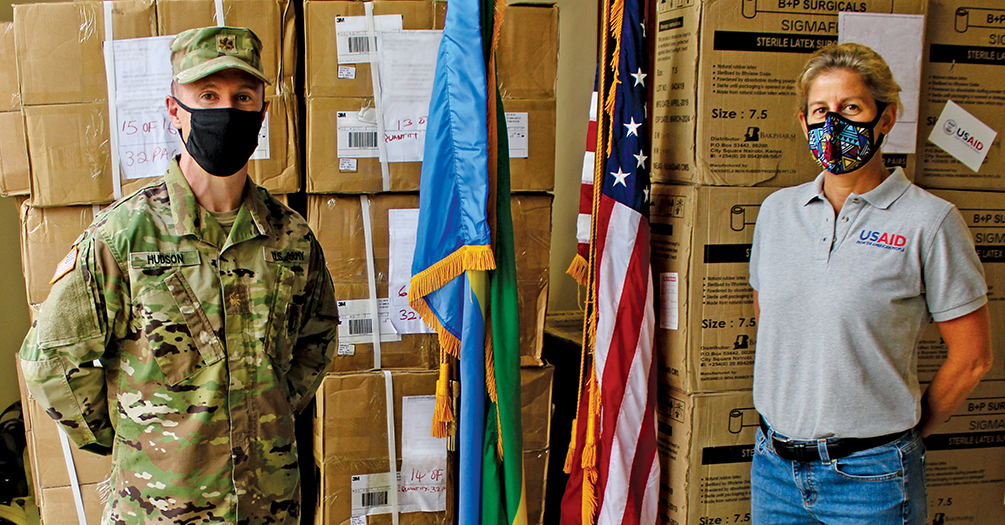 Robin Martz, MPH '03
Rwanda Health Office Director, US Agency for International Development
Photo. Robin Martz in Rwanda with Major Joshua Hudson, receiving a delivery of personal protective equipment for Rwandan public health officials.
Last November, the US government delivered personal protective equipment (PPE) to Rwanda in a show of support for one of Africa's COVID-19 success stories. The small eastern African nation has deployed broad and no-cost testing and contact tracing, a culture of compliance with social distancing guidelines, robots in clinics to interact with patients, and other creative measures to keep the virus at bay.
That PPE and more since, valued at over $500,000, has been protecting Rwandan health workers on the front lines of the pandemic. The United States Agency for International Development (USAID) delivered the boxes of surgical masks, surgical and nonsurgical gloves, and rubber boots to the Ministry of Health, which distributed them to Rwandan district hospitals and health centers.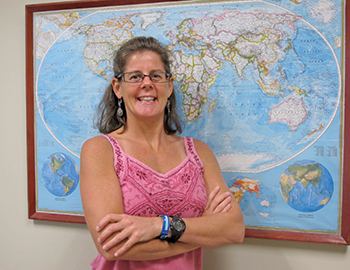 Robin Martz, MSW '03, MPH '03, is a Foreign Service Officer and the director of USAID Rwanda's Health Office, where she manages a team of 22 experts with an annual budget of around $80 million to support many of the country's public health initiatives. She and her team have overseen the distribution of these supplies.
"There is still not enough PPE in Rwanda for frontline health workers, so this delivery highlights not only the power of international cooperation but also the challenges we have here," Martz says.
Martz has worked on maternal and child health in Laos, polio in Afghanistan, HIV in Haiti, and emerging pandemic threats in Thailand and Cambodia. She has also done child health field work in Mali, developed reproductive health programs for adolescents in Senegal, and designed a vocational training curriculum in Bhutan. She was a Peace Corps volunteer in Niger, where she worked alongside traditional midwives in rural areas.
With the MPH from Michigan, I gained a strong foundation in a broad number of technical areas within public health and most importantly learned how to translate them into public health solutions.
—Robin Martz, MPH '03
Once back in the US, she wanted to expand her technical skills in maternal and child health. "Given my coursework in both public health and social work, I couldn't be abroad, so I did a social work practicum at the University of Michigan hospital in the department of Obstetrics and Gynecology," she explained. "Because of Michigan's reputation, we saw patients from all over the country and world. And those experiences have translated well to my current work in Rwanda. In addition to the technical health skills you might have, the multicultural skills you gain in practical work—whether in a specialized care hospital in Michigan or the rural areas of Africa—are a huge benefit to anyone working in public health."
Previously, Martz has served in advisory roles with the United Nations Population Fund (UNFPA) and Save the Children and worked for the World Bank as a liaison to GAVI, the international vaccine coalition in Geneva, Switzerland.
Martz says that, while she is not an expert in most of the areas she oversees, she is an effective leader in part because of the leadership and management skills she gained at Michigan. "You can't possibly be an expert in all of the areas the public health profession touches. The head of our malaria team has a PhD in entomology. I can't compete with that and don't need or want to. I need to be able to understand how the Therapeutic Efficacy Study she is overseeing to assess possible drug resistance may impact Rwanda's National Malaria Control Program and how I might have to adapt USAID's malaria investments—$20 million annually—accordingly. I collaborate with her and her team to develop effective solutions to control this devastating disease in our region of the world."
In addition to relying heavily on her team, Martz works closely with USAID's implementing partners, other donors, and Rwanda's Ministry of Health to advance the country's priorities. She also relies on skills she gained in Ann Arbor. "With the MPH from Michigan, I gained a strong foundation in a broad number of technical areas within public health and most importantly learned how to translate them into public health solutions," she says.
Martz's work is really about public health diplomacy, ensuring public health works across policy and communities. She has a strong technical grasp of a range of topics covering a complex portfolio—reproductive, maternal, neonatal, and child health, family planning, nutrition, water, sanitation, and hygiene (WaSH), HIV, malaria, and emerging pandemic threats such as COVID-19 and Ebola.
She must also cultivate strong relationships with the Ministry of Health—both at a technical working level and with the Minister and senior health advisors. "Coordination is key," says Martz, who as the head of health with USAID chairs the Health Development Partners coordination group that includes members of the UN family—WHO, UNFPA, UNICEF, UNDP—and other entities like the World Bank, Global Fund, GAVI, the EU, and a host of bilateral organizations.
"The skills I use every day in my job are a direct result of what I learned at the University of Michigan School of Public Health and School of Social Work—technical understanding, implementing impactful public health programs, working as a team to achieve more, and employing diplomatic skills to advance US and host country priorities."
---