7 ways the pandemic changed global public health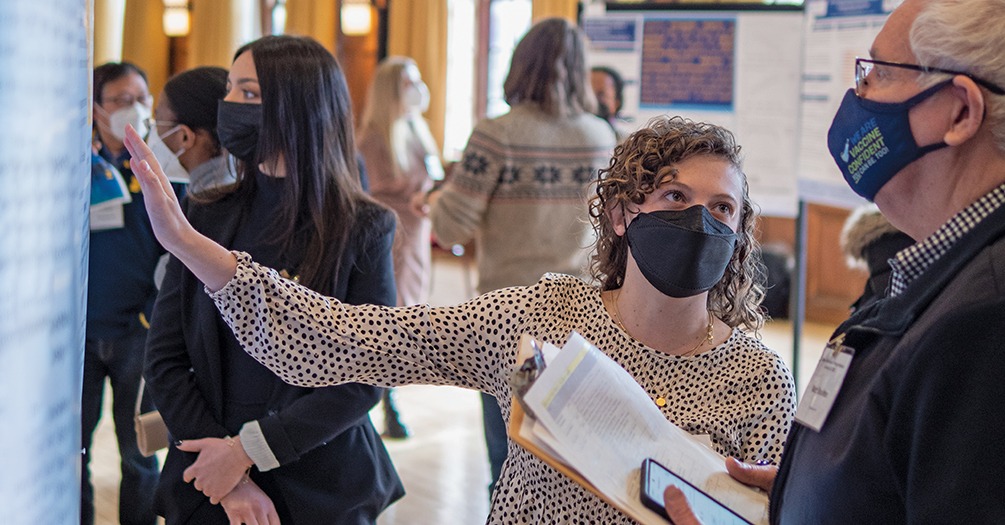 Chinyere Neale
Director of programs, Office of Global Public Health
The COVID-19 pandemic has been hard on the travel industry and on the field of international education. But it has helped global public health come to grips with its colonial past and articulate its goals in ways that are truer to the mission of public health itself.
As someone who has been advising students for more than 20 years on everything from travel funding and resources to which location is best suited to moving them toward their academic, professional, and personal goals, I watched the pandemic change the way global public health internships are done.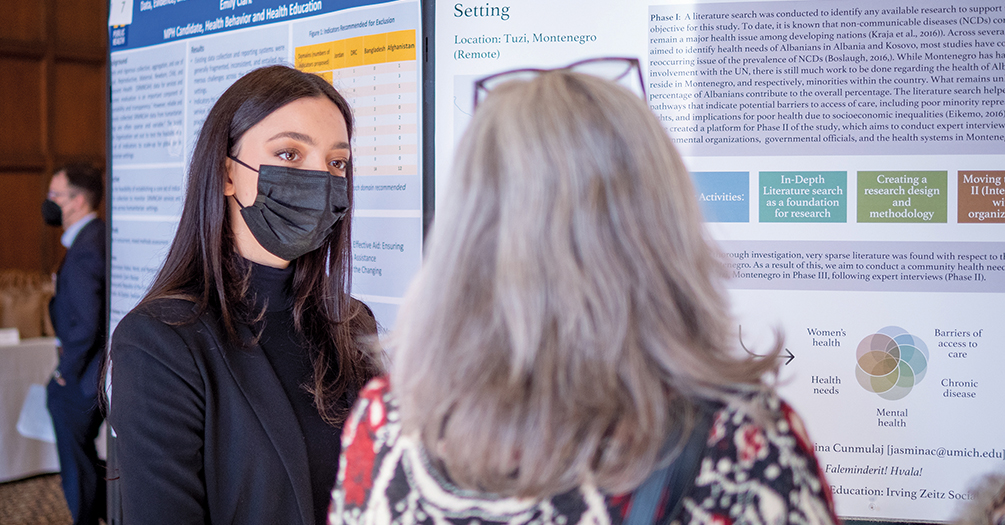 Having a virtual internship that allowed me to connect with my home country, Montenegro, was one of the most fulfilling points in my academic career in public health. Through my virtual research initiative, I was able to identify many important gaps in research and public health needs in Montenegro, further leading me to continue with my research beyond graduation. To partake in a virtual global internship is something that I view as a bridge between many communities transnationally, and I am beyond grateful to have been able to begin my public health career in an innovative environment.
-Jasmina Cunmulaj, MPH student (Gelman Global Scholarship Fund; Florence and Irving Zeitz Social Justice Internship Fund)
In the past, students would travel to a country and immediately begin working with research and practice partners on their project even as they were just beginning their cultural learning. Students often had visions of working directly within communities when their partners often needed them more in the technical areas behind the scenes.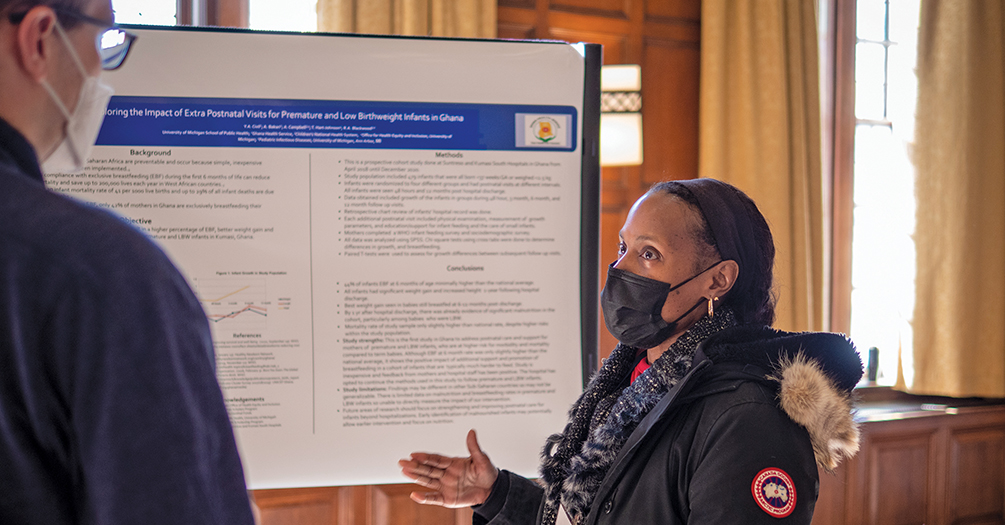 Despite the challenges of the pandemic, the remote summer internship provided me the opportunity to complete my project, "Evaluating the Impact of Extra Postnatal Visits for Premature and Low Birth Weight Infants in Ghana," which started in 2018. Addressing health disparities in the local community and in sub-Saharan Africa through clinical practice and scholarly activities has become a lifelong passion and commitment for me. I am extremely grateful that this internship made it possible for me to continue working toward achieving my career goals.
-Yolaine Civil, MPH student (Gelman Global Scholarship Fund; Natalie and Jack Blumenthal Public Health Internship Fund)
The pandemic changed that, and here's what we learned about global public health as a result:
1. You don't have to travel to do international work.
It turns out that a remote global health internship experience resembles more closely what those engaged in international research and practice do as they collaborate with partners around the globe. The world of international public health is opening up to those who cannot be in other countries for extended periods of time. While an in-country experience immerses you more directly in local culture, you can still have a variety of professional, academic, and personal intercultural experiences with a remote internship.
2. Public health internships improve your public health skills, not your travel resumé.
Public health internships are focused on improving your ability to understand and serve community health. Travel is inherently educational and can refine many public health skills. But travel for its own sake is not the goal of global public health internships or domestic work-based experiences.
3. Students and on-site partners can focus more on the public health work at hand.
In pivoting to remote internships, students have been able to focus on how they work with in-country partners and participants. On-site partners do not have to use valuable and often limited resources in hosting student interns. This allows everyone involved to prioritize building trust, developing knowledge of local contexts, and sharing scientific expertise.
4. Remote internships are more inclusive.
Whether you engage in a work-based public health experience in downtown Detroit, rural areas of Michigan, or suburban Nairobi, you will have an intercultural experience. The distinction of global health is essentially a financial distinction, coming down to the ability to travel. It is artificial to say there are other differences in human communities. Until recent decades, global work on any level was mostly in the realm of the affluent. With constantly improving communication technology, global public health work is opening up to those from more modest backgrounds. And every student has something to gain from an intercultural experience, whether you're working remotely or living in Detroit, Michigan's Upper Peninsula, or Nairobi.
5 . Every public health student should consider a global internship.
Intercultural experiences help us understand and analyze differences we experience across any community—a vital skill for those working in public health. From courses on global health to domestic and global research, these experiences help students build their professional portfolio and become more effective public health practitioners.
6 . Remote formats open up global health opportunities to students who may not otherwise have access to them.
Thus, they have the potential for diversifying the field of global public health to be more reflective of the populations it serves. Ultimately, this is a good thing for global health. For example, people with experience in low resource settings in the US might be especially able to identify with certain challenges in under-resourced communities abroad.
7 . The pandemic will change some things for good. New models for international study, practice, and research are coming.
And the romanticism of global work will not survive these new forms of collaboration. It's not romantic to sit at your dining room table and have a Zoom meeting with someone in another country. But you can do really good work on that call—and in the emails, data sharing, and everything else in between. That's a good thing for public health and for the next generation of public health practitioners.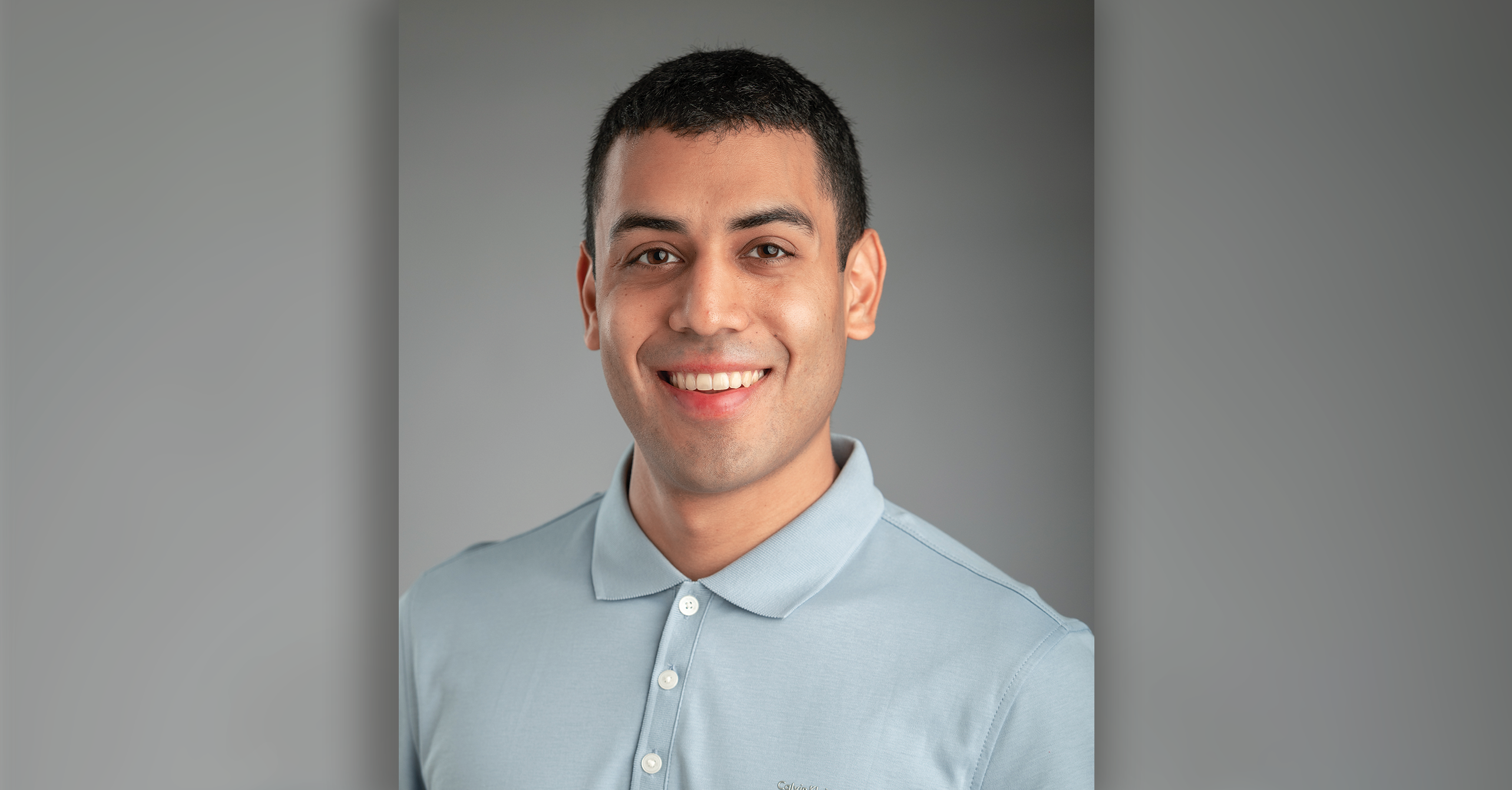 As a son of immigrant parents from Central America, my interests have always been in helping underserved Hispanic communities. This remote internship allowed me to continue pursuing my interests by completing my project "Gender-Related Differences in Living and Working Conditions for Farmworkers in Michigan During the COVID-19 Pandemic," which first began in December 2020. Despite the remote nature of the internship, I was able to take away many key skills, such as learning how to work and communicate effectively in an interdisciplinary team, which would not have been possible without this internship.
-Everth Vargas, MPH student (Gelman Global Scholarship Fund)
Thank you to the Gelman family, longtime supporters of our global internship program, who have graciously allowed us to use the Gelman Global Scholarship Fund to support students' remote internships during the pandemic.
---