Getting to know Whitney Peoples, director of Equity and Inclusion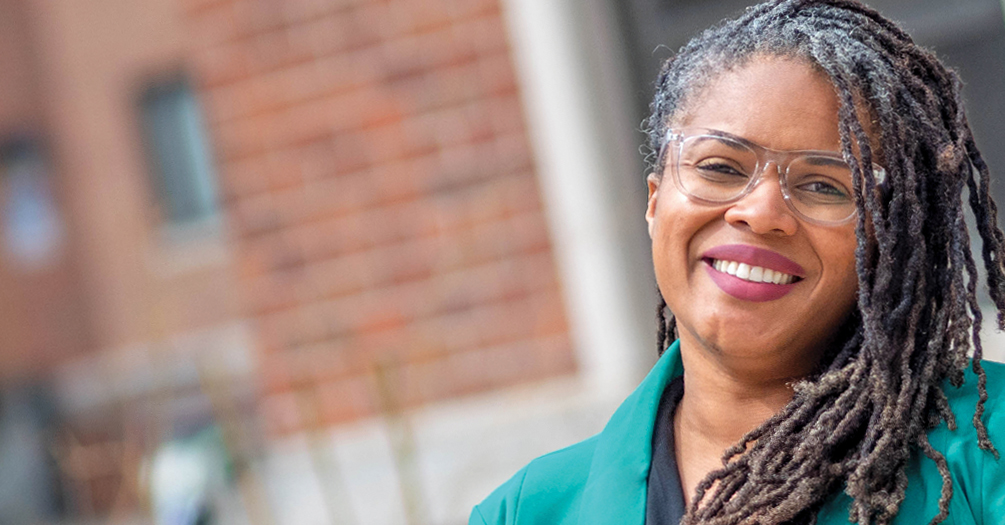 Whitney Peoples started serving as University of Michigan School of Public Health's inaugural director of Diversity, Equity and Inclusion in August 2021 after working in leadership roles at the university's Center for Research on Learning and Teaching. She has more than 20 years of experience in feminist and critical race research, activism and teaching.
What do you enjoy doing outside of work?
I enjoy any opportunity to spend time with my family, friends and my sweet pup, Finn. Traveling, cooking and curling up with a good book are also favorites of mine. Community engagement and service is another space that allows me to recharge outside of work.
What first drew you to work in Diversity, Equity and Inclusion?
What we now call DEI, or Diversity, Equity and Inclusion, was a core part of how I was raised and how I experienced the world as I got older. I grew up watching my parents and extended family be deeply involved in community activism and organizing. I was taught the family history of my people like my great uncle W.J. Durham, a lawyer who argued desegregation cases in the state of Texas alongside Thurgood Marshall and helped to set the stage for the landmark case of Brown v. Board of Education, which ended legal segregation in the United States. Knowing this history and watching my family model the importance of working for a more just and equitable world meant that DEI work really felt like a natural extension of my upbringing and my own values. As a result, I have always sought out opportunities to work toward justice and equity.
What's your favorite thing about the School of Public Health community?
It's the people. The people at Michigan Public Health are brilliant, kind and deeply invested in the work they do. Although I have been at the school nearly two years, I am still regularly and pleasantly surprised by the kindness and commitment of the staff, students and faculty at Michigan Public Health.
What's one of your favorite professional experiences?
Watching the students who I've worked with and mentored blossom in their lives and careers. I never get tired of receiving emails and phone calls from past students sharing how the classes they took with me, the projects we worked on and/or the conversations we had helped move them further along on their path. I am incredibly grateful to be able to be a small part of their story.
Do you have a favorite quote or saying that inspires you?
This is a hard one, because I have so many! For now, I'll share one that my colleague, Mateen Zafer, often reminds me of:
"Hope is a discipline."
— Mariame Kaba
As someone who has long been invested in justice and equity work, I appreciate this quote so much. It reminds me that injustice and inequity are hard to experience and witness, and progress is not always straightforward or absolute. But even in the face of those hard truths, I have to cultivate hope for what's possible and what's to come.
---